Anaplan has entered into a strategic partnership with Google Cloud following which it will provide enterprise planning and business performance software on Google Cloud. This is the first public cloud offering of Anaplan and the partnership will provide customers options to solve complex business problems through intelligence, choice, and scalability. Google has been the customer of Anaplan and the search engine giant has now deployed it on Google Cloud. The platform is centered on a calculation engine and an in-memory database called HyperBlock. It enables users to analyze and organize contrasting sets of data quickly from human resources, finance, sales, and other business operations.
Excel-style functionality is one of the key advantages of the platform and this makes it more accessible to ordinary business workers. Anaplan will gain more scalability and better performance by running its platform on Google Cloud. Google said that Anaplan will be benefitted by its more secure infrastructure. Google Cloud will also boost the analytics capabilities and data storage capabilities of Anaplan. This will be done via integration with BigQuery and artificial intelligence and machine learning services of Google. The integration will provide more in-depth analysis as this blends Anaplan data with third-party information.
Google Cloud has been for long targeting independent software vendors in order to integrate its analytics capabilities. Siddhartha Agarwal, co-innovation at Google Cloud and managing director of SaaS partnerships, said that they will create top-line growth for Anaplan. Anaplan chief development officer Ana Pinczuk said that the partner will increase the reach and scale of the company. She said that a lot more machine learning and Artificial Intelligence joining Anaplan. Pinczuk said the company has been using Google Cloud for data residency despite having its own data centres. "Google's capabilities like BigQuery are often used by our customers," she added. With this partnership, in-memory calculation engine of Anaplan will run on Google Cloud.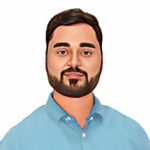 Anurag Sharma
He has been helping in business of varied scales, with key strategic decisions. He is a specialist in healthcare, medical devices, and life-science, and has accurately predicted the trends in the market. Anurag is a fervent traveller, and is passionate in exploring untouched places and locations. In his free time, he loves to introspect and plan ahead.