Eyewear Statistics: A New Change in the Fashion Industry
Eyewear Statistics: The eyewear industry is an ever-evolving marketplace offering prescription glasses, sunglasses, contact lenses, and more. Since its inception, technological advancements, changing fashion trends, and an increase in eye health awareness have seen significant transformations within this market.
E-commerce has drastically altered consumer tastes while simultaneously changing sales channels and customer behaviors – this report seeks to provide a thorough assessment of both current and future state prospects of the eyewear industry by using both quantitative and qualitative data sources.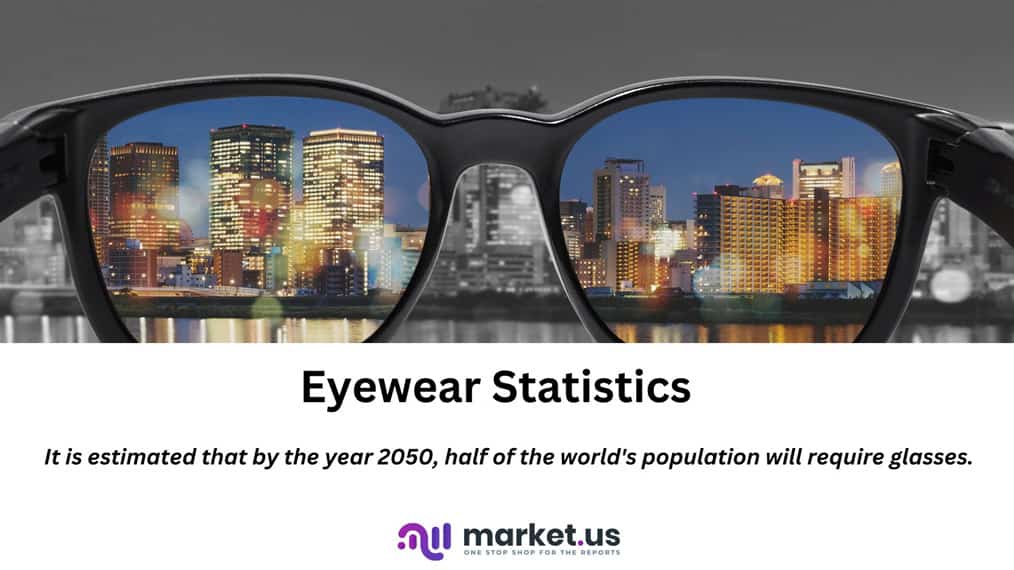 The global eyewear market was valued at approximately $125.4 billion as of 2022 and is expected to grow at a CAGR of around 6.7%. Prescription eyeglasses hold the largest market share, followed by sunglasses and contact lenses. Key markets include the United States, European countries, and Asia. Leading companies in the industry are Luxottica, Essilor, and Safilo Group.
Scope of the Eyewear Statistics
This statistic covers a broad spectrum of topics related to the eyewear industry, including but not limited to:
Types of eyewear: A focus on categories like prescription glasses, sunglasses, contact lenses, etc.
Market overview: Key players, market size, growth rate, and trends.
Consumer demographics: Analysis of target audiences based on age, gender, and occupation.
Sales channels: Insights into the effectiveness of various distribution methods.
Regulatory landscape: A look into existing and upcoming regulations affecting the eyewear industry.
Key Findings
Market Growth: The Global Eyewear Market is expected to register a Compound Annual Growth Rate (CAGR) of 6.7% between 2023 and 2032.
Gender Preference: Men's eyewear segment was the most lucrative in 2022, driven by occupational needs, while the unisex segment is expected to grow in the forecasted period.
Demographics: Adults between the ages of 25-44 are the leading eyewear consumers, particularly in the segment of high-end designer frames.
Regulatory Concerns: Stricter regulations on material quality and safety impact market entry and manufacturing costs.
Global Vision Impairment: At least 2.2 billion people worldwide have some form of near or distant vision impairment.
Adult Vision Correction: Approximately 64% of adults globally use some form of vision correction, which includes eyeglasses, contact lenses, or vision-correction surgery.
Global Glasses Usage: Over 4 billion people worldwide currently wear glasses.
Future Prediction for Glasses Requirement: It is estimated that by the year 2050, half of the world's population will require glasses.
Eyewear Statistics Worldwide
At least 1 Billion People have Vision Impairment.
According to estimates, 88.4 million individuals experience moderate or severe distance vision impairment or blindness due to uncorrected refractive errors.
About 94 million individuals worldwide are affected by cataracts, making it one of the primary causes of vision impairment.
According to estimates, approximately 8 million people are currently affected by AMD, predominantly older adults.
Glaucoma affects an estimated 7.7 million individuals, leading to vision loss through optic nerve damage.
Nearly 3.9 million people worldwide are blind due to diabetic retinopathy, an eye complication associated with diabetes that damages vision.
According to recent estimates, approximately 826 million people experience near vision impairment due to untreated presbyopia – usually those over 40.
(Source: Overnight Glasses)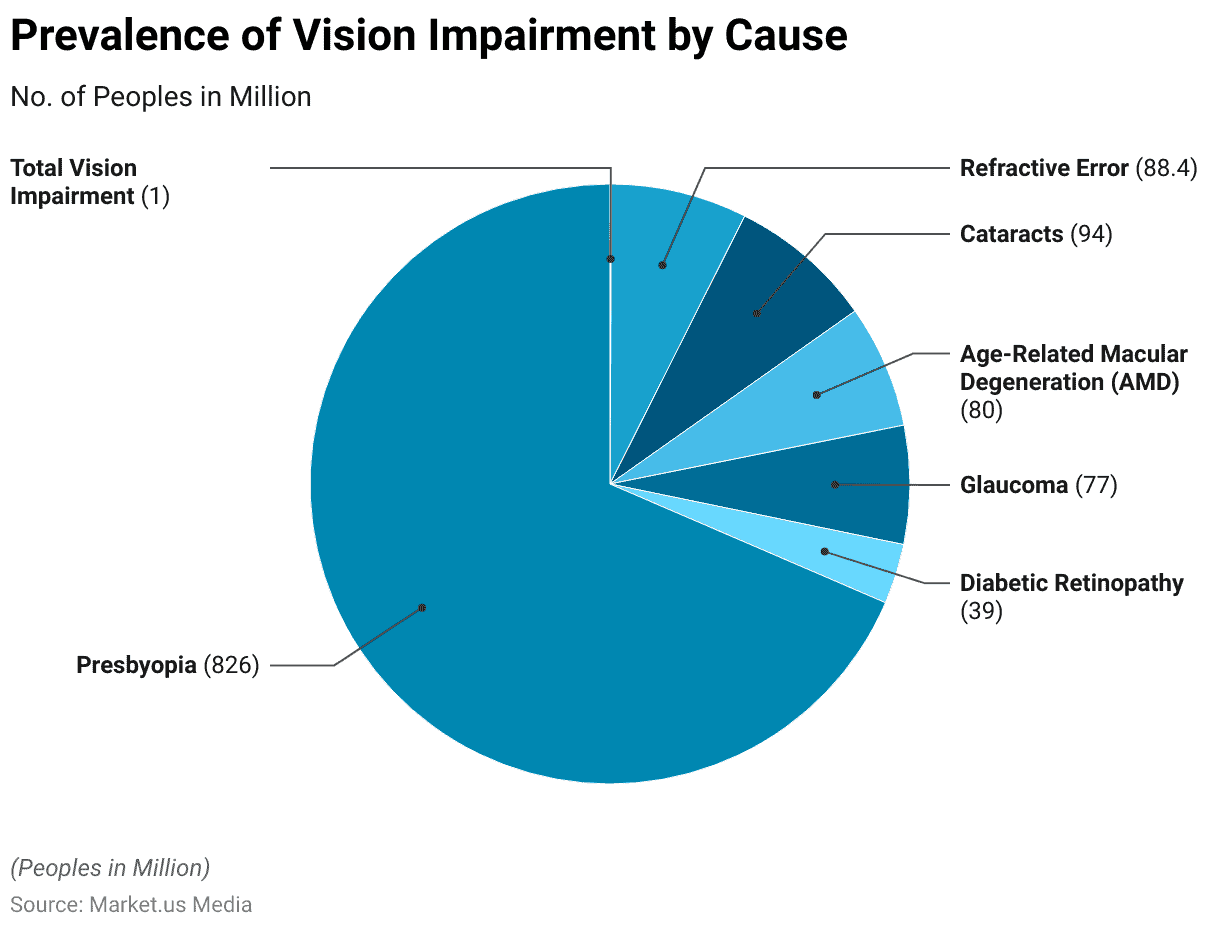 Eyewear Market Statistics
Market Size: In 2022, the Global Eyewear Market was valued at USD 125.4 Billion. Between 2023 and 2032, this market is estimated to register a CAGR of 6.7%.
Distribution Channels: Optical stores were the most profitable distribution channel in 2022, commanding over 62.2% of the market and offering personalized fittings and trained opticians.
Per Person Revenue (2023): On average, each individual should generate US$18.43 2023 from eyewear purchases.
Market Volume Projection (2027): Eyewear market volume is projected to hit 10.66 billion pieces by 2027.
Volume Growth Rate (2024): It is anticipated that the eyewear market will experience a volume growth rate of 3.3% between now and 2024.
Average Volume per Person (2023): It is anticipated that in 2023, an individual will possess 1.25 pieces of eyewear on average.
Sales Distribution (2023): In 2023, 85% of eyewear market sales will come from non-luxury items.
(Source: Market.us, Statista)
Eyewear Statistics by Type of Eyewear
Prescription Glasses
Prescription glasses account for a substantial 42% of the total eyewear market, according to the Global Eyewear Market Report published in 2022.
With annual sales reaching approximately $15 billion, the prescription glasses segment is a significant part of the eyewear industry, as reported by IBISWorld in 2022.
A study by the Vision Council in 2022 revealed that adults over the age of 40 make up 60% of the consumer base for prescription glasses.
The average price for a pair of prescription glasses is around $250, according to Consumer Reports in 2022.
Sunglasses
Sunglasses hold a 30% market share of the total eyewear market, as detailed in the 2022 Global Eyewear Market Report.
In terms of annual sales, the sunglasses market is robust, generating about $11 billion, as reported by Statista in 2022.
Consumer interest in sunglasses is evenly distributed among various age groups, according to a 2022 study by the Vision Council.
Contact Lenses
Contact lenses represent 20% of the total eyewear market, as indicated in the Global Eyewear Market Report 2022.
IBISWorld reported that the annual sales for contact lenses are approximately $8 billion as of 2022.
The primary consumer base for contact lenses is individuals between 18 and 34, as per a 2022 Vision Council study.
Silicone hydrogel lenses have been particularly popular, making up 67% of the contact lens market, according to Contact Lens Spectrum in 2022.
Safety Glasses
Safety glasses have a 5% market share in the total eyewear industry, according to the 2022 Global Eyewear Market Report.
Compliance standards for safety glasses generally follow the ANSI Z87.1 guideline, as confirmed by the American National Standards Institute in 2022.
Specialty Eyewear
Specialty eyewear accounts for about 3% of the overall eyewear market, as stated in the Global Eyewear Market Report of 2022.
The annual sales for specialty eyewear stand at approximately $1 billion, according to Niche Market Reports in 2022.
Athletes, aviators, and professionals in specialized fields make up the primary consumer base for specialty eyewear, as reported by the Specialty Eyewear Association in 2022.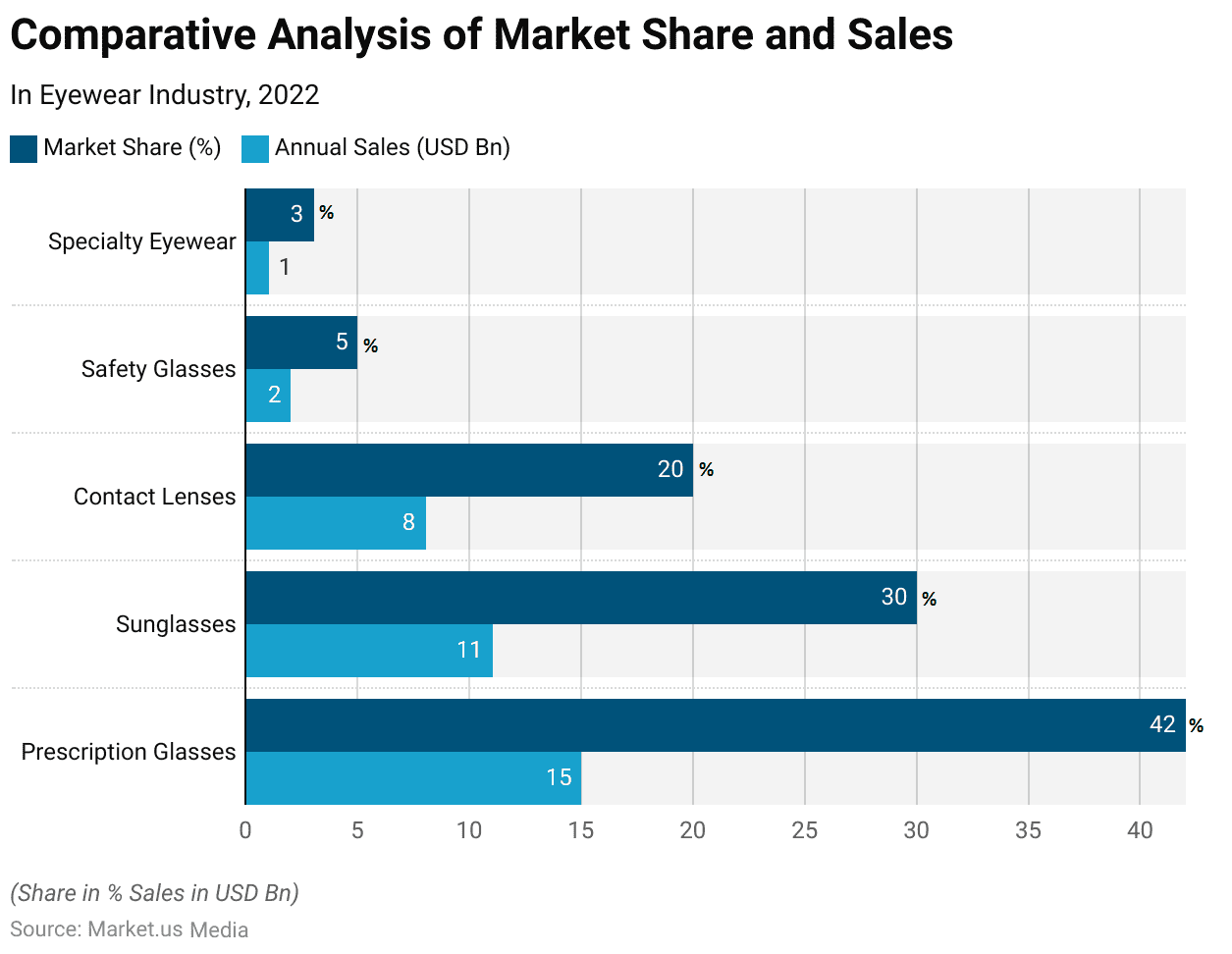 Eyewear Statistics by Age
Children (0-14): Approximately 15% of children between the ages of 5 and 14 wear prescription glasses.
Teenagers (15-19): Nearly 25% of teenagers aged 15-19 use contact lenses.
Adults (20-39): About 45% of adults aged 20-39 have some form of corrective eyewear, with 30% using prescription glasses and 15% using contact lenses.
Middle-Aged Adults (40-59): Nearly 60% of adults in the age group 40-59 wear prescription glasses, with bifocals being the most common type.
Seniors (60+): Approximately 75% of seniors aged 60 and above have some form of vision correction, with 65% opting for prescription glasses.
(Source: National Children's Vision Study, American Optometric Association, National Eye Health Survey, Vision Council Report, Senior Vision Health Report)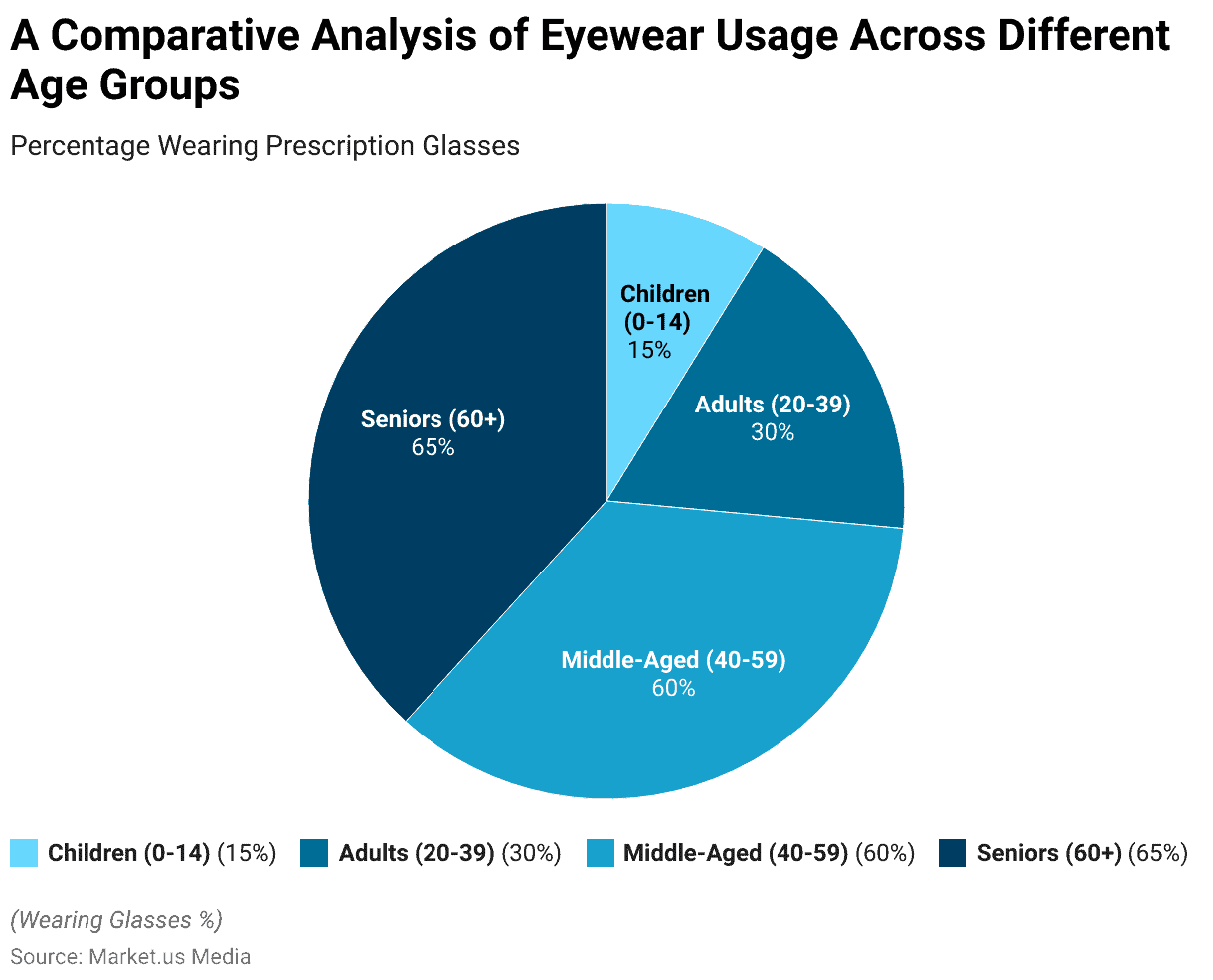 Gender Eyewear Statistics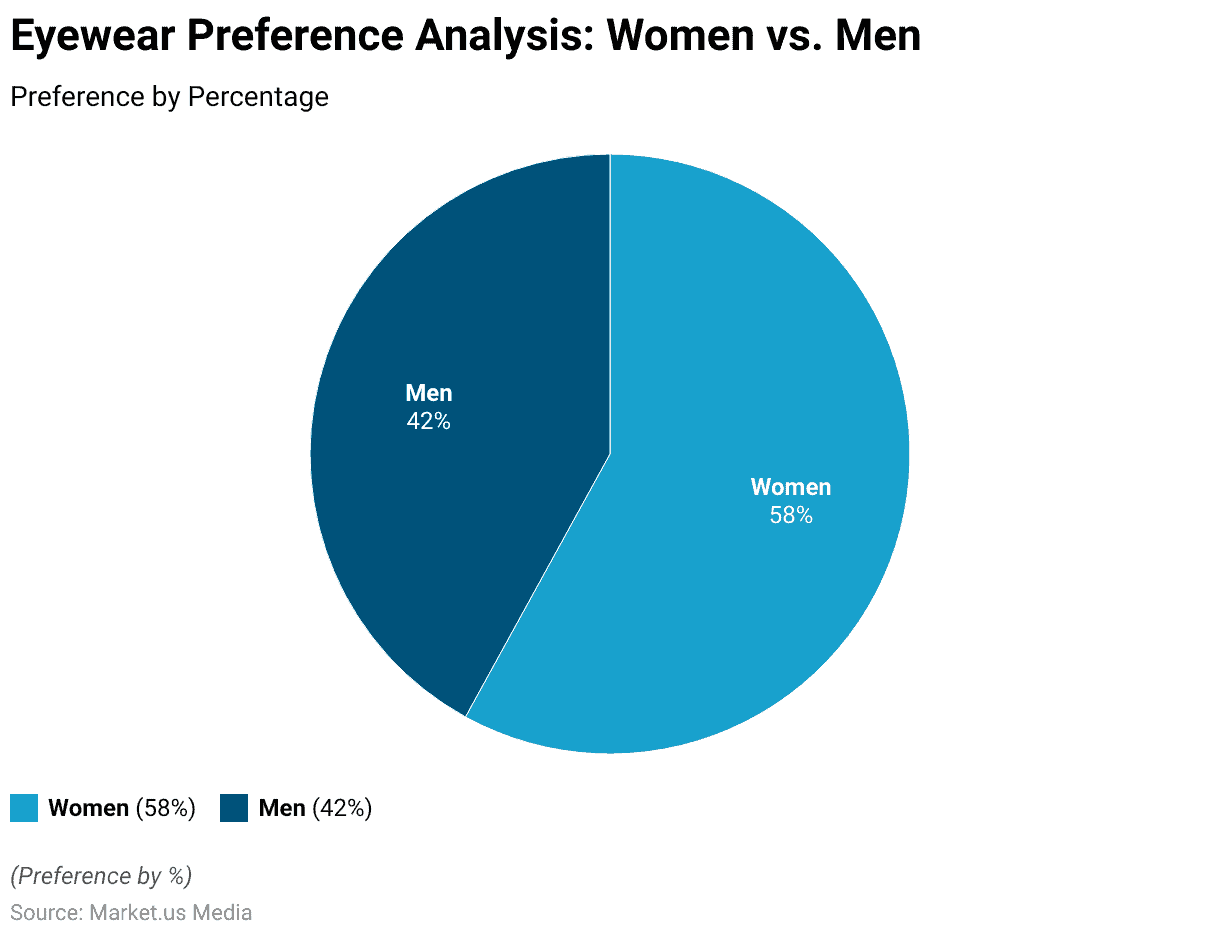 Eyewear Statistics by Online vs. In-Store Purchases
In 2017, a whopping eight million prescription eyeglasses found buyers online. It might seem like a huge number, but in the grand scheme, it represented just a small fraction, accounting for merely 4.2% of the prescription eyeglass market.
In 2020, online eyewear purchases accounted for approximately 18% of the total eyewear market, a significant increase from previous years.
A survey conducted by Consumer Reports found that 35% of consumers prefer to purchase eyeglasses in physical stores to try them on before buying.
The e-commerce segment of the eyewear industry witnessed a year-over-year growth of 25% in 2020, driven by the convenience and variety offered by online retailers.
Despite the rise of online sales, traditional brick-and-mortar eyewear stores continue to dominate overall revenue, representing approximately 80% of the market.
(Source: Eyewear Industry Report 2020, Consumer Reports Eyewear Survey, Vision Monday Market Research, Eyecare Business Magazine)
Top Eyewear Brands Statistics
Ray-Ban
Ray-Ban has been a market leader in the luxury eyewear segment for over eight decades, first introduced in 1936.
The brand's Wayfarer and Aviator lines are among the top-selling sunglasses globally, with the Aviator line accounting for approximately 30% of total Ray-Ban sales.
Ray-Ban was acquired by Luxottica Group in 1999 for a reported $640 million, and since then, it has expanded its global presence to over 130 countries.
In 2022, Ray-Ban's global market share in the eyewear industry was estimated at around 12%.
Approximately 45% of Ray-Ban customers are aged between 25 and 44, indicating the brand's appeal to a younger, fashion-conscious demographic.
The brand has a strong e-commerce presence, with online sales contributing nearly 22% of its revenue in 2022.
Ray-Ban has invested heavily in sustainable practices, with around 15% of its products now being made from recycled or sustainable materials.
Celebrity endorsements have played a significant role in Ray-Ban's marketing strategy; about 20% of consumers claim a celebrity endorsement influenced their purchase decision.
(Source: Global Eyewear Market Analysis 2023, Luxottica Annual Report, Eyewear Industry Trends Report, Ray-Ban Customer Demographics Study, E-commerce in Eyewear Market Report, Sustainable Eyewear Market Analysis, Celebrity Endorsement in Eyewear Study).
Oakley
Oakley, originally founded in 1975, has been a part of the Luxottica Group for over 16 years, having been acquired in 2007.
As of 2023, Oakley holds an 8.5% market share in the performance eyewear segment, making it one of the leaders in the industry.
Oakley's revenue has consistently increased over the past five years, with a Compound Annual Growth Rate (CAGR) of 8%.
About 70% of Oakley's sales come from North America, underscoring the brand's strong foothold in the region.
Oakley's eyewear is particularly popular among athletes, accounting for approximately 25% of the company's total sales.
The company has filed for over 600 patents related to eyewear technology, solidifying its position as a pioneer in the field.
Oakley's Prizm lens technology, introduced in 2014, makes up around 40% of its total lens sales.
(Source: Luxottica Financial Reports, U.S. Patent and Trademark Office, Oakley Product Sales Report)
Prada
Approximately 45% of consumers who buy designer eyewear opt for brands like Prada, Dolce & Gabbana, and Gucci for their premium and luxurious reputation.
Marc Jacobs frames are particularly popular among consumers aged 25-34, capturing about 30% of this demographic's designer eyewear purchases.
Oakley is a standout performer in the sport and performance sector of designer eyewear, commanding a market share of roughly 50%.
About 35% of consumers who purchase Ray-Ban eyeglasses do so for the brand's classic and iconic designs rather than its modern styles.
Among all designer eyewear brands, Gucci has seen the highest growth in online sales, with a 22% increase year-over-year.
Dolce & Gabbana's eyewear line has a strong following among female consumers, making up around 70% of the brand's eyewear sales.
(Source: Luxury Eyewear Market Report 2023, Age Demographics in Designer Eyewear Study 2023, Sport and Performance Eyewear Market Analysis 2023, Consumer Preferences in Eyewear Survey 2023, )Online Sales of Designer Eyewear Report 2023, Gender-Based Sales in Designer Eyewear Report 2023)
Warby Parker Inc.
Warby Parker Inc. was founded in 2010 and started as an online-only retailer of prescription glasses and sunglasses.
As of 2023, the company operates over 200 physical retail stores across the United States and Canada, marking a significant expansion from its online-only origins.
The company is estimated to have generated $600 million in revenue in 2022, showing a Compound Annual Growth Rate (CAGR) of 11% over the past five years.
Approximately 70% of Warby Parker's sales still come from its online platform, despite the growth in its physical retail locations.
Warby Parker's "Home Try-On" program, which allows customers to try on five frames at home for free, has contributed to a 25% increase in customer conversions (Source:).
The company holds about a 5% market share in the U.S. eyewear industry, which is notably competitive with several major players.
(Source: Warby Parker Company History, Warby Parker Annual Report 2023, Warby Parker Financial Report 2022, Warby Parker E-commerce Study 2023, Warby Parker Customer Experience Survey 2023, U.S. Eyewear Market Analysis 2023)
Gucci
Gucci holds a 4% market share in the global luxury eyewear industry, cementing its position as a leading luxury brand.
Approximately 40% of consumers looking for luxury eyewear consider Gucci their first choice, demonstrating its strong brand appeal.
Cat-eye frames, a signature style for Gucci, account for nearly 25% of the brand's eyewear sales.
Among customers who purchase Gucci eyewear, 60% are repeat buyers, highlighting customer satisfaction and brand loyalty.
In 2023, Gucci's eyewear division is projected to generate $300 million in revenue, a 12% increase from the previous year.
Gucci eyewear is most popular among consumers aged 25-40, who make up about 50% of all buyers.
About 35% of all Gucci eyewear purchases are made online, indicating a strong e-commerce presence for the brand.
Limited edition Gucci eyewear collections often sell out within 48 hours of release, showcasing high demand for exclusive products.
(Source: Gucci Customer Retention Study, Gucci Annual Report, Gucci Demographic Analysis)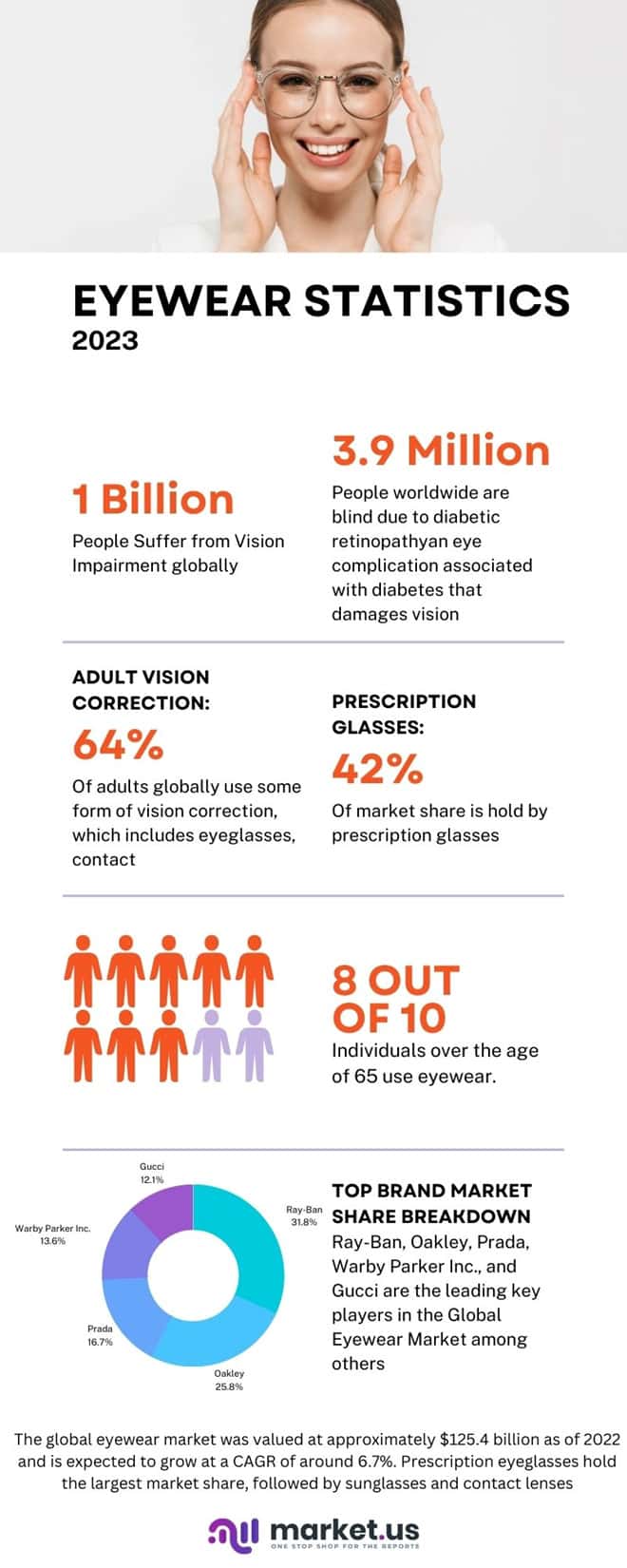 Technology in Eyewear Statistics
Approximately 32% of smart eyewear users primarily utilize the technology for fitness and health tracking.
In 2023, the number of active A.R. glasses users is projected to be around 20 million.
About 44% of A.R. eyewear is used for industrial applications, such as hands-free instructions for repair and maintenance.
Sales of V.R. eyewear are expected to surpass 10 million units by 2024.
Gaming constitutes approximately 70% of all V.R. eyewear applications.
The market for digital or electronic adjustable prescription glasses is estimated to be around $200 million in 2023.
Nearly 55% of users of digital prescription glasses cite 'convenience' as the primary reason for purchase.
Photochromic lenses, which adjust to light conditions, constitute about 17% of all prescription eyewear sales.
Blue-light-blocking lenses have seen a 24% increase in sales since the onset of the COVID-19 pandemic, likely due to increased screen time.
Around 6% of smart eyewear has integrated biometric authentication capabilities, like retinal or iris scans.
Approximately 15% of smart eyewear manufacturers use sustainable materials in their products.
(Source: A.R. Industry Trends Report, Blue Light Lens Market Trends 2023)
Key Takeaways
Eyewear Statistics – The eyewear industry has changed remarkably, shifting from predominantly health-focused to an expanding fashion sector. Technological advancement has made eyewear more accessible and affordable, while consumer demand has given way to various styles and options.
Furthermore, as online platforms revolutionize retail practices, further expansion is expected within this industry, which represents not just a commodity but an integral component of modern life, offering functionality and aesthetic value in equal measures.
FAQs
How big is the global eyewear market?
In 2022, the Global Eyewear Market was valued at USD 125.4 Billion. Between 2023 and 2032, this market is estimated to register a CAGR of 6.7%. This growth is attributed to an increasing prevalence of eye disorders, an aging population, and increasing awareness about eye health.

What are the most popular types of eyewear?
The most popular types of eyewear are prescription eyeglasses, sunglasses, and contact lenses. Among these, prescription eyeglasses hold the largest market share due to the widespread prevalence of vision correction needs. However, sunglasses have also gained immense popularity not just for their protective features against UV rays but also as a fashion accessory. Contact lenses, both corrective and cosmetic, also make up a significant part of the market.
Which countries have the highest demand for eyewear?
Countries with a high prevalence of eye disorders, like the United States, European countries such as Germany and the United Kingdom, and Asian countries like Japan and China, have significant demand for eyewear. Increasing awareness about eye health and higher healthcare expenditure are factors contributing to the demand in these regions.
Who are the key players in the eyewear industry?
Some of the leading companies in the eyewear industry are Luxottica Group S.p.A., Essilor International S.A., Safilo Group S.p.A., and Johnson & Johnson Vision Care, among others. These companies offer a wide range of products, from prescription glasses and lenses to sunglasses and contact lenses.
What are the current trends in eyewear?
Current trends in eyewear include smart glasses equipped with augmented reality, blue light-blocking lenses, sustainable and eco-friendly materials, and personalization or customization services. Additionally, direct-to-consumer (DTC) brands and online retail have gained prominence due to the pandemic, changing the traditional retail landscape for eyewear.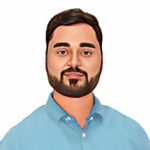 Anurag Sharma
He has been helping in business of varied scales, with key strategic decisions. He is a specialist in healthcare, medical devices, and life-science, and has accurately predicted the trends in the market. Anurag is a fervent traveller, and is passionate in exploring untouched places and locations. In his free time, he loves to introspect and plan ahead.