According to Veganism Statistics, Veganism is a lifestyle and dietary choice that has gained significant attention and popularity in recent years. It involves abstaining from the consumption of animal products, including meat, dairy, eggs, and honey, as well as avoiding the use of animal-derived products in other aspects of life, such as clothing and cosmetics.
Editor' Choice
A little more than 1% of the world's population, or 79 million people, were vegans as of September 2021.
According to market.us, the Global Plant-Based Diet Market size is expected to be worth around USD 31.1 billion by 2032 from USD 14.4 Billion in 2023, growing at a CAGR of 8.2% during the forecast period from 2023 to 2032.
2% of Americans identify as vegans. They are female in three-quarters.
It is anticipated that only 40% of people worldwide will eat meat by 2040.
In the US, 59% of plant-based eaters are female, compared to 41% of men.
The market for vegan food was worth US$ 14.2 billion in 2018 and is anticipated to grow to US$ 31.4 billion by 2026.
Sales of vegan food increased twice as quickly as sales of other foods in 2020.
2% of all packaged meat options are made up of plant-based meat.
The Vegan Society has registered more than 53,000 goods. It's interesting to see that cosmetics outnumber food products in that list.
Veganism General Statistics
A vegan diet can reduce the risk of cardiovascular disease by 32%.
The risk of type 2 diabetes can be cut by 23%, and the risk of prostate cancer can be decreased by 35%.
Additionally, diabetes research has shown that a vegan diet can reduce blood sugar levels by 28%.
The plant-based market grew by 27% during the pandemic.
Black and Native American groups are where veganism is most pervasive in the United States. According to the BBC, 8% or about 1 in 12 Black Americans follow a vegan or vegetarian diet. Black Americans are reportedly the Americans whose veganism is expanding at the highest rate.
An international study of participants in Veganuary was undertaken in 2022, and the results showed that 36% of those polled intended to continue eating a vegan diet when the month was over, compared to 9% who did not.
The age of people who did not follow a vegan diet for the entire month increased from 2021 to 2022 by 6%.
Approximately 79% of vegans choose a plant-based diet due to concerns about animal rights and cruelty in animal agriculture.
Plant-based milk alternatives have seen significant growth, with sales increasing by 20% between 2019 and 2020.
Reason for Being Vegan
The animals inspired 68.1% of participants to become vegan.
Veganism was adopted by 17.4% of participants for health reasons.
9.7% of participants adopted a vegan diet because of the environment. Learn more about the negative environmental effects of consuming beef.
Before being vegan, 52.1% of participants were vegetarians.
43.3% of participants were formerly meat eaters.
The participants were most influenced to go vegan by seeing feature-length documentaries.
Reason for Being Vegan (In %)
Vegan Food Industry Statistics
Plant-based food sales in the United States reached $7 billion in 2020, reflecting a 27% increase from 2019.
Plant-based meat sales in the United States increased by 45% in 2020, totaling $1.4 billion.
Plant-based milk alternatives accounted for 14% of total milk sales in the United States in 2020, reaching $2.5 billion.
Sales of plant-based eggs grew by 168% in the United States in 2020, reaching $27 million.
The number of new vegan food product launches has been increasing globally. In 2020, there was a 51% increase in the launch of vegan products compared to 2016.
In the United States, retail sales of plant-based foods grew by 27% in 2020, reaching $7 billion.
The UK plant-based food market saw sales increase by 40% between 2014 and 2019, reaching £816 million in 2019.
The number of vegan food options in US fast-food restaurants increased by 31% in 2018 compared to the previous year.
The United Kingdom has seen a 360% increase in the number of vegan restaurants since 2012.
Plant-Based Foods Statistics
In recent years, there has been a noticeable increase in the market for plant-based meat. It is anticipated to expand at a rate of 18.9% by 2026. Only 2% of the processed meat offered in America today is made from plants.
Plant-based food had a US$ 7.4 billion retail market in 2022, up US$ 5.5 billion from 2019.
35% of the market for plant-based foods and 16% of all milk sold in sales are vegan milk. Sales of plant milk increased 33% between 2018 and 2021.
A complete kilogram of plant-based milk is expected to be consumed worldwide in 2020, up from an anticipated half kilogram in 2013. Additionally, from 2013 to 2020, the global consumption of vegan milk increased from 3.7 billion kilograms to 6.3 billion kilograms.
Veganism Statistics by Country
United Kingdom
Only in the UK are five of the top cities for vegans.
UK Vegan Food Market is growing by 9.58% as 40% of Consumers Demand Plant-Based Options.
Australia has one of the highest rates of meat eating in the world, yet it also has one of the largest vegan communities.
The %age of vegans in Israel is astounding at above 5%.
In Austria, where 1.4% of people identify as vegans, you can have a few vegan schnitzels.
Meatless diets are followed by a combined total of 14% of consumers in the UK.
Only 59% of consumers in the UK describe their diet as "not following any nutrition rules," while many other consumers have reduced their meat consumption in one form or another.
In the UK alone, there were more than 770 new vegan products launched this January to coincide with the Veganuary campaign.
48% of British adults use plant milk of some kind in their diet, proving that the lifestyle is in no way incompatible with the Great British Brew.
United States
According to a report by Ipsos Retail Performance, the number of vegans in the US increased by 30 times between 2004 and 2019 — from 290,000 in 2004 to approximately 10 million in 2019. (This amount may have increased even further in the intervening years!)
About 2% of the US population follows a vegan diet.
The US market for milk substitutes is over USD 1.6 billion larger than 1% for meat substitutes.
More than 59% of vegetarians in the United States are female.
About 60% of Generation Z and millennials are vegetarians in the US.
About 40% of consumers in the U.S. adopted the diet due to the desire to eat healthier.
The meat substitutes market accounts for USD 3.1 billion in the United States.
About 14% of US consumers follow a meat-free diet.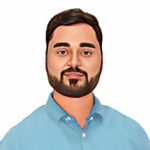 Anurag Sharma
He has been helping in business of varied scales, with key strategic decisions. He is a specialist in healthcare, medical devices, and life-science, and has accurately predicted the trends in the market. Anurag is a fervent traveller, and is passionate in exploring untouched places and locations. In his free time, he loves to introspect and plan ahead.