Veganism Statistics: Unveiling the Plant-Powered Revolution
Veganism Statistics: Veganism is a lifestyle and dietary choice that has gained significant attention and popularity in recent years. It involves abstaining from the consumption of animal products, including meat, dairy, eggs, and honey, as well as avoiding the use of animal-derived products in other aspects of life, such as clothing and cosmetics.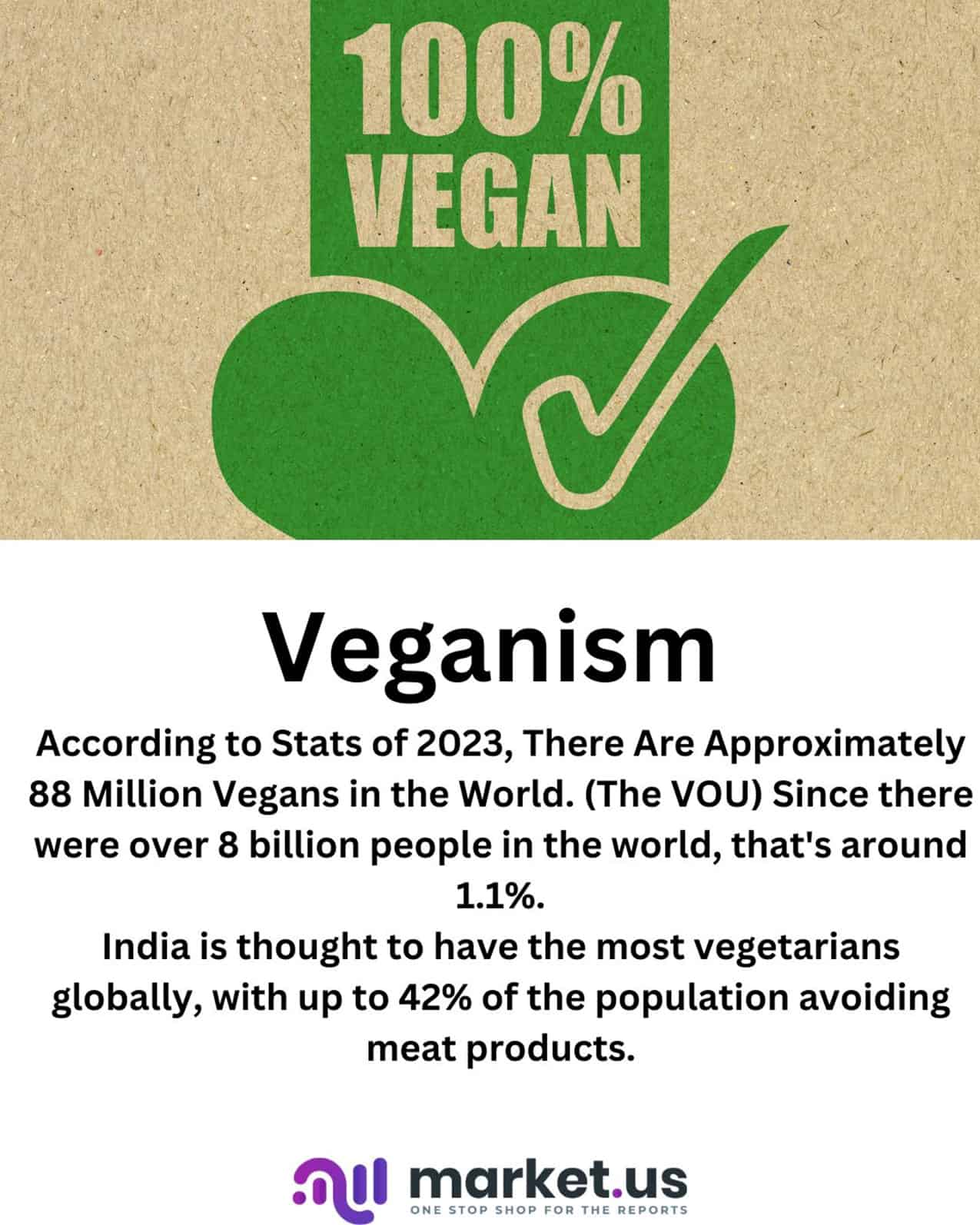 Editor's Choice
A little more than 1% of the world's population, or 79 million people, were vegans as of September 2021.
According to market.us, the Global Plant Based Diet Market size is expected to be worth around USD 31.1 billion by 2032 from USD 14.4 Billion in 2023, growing at a CAGR of 8.2% during the forecast period 2023 to 2032.
2% of Americans identify as vegans. They are female in three-quarters.
It is anticipated that only 40% of people worldwide would eat meat by 2040.
In the US, 59% of plant-based eaters are female, compared to 41% of men.
The market for vegan food was worth US$ 14.2 billion in 2018 and is anticipated to grow to US$ 31.4 billion by 2026.
Sales of vegan food increased twice as quickly as sales of other foods in 2020.
2% of all packaged meat options are made up of plant-based meat.
The Vegan Society has registered more than 53,000 goods. It's interesting to see that cosmetics outnumber food products in that list.
(Source: Redefine Meat, The Guardian, Earth.com, Globe Newswire, The Vegan Review, GoodDot, The Vegan Society)
General Veganism Statistics
A vegan diet can reduce the risk of cardiovascular disease by 32%.
The risk of type 2 diabetes can be cut by 23%, and the risk of prostate cancer can be decreased by 35%.
Additionally, diabetes research has shown that a vegan diet can reduce blood sugar levels by 28%.
The plant-based market grew by 27% during the pandemic.
Black and Native American groups are where veganism is most pervasive in the United States. According to the BBC, 8% or about 1 in 12 Black Americans follow a vegan or vegetarian diet. Black Americans are reportedly the Americans whose veganism is expanding at the highest rate.
An international study of participants in Veganuary was undertaken in 2022, and the results showed that 36% of those polled intended to continue eating a vegan diet when the month was over, compared to 9% who did not.
The %age of people who did not follow a vegan diet for the entire month increased from 2021 to 2022 by 6%.
Approximately 79% of vegans choose a plant-based diet due to concerns about animal rights and cruelty in animal agriculture.
Plant-based milk alternatives have seen significant growth, with sales increasing by 20% between 2019 and 2020.
(Source: NIH, The Good Food Institute, Medical News Today, BBC, Statista, The Vegan Society, Plant Based Foods Association)
Veganism Statistics – Reason for Being Vegan
The animals inspired 68.1% of participants to become vegan.
Veganism was adopted by 17.4% of participants for health reasons.
9.7% of participants adopted a vegan diet because of the environment. Learn more about the negative environmental effects of consuming beef.
Before being vegan, 52.1% of participants were vegetarians.
43.3% of participants were formerly meat eaters.
The participants were most influenced to go vegan by seeing feature-length documentaries.
(Source: Redefine Meat)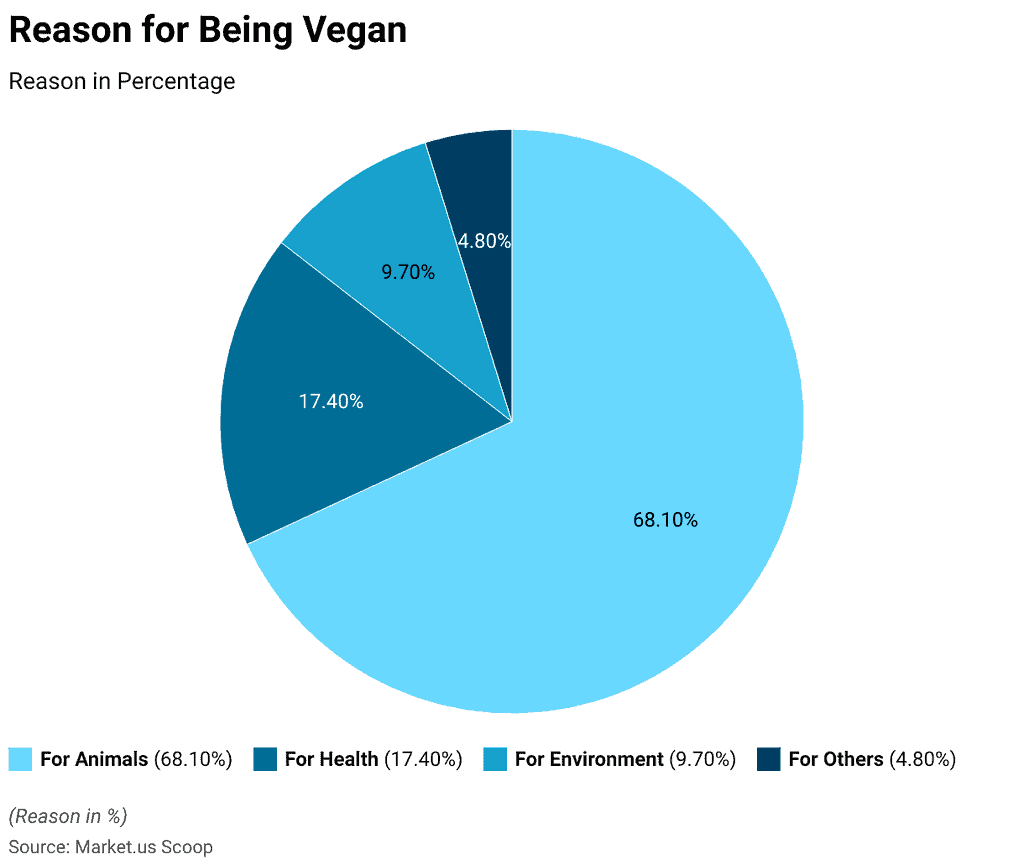 Veganism Statistics – Food Industry
Plant-based food sales in the United States reached $7 billion in 2020, reflecting a 27% increase from 2019.
Plant-based meat sales in the United States increased by 45% in 2020, totaling $1.4 billion.
Plant-based milk alternatives accounted for 14% of total milk sales in the United States in 2020, reaching $2.5 billion.
Sales of plant-based eggs grew by 168% in the United States in 2020, reaching $27 million.
The number of new vegan food product launches has been increasing globally. In 2020, there was a 51% increase in the launch of vegan products compared to 2016.
In the United States, retail sales of plant-based foods grew by 27% in 2020, reaching $7 billion.
The UK plant-based food market saw sales increase by 40% between 2014 and 2019, reaching £816 million in 2019.
The number of vegan food options in US fast-food restaurants increased by 31% in 2018 compared to the previous year.
The United Kingdom has seen a 360% increase in the number of vegan restaurants since 2012.
(Source: Good Food Institute, Mintel, Plant Based Foods Association, The Vegan Society, Veganuary, )
Veganism Statistics – Animal Welfare
The Humane Society of the United States estimates that nearly 1 million animals are abused or killed in connection with domestic violence each year in the U.S.
According to the World Health Organization (WHO), around 55 billion land animals are slaughtered each year for food worldwide.
The majority of animals raised for food are raised in intensive factory farming systems. For example, in the United States, approximately 99% of farmed animals are raised on factory farms.
Millions of animals are used in scientific experiments worldwide each year. According to statistics from the U.S. Department of Agriculture (USDA), over 820,000 animals were used for research in the U.S. in 2019.
Commonly used animals in experiments include mice, rats, rabbits, guinea pigs, and non-human primates.
The American Society for the Prevention of Cruelty to Animals (ASPCA) estimates that approximately 6.5 million companion animals enter animal shelters in the U.S. each year.
Out of these, around 1.5 million shelter animals are euthanized (approximately 670,000 dogs and 860,000 cats) due to various reasons, including overpopulation and limited resources.
Veganism Statistics – Plant-Based Foods
In recent years, there has been a noticeable increase in the market for plant-based meat. It is anticipated to expand at a rate of 18.9% by 2026. Only 2% of the processed meat offered in America today is made from plants.
Plant-based food had a US$ 7.4 billion retail market in 2022, up US$ 5.5 billion from 2019.
35% of the market for plant-based foods and 16% of all milk sold in sales are vegan milk. Sales of plant milk increased 33% between 2018 and 2021.
A complete kilogram of plant-based milk is expected to be consumed worldwide in 2020, up from an anticipated half kilogram in 2013. Additionally, from 2013 to 2020, the global consumption of vegan milk increased from 3.7 billion kilograms to 6.3 billion kilograms.
(Source: Soylent)
Veganism Statistics by Country
United Kingdom
Only in the UK are five of the top cities for vegans.
UK Vegan Food Market Grows 9.58% as 40% of Consumers Demand Plant-Based Options.
Australia has one of the highest rates of meat eating in the world, yet it also has one of the largest vegan communities.
The %age of vegans in Israel is astounding at above 5%.
In Austria, where 1.4% of people identify as vegans, you can have a few vegan schnitzels.
Meatless diets are followed by a combined total of 14 % of consumers in the UK.
Only 59% of consumers in the UK describe their diet as "not following any nutrition rules," while many other consumers have reduced their meat consumption in one form or another.
In the UK alone, there were more than 770 new vegan products launched this January to coincide with the Veganuary campaign.
48% of British adults use plant milk of some kind in their diet, proving that the lifestyle is in no way incompatible with the Great British Brew.
(Source: Redefine Meat, vegconomist, Statista, foodmatterslive)
United States
According to a report by Ipsos Retail Performance, the number of vegans in the US increased by 30 times between 2004 and 2019 — from 290,000 in 2004 to approximately 10 million in 2019. (This amount may have increased even further in the intervening years!)
About 2% of the US population follows a vegan diet.
The US market for milk substitutes is over USD 1.6 billion larger than 1% for meat substitutes.
More than 59% of vegetarians in the United States are female.
About 60% of Generation Z and millennials are vegetarians in the US.
About 40% of consumers in the U.S. adopted the diet due to the desire to eat healthier.
The meat substitutes market accounts for USD 3.1 billion in the United States.
About 14% of US consumers follow a meat-free diet.
(Source: Food Revolution Network, Statista)
Canada
Vegetarianism has increased by 250% in Canada.
According to figures from 2022, there are currently more than 2.3 million vegetarians and 850,000 vegans.
British Columbia is the province with the largest population of people who consume only plants. Additionally, eating foods with plant-based ingredients is encouraged in Canada's Dietary Guidelines, which were most recently updated in 2020.
Retail sales of meat substitutes were forecast to reach around 148.9 million U.S. dollars by 2022 in Canada.
80% of Canadian respondents who had tried plant-based meat alternatives either loved or liked the taste.
There are around 2.3 million vegetarians and 850,000 vegans in Canada, with the majority located in British Columbia.
Canadian females aged 55 and over were the most likely demographic to avoid beef and other red meats in their diet in a recent survey.
(Source: Canadian Science Publishing, Statista)
Portugal
Vegetarianism increased by 400% in Portugal between 2007 and 2017, and it is likely to have increased further after then.
According to Nielsen research, this is the case. Interestingly, Portugal became the first nation in the world to enact a law requiring all government facilities, including hospitals, prisons, and schools, to offer at least one vegan choice on their menus starting in 2017 owing to the efforts of Portugal's Vegetarian Association.
In 2021, about 796 thousand Portuguese were flexitarian, meaning they primarily followed a vegetarian diet but occasionally ate meat or fish.
The number of people that followed a vegetarian diet totaled approximately 180 thousand, and another 43 thousand people followed a vegan diet.
(Source: NIH, Statista)
Veganism Statistics – Impacts on Environment and Society
The market for vegan baby food increased by 10% from 2016 to 2021.
A vegan diet has the potential to reduce freshwater withdrawals by 19%, 49% of greenhouse gas emissions, and the amount of land utilized for agriculture and deforestation.
According to findings from a study by The Research Institute 2022, the main sources of greenhouse gas emissions from the typical American diet are meat (56%) and dairy (18%).
Flexitarians make up one in five 18 to 24-year-olds, vegetarians make up one in ten, and vegans make up 5%.
In the last five years, 63% of British vegans have made the switch. Yet, 81% of them had previously identified as vegetarians, meaning that many had been abstaining from meat for much longer.
70% of individuals surveyed stated they became vegan due to worries about animal welfare (80% indicated they believed that the way animals are raised and killed is cruel), 53% cited environmental issues, and 27% listed personal health as a factor.
In Australia, almost one out of every ten newly released food items on store shelves carries the label "vegan" or "having no animal ingredients." The scene is the same all around Europe.
By 2025, a quarter of the population will be vegetarian or vegan, according to Sainsbury's Future of Food report. They found a 24% rise in online vegan product searches from consumers and a 65% rise in plant-based product sales year over year.
There were 994 vegan novels available at Waterstones in August 2018; by July 2022, there were over 10,000.
In 2022, roughly 3% of responding German customers between the ages of 18 and 64 were vegans. Between two and six % of respondents in Brazil, China, Mexico, and the U.S. said they were vegan. India stands out as a remarkable exception, where more than 10% of respondents claimed to frequently eat vegan.
(Source: BBC, NIH, Food Matters Live, The Vegan Society)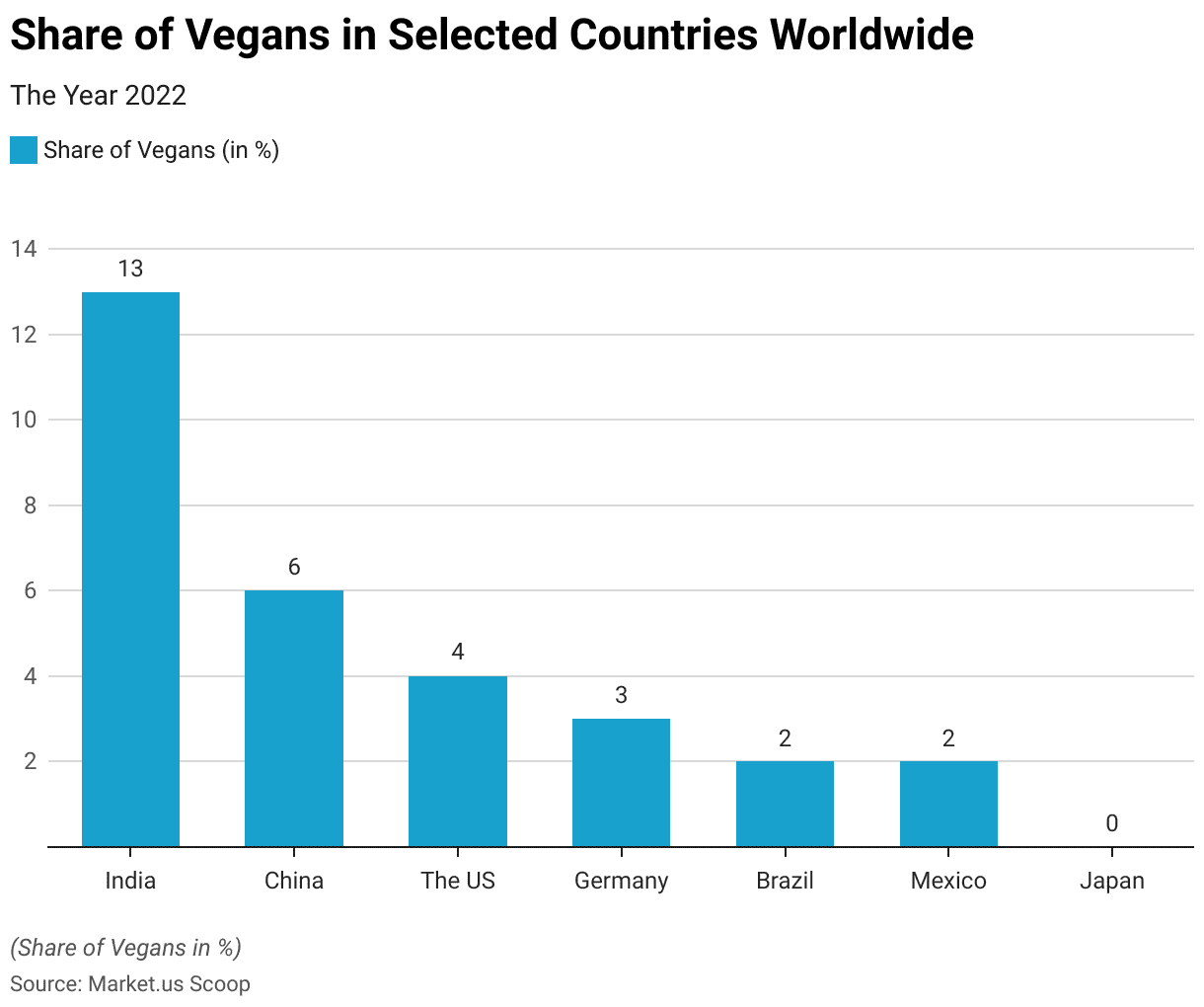 Wrap Up
Veganism has witnessed significant growth and has become a prominent lifestyle choice embraced by individuals across the globe. Veganism Statistics explains various factors, including concerns for animal welfare, environmental sustainability, and personal health have driven the movement.  Higher levels of education and income have also been associated with a greater likelihood of adopting a vegan lifestyle.
As more people become aware of the ethical, environmental, and health implications of animal agriculture, veganism is expected to continue its upward trajectory. With the availability of vegan options and the increasing support for plant-based diets, the future of veganism appears promising, both as a personal choice and as a catalyst for positive change on a global scale.
FAQs
What is veganism?
Veganism is a lifestyle and dietary choice that seeks to avoid the use and consumption of animal products. It involves abstaining from meat, poultry, fish, dairy, eggs, honey, and other animal-derived ingredients, as well as products tested on animals or made from animal materials.
Why do people choose to be vegan?
People choose veganism for various reasons, including ethical concerns for animal welfare, environmental sustainability, and health considerations. Many vegans believe in minimizing harm to animals, reducing the environmental impact of animal agriculture, and promoting a plant-based diet for improved health.
What are the environmental benefits of veganism?
Animal agriculture is a significant contributor to greenhouse gas emissions, deforestation, water pollution, and depletion of natural resources. By adopting a vegan lifestyle, individuals can significantly reduce their carbon footprint, preserve biodiversity, conserve water, and mitigate the negative environmental impacts associated with animal agriculture.
How many vegans are there worldwide?
According to a survey conducted by Ipsos MORI in 2020, approximately 9.7% of the global population identifies as vegan or vegetarian.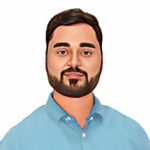 Anurag Sharma
He has been helping in business of varied scales, with key strategic decisions. He is a specialist in healthcare, medical devices, and life-science, and has accurately predicted the trends in the market. Anurag is a fervent traveller, and is passionate in exploring untouched places and locations. In his free time, he loves to introspect and plan ahead.