It seems quite simple to avoid brushing and flossing their teeth for many people, however, a study shows that poor dental hygiene can be linked to an extended list of diseases. It says oral health and hygiene might have wide-reaching effects on people's general health. Experts have said that diseases like heart ailments, dementia, and arthritis, pneumonia, and pregnancy issues can happen due to irregular flossing or brushing. Experts have revealed that poor teeth hygiene can lead to two types of cancer. It might be a huge matter of concern for many experts. This study has been published in the Journal BMJ. The team of researchers from Harvard T. H. Chan School of Public Health has come up with the report.
Experts have observed wide-range data to review the link between esophageal and gastric cancer and patient's periodontal disease history and tooth loss. They have assessed the data of 98459 women from the Nurses' Health Study. Around 49685 men from the Health Professionals Follow up Study have also been reviewed by the experts. Interestingly, experts have been able to find strong evidence to establish the deadly link. Researchers have found that patients with periodontal disease have been at a 43 percent higher risk of esophageal cancer and a 52 percent increased risk of gastric cancer. People who have lost one or two teeth as well have been at a higher risk. Experts have not been able to draw any conclusion about the cause and effects of the possible connection.
The report points to the other studies, which find a potential link between periodontal pathogens and esophageal cancer. Experts have said that nitrate-reducing bacteria, which are present in severe cases of periodontal diseases, can lead to gastric cancer. Health officials have also said that many people do not know the right way of brushing their teeth, which is important for oral hygiene. Experts have warned and said that people need to take the advice of their dentists more seriously to keep these deadly diseases at bay.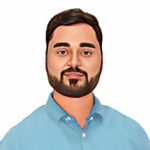 Anurag Sharma
He has been helping in business of varied scales, with key strategic decisions. He is a specialist in healthcare, medical devices, and life-science, and has accurately predicted the trends in the market. Anurag is a fervent traveller, and is passionate in exploring untouched places and locations. In his free time, he loves to introspect and plan ahead.