E-commerce company Brandless has decided to cut about 90 per cent of its employees and has stopped accepting online orders. Brandless will remain available in select CVS pharmacy and around 10 employees will continue to work. The development comes just years after SoftBank Group Corp.'s USD 100 Vision Fund agreed to invest USD 240 million in the startup. The San Francisco-based start-up was valued USD 500 million after SoftBank's investment. The Vision Fund gave about USD 100 million into Brandless. But the second installment of the investment never arrived as the startup failed to achieve the target. It was started with the target of providing environmentally conscious and generic household goods at a fixed price of USD 3. The company later abandoned that pricing model and started advertising products using the cannabis compound Cannabidiol or CBD.
Brandless has been evaluating the move for the past few weeks and ultimately decided to use the remaining cash in a better way. The company has retained 10 employees to handle outstanding orders and customer care. Interim Chief Executive Officer Evan Price said that they are proud of things that were created at Brandless. Evan said that competing in the direct-to-consumer market had become difficult for the company. He expressed hope that the next great brands of the future will be built from this experience.
The closure comes at a time when SoftBank has been struggling with other investments made by Vision Fund. Oyo, Uber Technologies and most importantly WeWork are some of them. These companies have failed to live up to the expectations of the SoftBank. A failed attempt to increase the value of WeWork was made by investing USD 47 billion. WeWork even attempted an initial public offering but in vain. Uber is also trading below its IPO price despite the fact it was expected to turn a profit this year. On the other hand, SoftBank stunned Silicon Valley with over USD 2.5 billion investment into Flipkart. It was founded by Binny Bansal and Sachin Bansal in 2007. It also invested USD 2.25 billion into Cruise, the autonomous vehicle business of General Motors.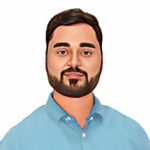 Anurag Sharma
He has been helping in business of varied scales, with key strategic decisions. He is a specialist in healthcare, medical devices, and life-science, and has accurately predicted the trends in the market. Anurag is a fervent traveller, and is passionate in exploring untouched places and locations. In his free time, he loves to introspect and plan ahead.