According to Skincare Statistics, Skincare is an essential part of personal care and beauty routines for many individuals across the world. It encompasses a wide range of products and practices aimed at improving and maintaining the health, appearance, and overall condition of health. From cleansers to moisturizers to serums and masks skincare products are designed to address various concerns, such as hydration, acne, aging, and hyperpigmentation.
Editor' Choice
The global skincare products market accounted for revenue of USD 131.2 billion in 2022, and the market is expected to reach a revenue of USD 212.96 billion by 2032 at a CAGR of 5.1%.
In 2021, the female segment accounted for the highest revenue share at over 62.2% due to grooming demand for personal care products.
According to a survey conducted in the United States, 75% of women and 60% of men reported using skincare products regularly.
Online retail channels have gained popularity for skincare product purchases. In 2022, e-commerce accounted for 32% Of global skincare sales.
In the United States, 54% of respondents reported that they actively seek out skincare products labeled as sustainable or environmentally friendly.
According to a survey conducted in the United Kingdom, 73% of respondents stated that they would prefer skincare products with sustainable packaging.
According to a survey conducted in the United States, 59% of respondents reported that they prefer skincare products made from natural or organic ingredients.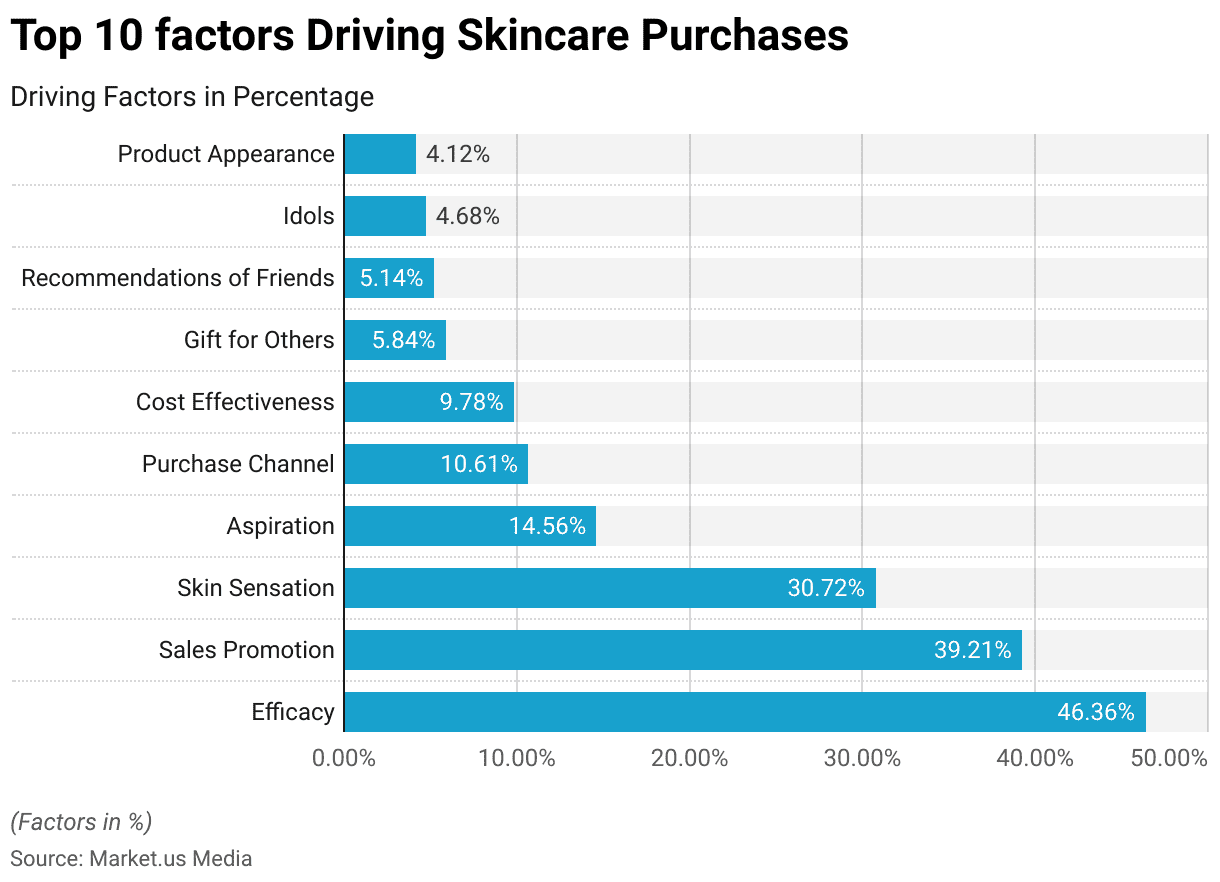 Global Skincare Industry Latest Trends and Market Growth
Cosmetics market size was valued at USD 265,415.6 million.
According to the latest market research from Lucintel, the global beauty market accounted for $265 billion in 2020, primarily due to an increase in GDP.
The Asia cosmetic chemicals market represented the fastest expanding region, with a forecasted Compound Annual Growth Rate (CAGR) of 7.6% during the period from 2013 to 2023.
In the Middle East, Saudi Arabia, closely followed by Iran and the UAE, emerged as the top three countries in terms of cosmetics consumption.
China has been rapidly catching up with the United States in terms of cosmetics consumption, with an average annual sales growth of 15%. It is projected to reach $38 billion in sales this year.
In contrast to the global trend, China's cosmetics and toiletries market shows that skincare products represent 40% of the total market, compared to less than 30% in the rest of the world.
The growth of Africa's cosmetics industry and markets is being driven by the tripling of the continent's middle class over the last 30 years, which now stands at an estimated 313 million people. Increased urbanization also contributes to this growth.
Euromonitor International predicts that Nigeria's young and increasingly sophisticated population will drive industry sales to reach $620.2 million by 2022.
Consumer Behavior and Trends in the Skincare Industry
Purchasing Habits
About 58% of skincare consumers prefer to purchase skincare products from physical stores, while 42% prefer online channels.
In a study, 63% of respondents reported buying skincare products at least once a month.
Product Preferences
Facial moisturizers are the most commonly used product, with 70% of consumers incorporating them into their skincare routines.
Sunscreen is considered an essential product, and 59% of consumers reported using sunscreen regularly.
Brand Loyalty
About 62% of skincare consumers are brand loyal, meaning they tend to seek a specific brand for their skincare needs.
Among brand-loyal consumers, 41% cited product quality and effectiveness as the primary reason for their loyalty, followed by trust in the brand (21%) and positive reviews (18%).
Influencing Factors
Social media plays a significant role in shaping skincare trends, with 71% of consumers stating that they discover new products through social platforms.
Reviews and recommendations from friends, family, and influencers are highly influential, with 81% of consumers considering them when making skincare purchasing decisions.
Nature and Organic Trends
The demand for natural and organic products is increasing. In a survey, 59% of consumers expressed a preference for natural or organic skincare products.
Products with clean and transparent ingredient lists are gaining popularity, as 52% of consumers actively seek skincare products with recognizable ingredients.
Skincare Concerns and Conditions Statistics
Acne
Acne affects approximately 9.4% of the global population.
85% of people between the ages of 12 and 24 experience acne.
Aging and Wrinkles
75% of women aged 40 and older report concerns about wrinkles and sagging skin.
In 2021, the global anti-aging market accounted for a revenue of USD 67.2 billion, and the market is expected to reach a revenue of USD 71.7 billion at the end of the year 2023.
Hyperpigmentation
Approximately 45% of people in the United States have some form of hyperpigmentation.
Melasma affects 5-6 million people in the United States.
Dry Skin
Dry skin affects around 50% of the global population.
In the United States, around 7.8 million children and 17.5 million adults have eczema, a condition that often causes dry skin.
Sensitive Skin
Approximately 50% of the population worldwide considers their skin to be sensitive.
The prevalence of sensitive skin is higher in females (approximately 60%) compared to males (approximately 40%).
Rosacea
Rosacea affects an estimated 16 million people in the United States.
About 415 million people worldwide are affected by rosacea.
Psoriasis
Psoriasis affects approximately 2-3% of the global population.
In the United States, about 7.5 million people have psoriasis.
Skincare and Technology Statistics
In a survey, 39% of consumers stated that they would be interested in using technology such as apps or devices to monitor their skin's health.
The global skincare devices market was valued at USD 11,862 million in 2021. It is expected to experience a compound annual growth rate of 11.2% between 2023 and 2032.
A study found that AI algorithms could accurately diagnose common skin conditions with a success rate of 95%.
According to a survey, 52% of consumers expressed interest in personalized solutions.
A survey revealed that 40% of beauty consumers in the United States would like to use virtual try-on technology for skincare products.
According to a survey, 32% of consumers are interested in using wearable devices to track their skin's health.
Top Skincare Brands
L'Oréal
L'Oréal is one of the largest and most well-known brands globally.
In 2020, L'Oréal reported total revenue of €27.99 billion ($32.59 billion) from its skincare and cosmetics division.
Estée Lauder
Estée Lauder is a prominent cosmetics brand.
In the fiscal year 2021, Estée Lauder Companies reported net sales of $14.29 billion, which includes various brands under its portfolio, including Estée Lauder, Clinique, La Mer, and others.
NIVEA
NIVEA, a brand owned by Beiersdorf, is globally recognized for its products.
In 2020, Beiersdorf reported total sales of €7.03 billion ($8.19 billion), which includes its skincare and personal care divisions.
Neutrogena
Neutrogena is a popular skincare brand known for its wide range of products.
Neutrogena is a subsidiary of Johnson & Johnson, a multinational healthcare company.
Johnson & Johnson reported total sales of $82.6 billion in 2020, which includes various product categories.
Olay
Olay, owned by Procter & Gamble (P&G), is a well-established skincare brand.
P&G reported net sales of $76.1 billion in the fiscal year 2020, which includes various brands under its portfolio, including Olay.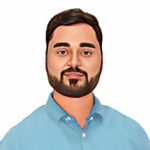 Anurag Sharma
He has been helping in business of varied scales, with key strategic decisions. He is a specialist in healthcare, medical devices, and life-science, and has accurately predicted the trends in the market. Anurag is a fervent traveller, and is passionate in exploring untouched places and locations. In his free time, he loves to introspect and plan ahead.