"According to Market.us, Remote Patient Monitoring Market in the Asia Pacific region showed a 52% increase in telehealth access to primary physicians/general patient services from 4% to 56%."
According to Remote Patient Monitoring Market the use of technology to collect health data from individuals outside traditional healthcare settings and transmit this data back to healthcare providers for analysis and monitoring. RPM allows healthcare professionals to remotely track patients' conditions, monitor vital signs, and manage chronic illnesses without the need for frequent in-person visits.
Remote Patient Monitoring General Statistics
According to Remote Patient Monitoring Statistics, research conducted by Insider Intelligence, over 23 million patients were already using remote patient monitoring tools and services by 2020; with this number expected to surpass 30 million people by 2024.
Virtual visits conducted by physicians rose from 14% in 2016 to 80% by 2022, and remote monitoring devices more than doubled from 12% in 2016 to 30% by 2022.
University of Pittsburgh Medical Center achieved patient satisfaction scores exceeding 90% by equipping its patients with remote patient monitoring equipment and tablets.
More than 25% of consumers stated that they would shift to a new physician to access healthcare.
Rpm reduces hospital admissions by 38% and emergency room visits by 51%.
According to a survey conducted by Spyglass Consulting Group, it is found that 88% of healthcare providers believe that rpm improves patient outcomes.
According to a study published in the Journal of Medical Internet Research: the patients using monitoring devices reported higher levels of satisfaction and felt more empowered in managing their healthcare conditions.
It is expected that remote patient monitoring can save the healthcare industry up to USD 200 billion over the next 25 years.
According to the Centers for Medicare and Medicaid Services (CMS), approximately 150,000 patients are enrolled in remote patient monitoring programs in the United States, and this number is growing continuously.
Remote Patient Monitoring User Statistics
In 2020, about 29.1 million individuals in the United States were using remote patient monitoring systems, this number is expected to grow to 709.6 million in 2024 with 16% more as compared to 2020.
According to the report by the University of Pittsburgh Medical Center RPM reduces the risks of hospital readmission by 76%. Also, the report stated that about 90% of users are satisfied with using RPM services.
A KLAS Research report surveyed 25 healthcare organizations, and it was found that 38% of healthcare organizations running RPM programs to provide chronic care management.
RPM technology engagement rates reached 78.9% in 2021. Emergency department visit and hospitalization rates within 30 days of enrolment ranged between 11.4% and 9.4%; while the 30-day mortality rate stood at 0.4%.
Wearable Devices in Remote Patient Monitoring
RPM devices have gained popularity in recent years due to their potential to improve patient care, increase access to healthcare, and reduce healthcare costs. (RPM) devices are used to collect and transmit medical data from patients to healthcare providers without the need for in-person visits.
25% of women use this healthcare device regularly.
Approximately 30% (1266 out of 4551) of the adult population utilize wearable healthcare devices.
The most likely groups to report using wearable healthcare devices were women 16.25%.
According to a study, 69% of Americans would be willing to wear a smartwatch if it resulted in a reduction in their insurance premium. Among these individuals, 46% were prepared to share their data.
88% of physicians want patients to monitor their health parameters at home.
Nearly 50% of users are dependent on wearable technology in daily life, with more than 80% of users willing to share their data with their healthcare providers.
Number of connected wearable devices worldwide is rising from 325 million in 2016 to 722 million in 2019.
According to Deloitte Insights, the global market of wearable devices for the medical sector is booming. Compared to 275 million units in 2021, it is projected to reach nearly 440 million units in 2024.
Role of Telemedicine in Remote Patient Monitoring
Telemedicine plays an important role in remote patient monitoring (RPM) by enabling healthcare providers to connect with patient virtually and delivers care remotely. This reduces the need for in-person visits. By using video conferencing platforms, healthcare providers can remotely access patients' health conditions, discuss symptoms, review tests, and provide medical advice.
According to the report by McKinsey, telehealth usage in the United States increased from 11% of Americans in 2019 to 46% in 2020 during the COVID-19 pandemic.
According to the report by the American Medical Association (AMA), in 2022, approximately 83% of doctors in the United States were providing telehealth services, as compared to just 22% in 2019.  
Telemedicine and Remote Patient Monitoring (RPM) have the potential to reduce healthcare costs. According to a study published in the Journal of Medical Economics, it is found that remote monitoring reduces healthcare costs by 53%, resulting in cost savings of approximately USD 8,375 per patient over six months.
According to market.us, the global telemedicine market size is expected to be worth around USD 590.9 Bn by 2032 from USD 63.5 Bn in 2022, growing at a CAGR of 25.7% during the forecast period from 2022 to 2032.
AI in Remote Patient Monitoring, by Application
Artificial Intelligence (AI) plays a significant role in enhancing remote patient monitoring by enabling advanced data analysis, productive modeling, and decision support. RPM utilizes various devices such as sensors, wearables, smart devices, and home monitoring systems to gather healthcare data. AI algorithms can continuously monitor patient data in real-time enabling healthcare providers to detect abnormalities or changes in the patient's health status promptly.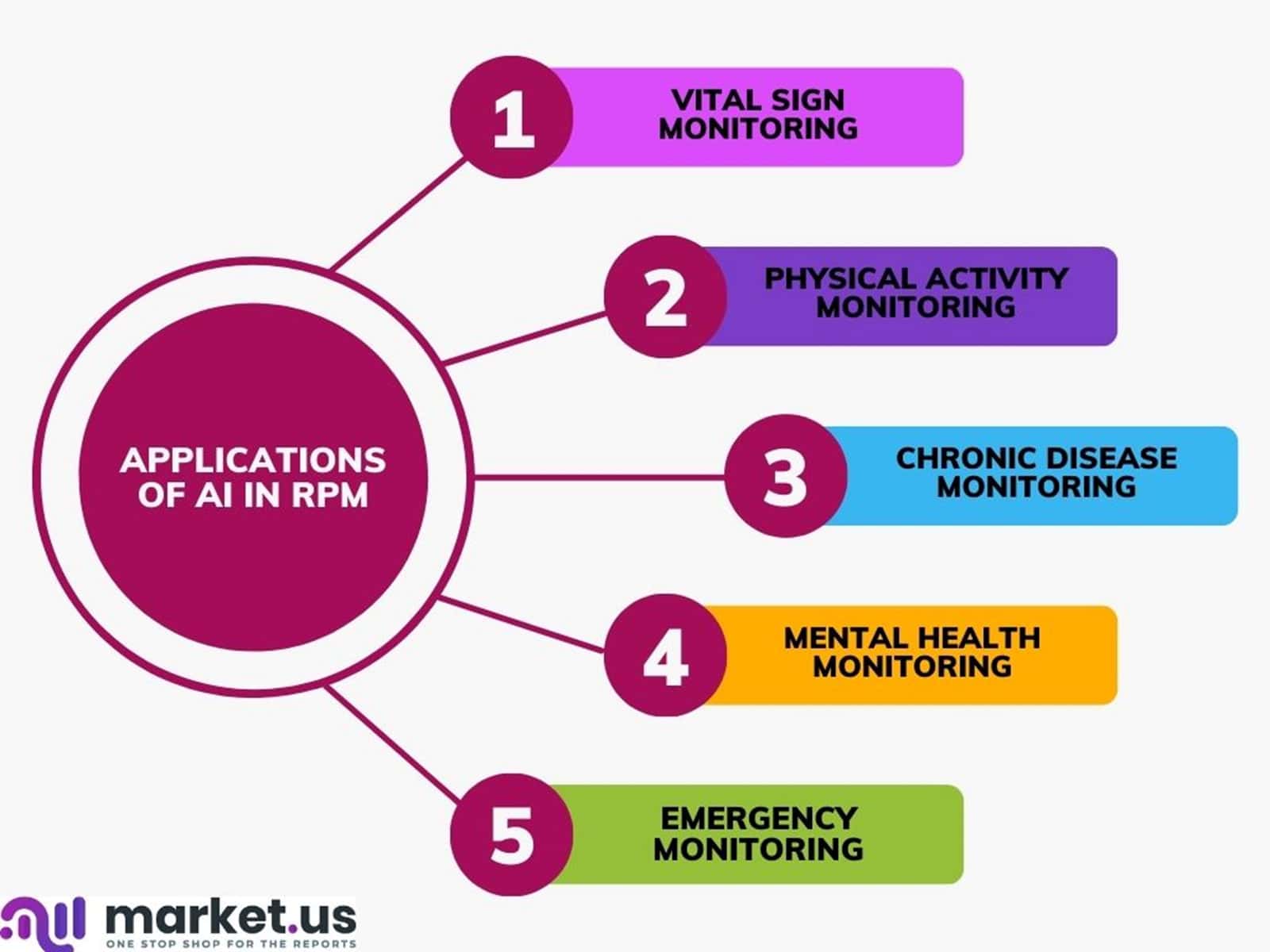 Remote Patient Monitoring, by Country
The implementation and availability of remote patient monitoring can vary by country due to factors such as healthcare infrastructure, regulations, and technological adoption.
United States
The United States has been at the forefront of RPM adoption, with various initiatives and programs implemented to promote remote patient monitoring. The United States has a strong healthcare infrastructure and a significant number of RPM companies and start-ups.
Telemedicine use increased with age and was higher among women (42.0%) compared with men (31.7%).
The percentage of adults who used telemedicine increased with education level and varied by family income.
52% of American adults reported usage of telemedicine through a live video call with their healthcare providers.
The United States telemedicine market is expected to reach a revenue of USD 22 billion by 2025.
According to a survey carried out among U.S. physicians, about 65% of respondents had not used telehealth before the COVID-19 pandemic. During the peak of the COVID-19 pandemic, 43% of physicians were seeing over 50% of their patients via remote health monitoring technology.
China
China is rapidly adopting digital health technologies, including remote patient monitoring. The country's large population and expanding middle class have created a demand for innovative healthcare solutions.
As of December 2022, more than 363 million individuals in China have used online medical services (About 34% of the total population).
Ping An Good Doctor was the leading online healthcare service provider in the market in China with the largest number of active users almost 23 million as of December 2022.
About 84% of clinicians in China believe that in the coming 10 years' patients will have easy access to remote monitoring tools to assess their healthcare and wellbeing.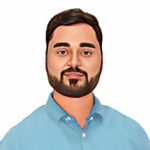 Anurag Sharma
He has been helping in business of varied scales, with key strategic decisions. He is a specialist in healthcare, medical devices, and life-science, and has accurately predicted the trends in the market. Anurag is a fervent traveller, and is passionate in exploring untouched places and locations. In his free time, he loves to introspect and plan ahead.