Every business organisation is trying to make sure they give service to the customers in a safe way. Now McDonald has also joined the list of businesses which has made it compulsory for people to wear masks. McDonald said they have mandated wearing of masks in their more than 14000 restaurants across the country. The biggest burger chain restaurant had to take this step since the cases of coronavirus are increasing at a faster rate in the country. In the last week alone, more than two million new cases of coronavirus have been found in the USA. Now to make sure people get their desired burger at McDonald restaurant, the company decided to take this action.
McDonald's US president Joe Erlinger said more than 85% of the localities in which McDonald is located have already mandated the wearing of masks. McDonald is pledged to give safety to the customers during these situations. The deadly virus is spreading quickly in the country, and this action was necessary from the biggest burger chain. People still don't believe in wearing masks in public places, and they are not giving it much importance. However, after a recent scientific survey showed that wearing masks can help to prevent coronavirus, now there is some movement from that group of people.
The representative said a customer who is not wearing a mask would be given to them. But, if they refused to wear it, then they will be sent to some social distance where they will receive the order. McDonald also decided to delay the opening of dining rooms which might not be a suitable decision considering the current scenario. McDonald resumed services of the dining room in May to reopen the economy. But, the current scenario forced them to take this wise decision.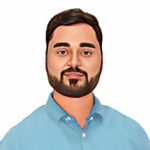 Anurag Sharma
He has been helping in business of varied scales, with key strategic decisions. He is a specialist in healthcare, medical devices, and life-science, and has accurately predicted the trends in the market. Anurag is a fervent traveller, and is passionate in exploring untouched places and locations. In his free time, he loves to introspect and plan ahead.