According to Market.us, the global digital therapeutics market was worth USD 4,530 million in 2021. It is expected to grow at a 24.2% CAGR from 2022 to 2032.
According to Digital Therapeutic Statistics, Digital therapeutics (DTx) is indeed gaining popularity as a promising field in healthcare. Digital therapeutics (DTx) is defined as the use of digital technologies – such as mobile apps, software programs, and wearable devices – to deliver evidence-based therapeutic interventions for the prevention, management, or treatment of various medical conditions.
Editor's Choice
By 2030, the cost of chronic disease management is expected to reach USD 42 trillion.
the CDC reports that 90% of the US healthcare spend worth USD 3.3 trillion annually goes towards treating people with chronic and mental health conditions.
Compounding the problem, the global shortage of healthcare workers is also projected to reach 15 million by 2030.
As medical protocols evolve and care costs decrease, investments in digital therapeutics are expected to surge by 26.7% year over year between 2020-2025 – reaching USD 6.9 billion during that period.
Today's market is led by start-ups offering innovative digital therapeutic solutions such as AR/VR-enabled video games that address mental health conditions.
The COVID-19 pandemic has accelerated the adoption of virtual and home care technologies, transforming patient engagement by integrating data across the healthcare landscape via wearables and smart devices.
It is estimated that up to USD 250 billion of the US healthcare spending could be virtualized, because of the accelerated adoption of telehealth solutions driven by the pandemic.
Patient Adoption of Digital Therapeutics
In 2020, more than 68% of respondents reported that they were interested in using digital therapeutics.
According to a study published in the Journal of Medical Internet Research, 87% of patients were aware of digital therapeutics, and about 59% of patients were willing to use these services.
About 86% of patients with chronic diseases were interested in using therapeutics, and 78% of patients with any chronic condition believed that therapeutics could help manage their chronic condition effectively.
According to a survey conducted by Accenture in 2020, 48% of respondents who had a history of mental health conditions reported using digital mental health tools during the COVID-19 pandemic.
More than 71% of adults aged 55 years and more are interested in using digital therapeutics.
About 78% of patients use therapeutics for depression, and 83% reported being satisfied with the overall experience.
In 2021, the number of people using digital therapeutics was reach 44 million. In 2022, the number of digital therapeutics users doubled and reached 90.2 million, and this number is expected to reach 652.4 million by 2025.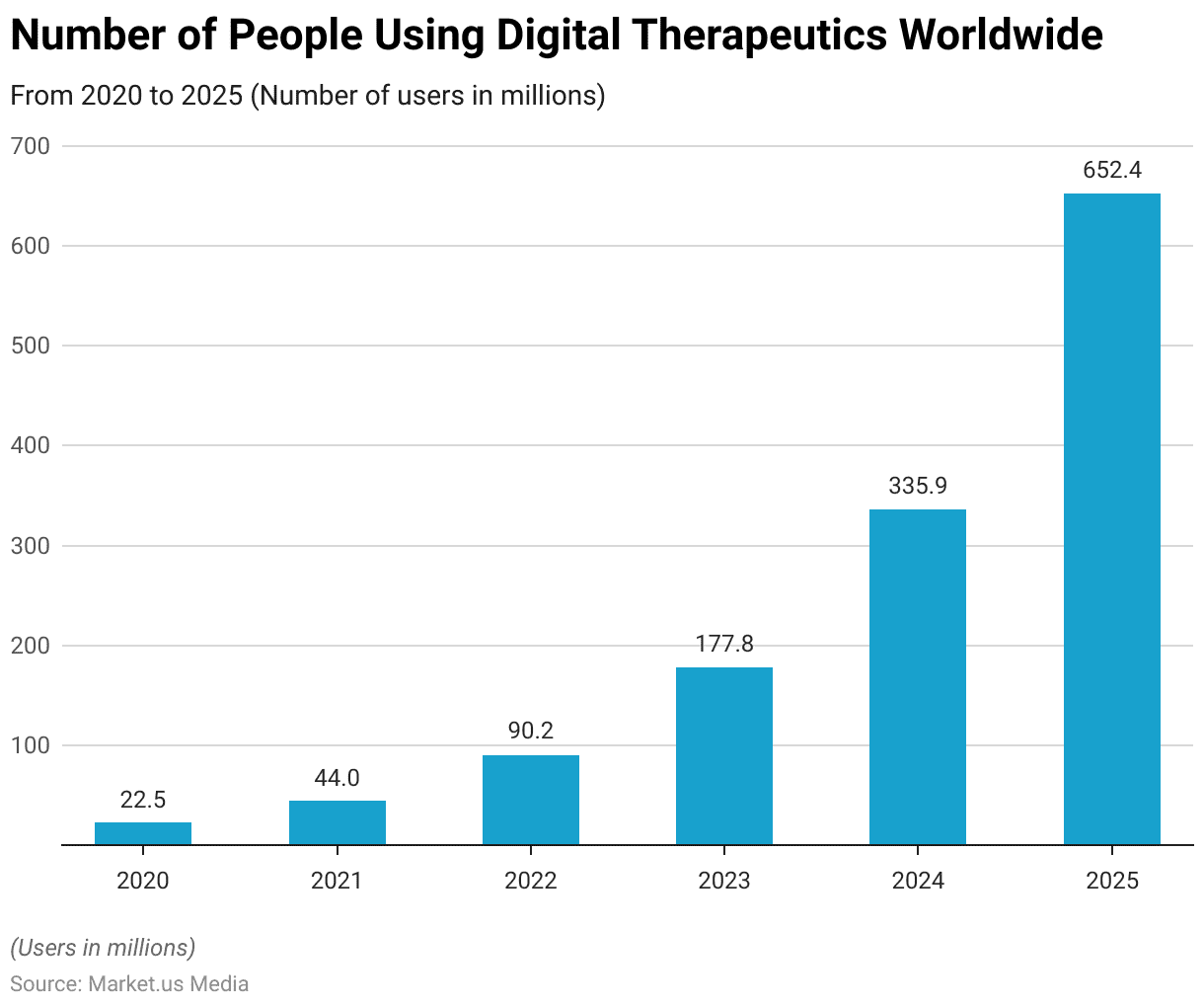 The Potential of Digital Therapeutics
Behavioral Change & Guidance
Digital therapeutics have shown promising results in helping individuals quit smoking. A study published in the Journal of Medical Internet Research found that a digital therapeutics program for smoking is beneficial in quitting smoking among individuals. After 6 months, the abstinence rate for the digital therapeutic group was 32.7%, while the rate for the control group was only 14.0%.
Digital therapeutics play a crucial role in addressing weight management and promoting healthy nutrition habits. The study published in the Journal of Medical Internet Research showed that therapeutic interventions focus on behavioral changes and personalized coaching which have resulted in significant weight loss among the participants. After 6 months it was found that the intervention group achieved an average weight loss of 4.59 kg, while the control group had an average weight loss of only 0.25 kg.
Non-adherence to medication regimens is a common challenge in healthcare. Digital therapeutics offers solutions to improve medication adherence through reminders, educational content, and activity-tracking tools. The study by JAMA Network found that digital interventions significantly help improve medication adherence across a range of conditions such as hypertension, diabetes, and HIV. The pooled analysis of the JAMA Network found that 19% improvement in medication adherence as compared to the control group.   
Cost-Effectiveness and Healthcare Savings
Digital therapeutics have the potential to reduce healthcare costs by providing more efficient and cost-effective interventions compared to traditional healthcare approaches.
According to a study published in the Journal of Medical Internet Research, therapeutics for type 2 diabetes help in reducing healthcare costs by USD 339 per patient over six months compared to usual care. 
Digital therapeutics help in reducing hospital visits and emergency room visits. A study published in the Journal of Medical Internet Research demonstrated that heart failure management led to a 52% reduction in hospitalization and a 33% reduction in emergency room visits compared to traditional care services.
Digital therapeutics can enhance medication adherence, resulting in better health outcomes and cost savings. Digital interventions improve medical adherence by an average of 10-15% across various health conditions.
According to a report by the Center for Digital Health, therapeutic interventions targeting mental health conditions resulted in improved workplace productivity, with an estimated annual economic benefit of $3,000 to $6,000 per employee.
A cost-effectiveness analysis published in Value in Health demonstrated that therapeutics interventions for smoking cessation are cost-effective as compared to standard care, with an incremental cost-effectiveness ratio (ICER) of USD 2,325 per quality-life adjusted year (QALY) gained.
Challenges in Digital Therapeutics
Regulatory approval processes are complex and time-consuming. More than 55% of digital therapeutics companies identified regulatory approval as a major challenge.
66% of digital health companies identified reimbursement as a major barrier to market access.
About 45% of patients expressed concerns about the privacy and security of their data in therapeutics.
According to the report by Ponemon Institute, the average cost of a healthcare data breach in the United States was USD7.13 million in 2020.
About 30% of users discontinued the use of therapeutics for chronic disease management. 
According to the survey, there are still some barriers to the adoption of digital therapeutics. In 2021, the main barriers to the adoption of therapeutics include a lack of awareness (25%), skepticism about efficacy (19%), and concerns about data privacy and security (15%).
Potential Future Applications of Digital Therapeutics
The global digital mental health market is projected to reach USD 11.5 billion by 2025, with a compound annual growth rate (CAGR) of 28.3 from 2020-2025.
It was found that 91% of patients with depression who used therapeutics reported improvement in their symptoms.
About 79% of behavioral health organizations increased their use of telehealth during the pandemic.
Digital therapeutics have shown promise in cardiac rehabilitation. A randomized controlled trial published in JAMA Cardiology found that therapeutics for cardiac habitation led to a 40% increase in adherence compared to traditional habitation programs.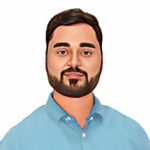 Anurag Sharma
He has been helping in business of varied scales, with key strategic decisions. He is a specialist in healthcare, medical devices, and life-science, and has accurately predicted the trends in the market. Anurag is a fervent traveller, and is passionate in exploring untouched places and locations. In his free time, he loves to introspect and plan ahead.