"According to Market.us, in 2022, the global long-term care market accounted for USD 1100.7 billion and is expected to reach around USD 2168.1 billion in 2032. Between 2023 and 2032, this market is estimated to register a CAGR of 7.2%."
Long-Term Care Key Statistics Worldwide
According to long-term care statistics, About 70% of people worldwide currently turning age 65 years will require long-term care.
The incidence of dementia was to grow from 47 million worldwide in 2015 and it is expected to grow to 75 million in 2030.
2 out of 3 older peoples with any disability receives LTTSS at their own home.
It is estimated that the number of individuals using paid term care services such as at home, residential care such as assisted living, or skilled nursing facilities is growing to 27 million people by 2050. The growth will be influenced by rising growth in the older population.
According to the National Center for Assisted Living, about 59% of all assisted living residents eventually move to a skilled nursing facility.
The majority of long-term service care users are aged 65 years and over.
94.4% of Hispanic patients are currently using long-term care services.
92.9% of individuals are using residential care services aged 65 years and above.
63.7% of adults aged 65 years and above are using adult day-care services.
About 73% of all long-term care is provided in the home environment typically by caregivers who receive no compensation for their labor.
About 486,100 people are employed in nursing care in hospitals.
Earnings of the nurses in 2011 increased by 3% in 2022.
Annually about 8,357,100 people worldwide receive support from the 5 main long-term care services: 4,742,500 people get services from home health agencies, 1,383,700 people get services from nursing homes, 1,244,500 people get services from hospices, 713,300 peoples get services from residential care communities, and 273,200 peoples get services from adult day service centers.
Medical Condition in Long-Term Care Facilities Statistics
Dementia, including Alzheimer's disease, is a prevalent condition among residents in long-term care facilities. Also, there are major chances of causing cardiovascular diseases, respiratory diseases, and diabetes among the residents in long-term care. This statistic shows the percentage of people who experience common medical conditions living in long-term care facilities.
55% of residents have high blood pressure.
27% of residents are struggling with the issue of diabetes.
About 20% of residents are affected by arthritis.
17% of residents are struggling with heart disease.
12% of residents living in long-term care are affected by osteoporosis.
11% of residents have been diagnosed with chronic obstructive pulmonary diseases.
10% of residents have stroke issues.
| | |
| --- | --- |
| Medical Conditions | Percentage of Residents |
| High Blood Pressure | 55% |
| Diabetes | 27% |
| Arthritis | 20% |
| Heart Diseases | 17% |
| Osteoporosis | 12% |
| Chronic Obstructive Pulmonary Diseases | 11% |
| Stroke | 10% |
Long-Term Care Statistics- By Country
The United States
The aging population in the United States is a major driver of the development of long-term care in the United States. As the baby boomer generation reaches retirement age, the demand for care services is increasing in the United States.
Advancements in medical technology and improved healthcare services resulted in increased life expectancy. The passage of the Older Americans Act in 1965 marked a significant milestone in the development of long-term care services in the United States.
Nursing homes in the U.S. – Statistics
The nursing home is a common type of long-term care service in the United States.
In 2019 there were about 15,000 nursing homes are there in the United States, and this number is expected to reach 25,000 by the end of the year 2023.
Nursing facilities employ about 1.6 million people in the United States.
Texas has the highest number of nursing homes in the US state with 1,214 facilities, among them 1,187 facilities are in California and 952 are in Ohio.
Alaska has a low number of nursing homes, but the annual cost for a private room in nursing homes is around 436,540 US dollars per year on average.
Connecticut is the second most expensive state costs around USD 167,900 per year for nursing home services.
Most residents in the nursing home in the United States are aged between 85 and 94 years.
About 11.2 % of residents in nursing homes are female, as compared to men (6.1%).
The common medical conditions among nursing home residents are bladder and bowel incontinence, depression, weight loss, and anxiety.
About 36.6% of residents in nursing homes have severe cognitive impairment.
The United States Nursing Care Market Size from 2013 to 2024, by Service Statistics
The nursing care market in the United States accounted for USD 108 billion in 2013, the market generated revenue of USD 182 billion in 2022, and the market is expected to reach a revenue of USD 203 billion in 2024.
The U.S. Nursing Care Market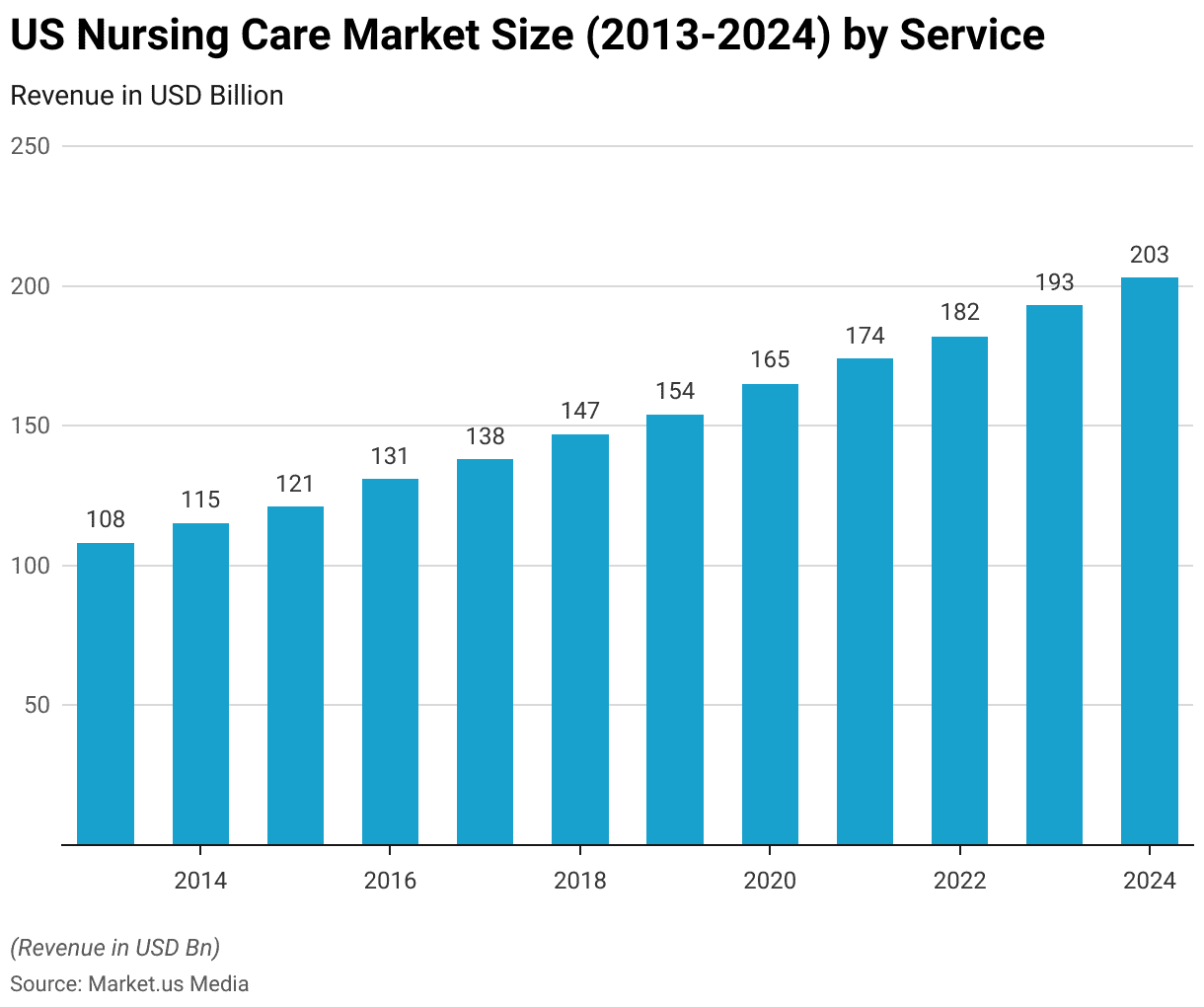 Canada
Long-term care services in Canada include a range of services such as home care, assisted living, and nursing home facilities. Long-term care in Canada is funded through a combination of public funds and individual contributions.
How Many Long-Term Care Beds are there in Canada?
| | |
| --- | --- |
| State | Availability of Long Term Care Beds (Per 1000 Seniors Aged 65+) |
| Newfoundland | 26 |
| Prince Edward Island | 39 |
| Nova Scotia | 33 |
| New Brunswick | 29 |
| Quebec | 24 |
| Ontario | 30 |
| Manitoba | 44 |
| Saskatchewan | 47 |
| Alberta | 26 |
| British Columbia | 28 |
| Yukon | 56 |
| Northwest Territories | 51 |
| Nunavut | 18 |
Japan
Long-term care services and their benefits in Japan are distributed under the insurance (LTCI) system established in 2000. About half of the funding for long-term care is from the public, while the other remaining half is financed by insurance premiums.
There are two categories of insurance in Japan, the primary insured people are aged from 40 to 64, and the secondary insured people are aged 70 to 90 years.
More than 31% of the general account expenditure of the Japanese government is allotted to social security expenses.
1 in 4 Japanese citizens will be aged more than 75 years by 2025.
About 6.8 million people in Japan require services.
In 2021, there were about 1.8 million certified workers in Japan.
Due to the low birth rate and high life expectancy, the number of people aged 65 years and above in Japan is increasing and it is expected to reach around 38% of the population in Japan by 2060.
COVID-19 Impact on Long-Term Care- Statistics
Covid-19 Death Rates Among Long Term Care Residents in Countries Worldwide May 2020
In response to the pandemic, there have been several regulatory changes impacting the long-term care industry, including new requirements for infection control and prevention. Providers have had to adapt quickly to these changes, which has required additional resources and staff time.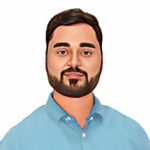 Anurag Sharma
He has been helping in business of varied scales, with key strategic decisions. He is a specialist in healthcare, medical devices, and life-science, and has accurately predicted the trends in the market. Anurag is a fervent traveller, and is passionate in exploring untouched places and locations. In his free time, he loves to introspect and plan ahead.