Condom Statistics: One of the Effective Methods of Preventing Pregnancy
Introduction
Condom Statistics: Using condoms is very important for family planning and maintaining sexual health. Condoms serve two purposes first is preventing unplanned pregnancies and the other is risk of sexually transmitted infections (STIs). Condoms are thin, flexible barriers made up of polyurethane or latex used during sexual intercourse.
Nowadays, condoms are available in different types, sizes, and flavors providing to the preferences of individuals. Additionally, contraception and condoms play an important role in public health by decreasing the spread of STIs, including HIV/AIDS. Condoms empower individuals to take control of their sexual well-being, allowing them to make informed choices about their reproductive and sexual health.
Editors Choice
The global prevalence of male condoms has experienced significant growth, more than doubling from 4.5% in 1994 to 10.0 % in 2019.
The most substantial increase occurred in Eastern and South-Eastern Asia, where it rose from 5.0 % to 17.0 %.
In 2022, the global condom market reached approximately 8.38 billion U.S. dollars in size, and it was anticipated to experience swift growth in value in the coming years.
Projections indicated that by 2030, the global condom market would likely attain a value of around 13.06 billion U.S. dollars.
Among sexually active men aged 16 to 24, condom use in the past year rose from 61.0% in 1990 to 82.1% in 2000.
(Source: UN, NIH)
Condom Statistics by Gender Usage
45.2% of men reported using male condoms during their last sexual encounter, a %age that showed no significant change from 2006–2010 (45.8%) and 2002 (44.5%).
However, the use of withdrawal as a contraceptive method increased over these three periods, reaching 18.8% in the years 2011–2015.
Male condoms exhibit an effectiveness rate of 98%. In practical terms, this implies that, in a one-year timeframe of using male condoms as a form of contraception, approximately 2 out of every 100 individuals may experience a pregnancy.
When female condoms are used consistently and correctly, they have an effectiveness rate of 95%. In simpler terms, in a one-year period of using female condoms as contraception, approximately 5 out of every 100 women may experience a pregnancy.
Roughly 21 out of every 100 women who use female condoms may experience a pregnancy within a year.
In the past 12 months, 59.9% of women and 56.4% of men aged 15-44 relied solely on condoms without using any other contraceptive method during their most recent sexual encounter.
(Source NHS, NCHS)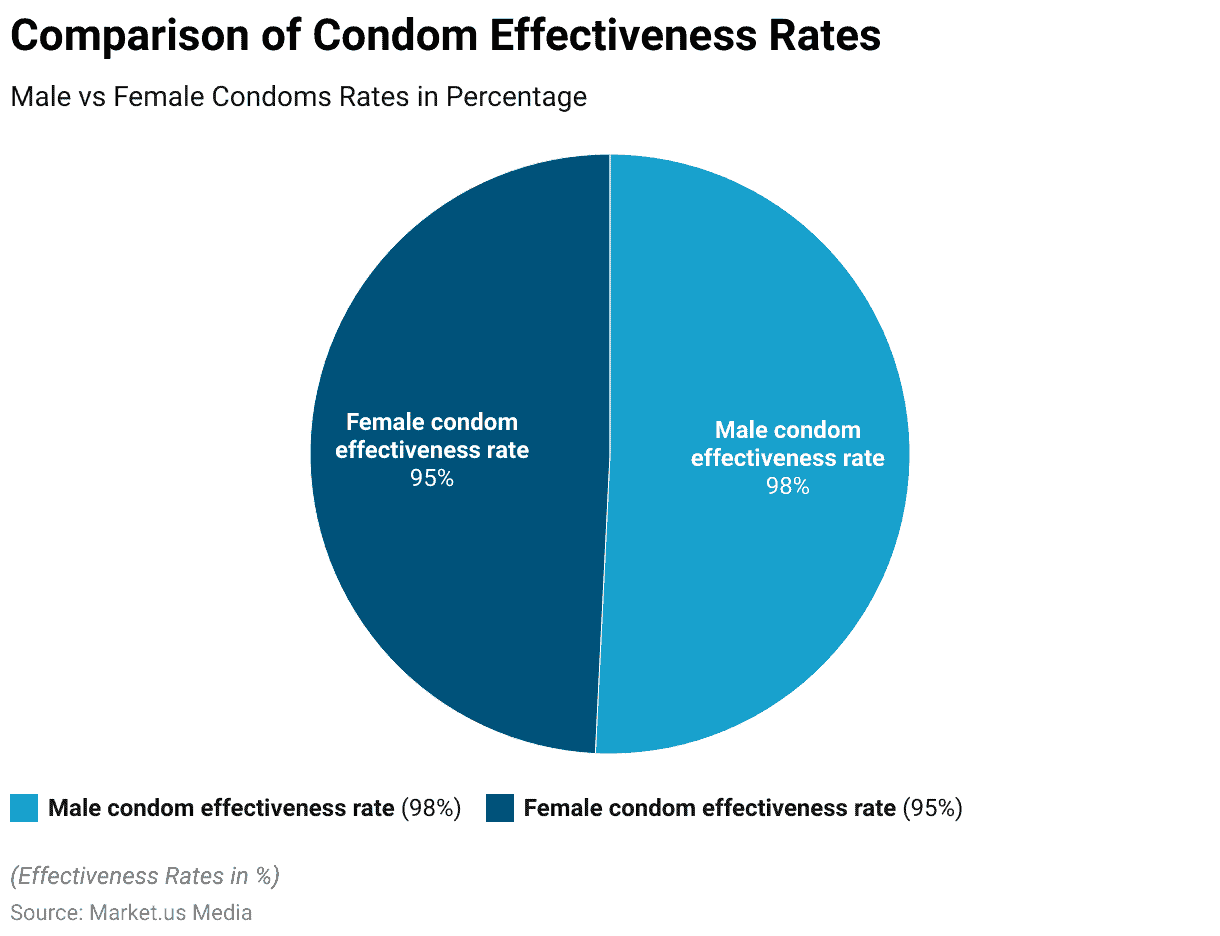 Condom Statistics by Age Group Usage
In general, the majority of sexually active students, specifically 89.7% (excluding those who solely reported same-sex sexual contact), opted for either a condom or a primary contraceptive method during their most recent sexual encounter.
However, roughly one-fifth, or approximately 19.8%, indicated that they used withdrawal, another method, or engaged in sexual activity without using a condom or any primary contraceptive method.
In the United States, among adolescents aged 15 to 17 years, the rates of condom use during their initial sexual experience stand at 77% for males and 74.6% for females.
In the year 2017, 59.9% of women and 56.4% of men between the ages of 15 to 44 exclusively used a condom without any additional contraceptive method during their most recent sexual encounter.
Condom usage among adolescents aged 15-19 years witnessed a notable increase, rising from 46.2% in 2003 to 62.8% in 2015.
Among adults above the age of 40, the utilization of condoms during their most recent sexual encounter is notably low, with only 19.2% reporting condom use.
(Source: BMJ Journals)
Global Condom Usage Statistics: A Regional Overview
India
In India, among married women, 9.8% in urban areas and 3.2% in rural areas use condoms.
Among the unmarried population who are sexually active, 72.4% of women and 98% of men use condoms.
In India, in the year 2020, 91% of female sex workers reported using a condom during their most recent sexual encounter.
In the fiscal year 2020, the Indian union territory of Dadra and Nagar Haveli recorded the highest condom usage rate, with approximately 993 users for every 10,000 couples who had not undergone sterilization.
In the group of unmarried women aged 15 to 49 who are sexually active, there was a notable rise in condom use from 12% in 2015-16 to 27 % in 2019-21.
(Source: NIH, The Hindu Business Lines, Statista)
America
In 2020, approximately 33.44 million Americans reported using condoms.
Projections indicate a slight decrease to around 33.72 million in the year 2024.
Annually, in the United States, around 1.5 million individuals contract chlamydia, which is the most prevalent sexually transmitted disease.
In addition, 400,000 people are diagnosed with gonorrhea, and nearly 24,000 individuals become infected with syphilis.
Over 45% of pregnancies in the United States occur without prior planning.
(Source: Statista Research Department, NBC News)
UK
In England, About 27% of individuals chose the male condom as their primary contraception method.
In England, among sexually active individuals aged 16 to 24, 10% did not use condoms in 2017.
In England, one out of every ten sexually active individuals in the age range of 16 to 24 accounted for 59% of chlamydia and gonorrhea diagnoses.
(Source: Statista, The Guardian)
Japan
More than one-third (34%) of adult women did not utilize condoms during vaginal intercourse.
Approximately one-quarter (26%) of adult men did not employ condoms during vaginal intercourse.
Over 70% of married couples in Japan rely on condoms as their primary means of contraception.
(Source: Statista, NIH)
Africa
A little over half of Africans, specifically 55.31%, reported consistent condom usage.
On the other hand, 44.69% of individuals reported inconsistent condom use.
Among the Coloured population group, most individuals (87.21%) reported inconsistent condom use.
While 12.79% stated that they use condoms consistently.
(Source: Taylor & Francis Online)
Condom Statistics by Sales and Market Data
Both commercial and socially marketed condoms together account for an annual volume of 2.1 billion condoms.
To ensure protection from pregnancy, a couple would need to use 120 condoms in a year.
If 50% of the unmet demand were met, the volume of the condom market would reach 4.15 billion units.
In 2020, the global Condom Market was valued at approximately USD 8200.1 million, and it is anticipated to reach around USD 9600.4 million by 2026.
This growth is expected to occur at an average annual rate of about 7.1% during the period spanning from 2021 to 2026.
Annually, approximately 450 million condoms are sold in the United States.
(Source: The Print, Facts & Factors, Planned Parenthood)
Condom Statistics by: Financial Insights and Market Share Analysis (2022)
Karex Berhad a Malaysian Company generated $421,642 Million in 2022.
Reckitt Benckiser Group plc generated a total revenue in the financial year 2022 that was $14,453 Million.
Church & Dwight Co., Inc. an American company generated $5,376 Million in 2022.
In India as of 2021, Manforce held the largest share of the condoms market, accounting for 32%.
Durex and Kamasutra followed closely, each with a market share of 14%.
In India, Manforce condoms are priced at a maximum retail rate of 120 Indian rupees.
(Source: Statista)
Condom Statistics by Public Health
Role of Condoms in Preventing STIs
Using condoms correctly 100% of the time reduces the risk of HIV transmission by around 85%
While it lowers the risk of Hepatitis B transmission by approximately 90%.
When used consistently and accurately, condoms also reduce the risk of Genital Herpes transmission by about 40%.
Male condoms are estimated to have a 90% effectiveness rate in reducing the transmission of HIV.
Female condoms can reduce HIV transmission by as much as 94%.
The initiative by the New York City Department of Health and Mental Hygiene (NYC DOHMH) resulted in a boost in the monthly distribution of male condoms from approximately 0.5 million to 1.5 million.
(Source: NIH, USAID)
Trends in Male Contraceptive Practices Over the Years
Among men who had sex in the past 3 months, there was no change in the age that said they or their spouse used any form of contraception at the time of their last sexual encounter across the following three time points: (80.2%) in 2002, (83.7%) from 2006 to 2010, and (81.7%) from 2011 to 2015.
The proportion of unmarried men who engaged in sexual activity in the past three months and opted for a male contraception method during their most recent sexual encounter witnessed an increase from 52.2% in 2002 to 59.3% from 2011 to 2015.
There were no notable variances observed in condom usage (ranging from 44.5% to 45.8%) or vasectomy rates (from 1.0% to 1.7%) across the three time periods.
The practice of withdrawal method nearly doubled, rising from 9.8% in 2002 to 18.8% in the period of 2011–2015.
Conclusion
Condom Statistics – To sum things up, the data on condom usage provides crucial insights into their widespread adoption and the impact they have on sexual health worldwide. These statistics underline the vital role that condoms play, serving both as an effective means of birth control and a powerful tool in preventing sexually transmitted infections (STIs).
Condoms are a widely accepted method of protection across different regions and among various demographics. When used consistently and correctly, they prove highly effective. Moreover, they make substantial contributions to public health initiatives by significantly reducing the transmission of STIs, including the prevention of HIV.
However, there is still work to be done in furthering condom awareness and accessibility, particularly in reaching marginalized communities and addressing unmet needs. Efforts by governments, non-governmental organizations, and healthcare providers continue to promote condom use, ensuring they remain a fundamental resource for promoting sexual health, facilitating family planning, and safeguarding public health in general.
FAQs
What is the effectiveness of condoms in preventing pregnancy and sexually transmitted infections (STIs)?
Male and female condoms, when used consistently and correctly, are highly effective in preventing both pregnancy and the transmission of STIs. Male condoms are approximately 98% effective, while female condoms are about 95% effective.
How many condoms are used annually worldwide?
The global condom usage varies, but millions of condoms are used annually. The exact number may change over time due to population growth and public health initiatives.
Are there differences in condom usage between countries and regions?
Yes, condom usage rates can vary significantly between countries and regions. Factors such as cultural norms, access to healthcare, and awareness campaigns influence these differences.
What are some common reasons for inconsistent condom use?
Inconsistent condom use can occur for various reasons, including discomfort, lack of access, trust in a partner, alcohol or drug use, and misinformation.
How do governments promote condom use?
Governments promote condom use through education and awareness campaigns, free or subsidized distribution programs, safe sex promotion, youth-focused initiatives, and partnerships with NGOs and healthcare providers.
Are there age-related trends in condom use?
Yes, condom use often varies by age group. Younger individuals, especially adolescents, may have lower condom usage rates, while older individuals may use condoms less frequently.
What impact does condom use have on reducing HIV transmission?
Consistent and correct condom use can significantly reduce the risk of HIV transmission. Condoms act as a barrier, preventing the exchange of bodily fluids that can carry the virus.
What role do condoms play in family planning and sexual health?
Condoms are a vital tool in family planning and sexual health. They offer a reliable method of contraception and help prevent the spread of STIs, making them essential for promoting sexual well-being.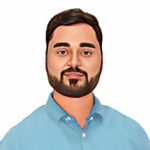 Anurag Sharma
He has been helping in business of varied scales, with key strategic decisions. He is a specialist in healthcare, medical devices, and life-science, and has accurately predicted the trends in the market. Anurag is a fervent traveller, and is passionate in exploring untouched places and locations. In his free time, he loves to introspect and plan ahead.