Cannabidiol Statistics: Medical and General for its Potential Therapeutic Effects
Cannabidiol Statistics: Cannabidiol, commonly known as CBD, has garnered significant attention in both the medical community and the general public for its potential therapeutic effects. Extracted primarily from the hemp plant, a variety of cannabis, CBD is a non-psychoactive compound, meaning it doesn't produce the 'high' associated with its more famous cannabinoid cousin, THC (tetrahydrocannabinol).
In recent years, the market for CBD products has skyrocketed, fueled in part by evolving regulations, increased public awareness, and a surge in scientific research. Various forms of CBD products such as oils, tinctures, edibles, and topicals are now widely available, each promising an array of health benefits. Clinical studies have shown promising results for CBD's efficacy in treating conditions ranging from chronic pain and anxiety to certain forms of epilepsy.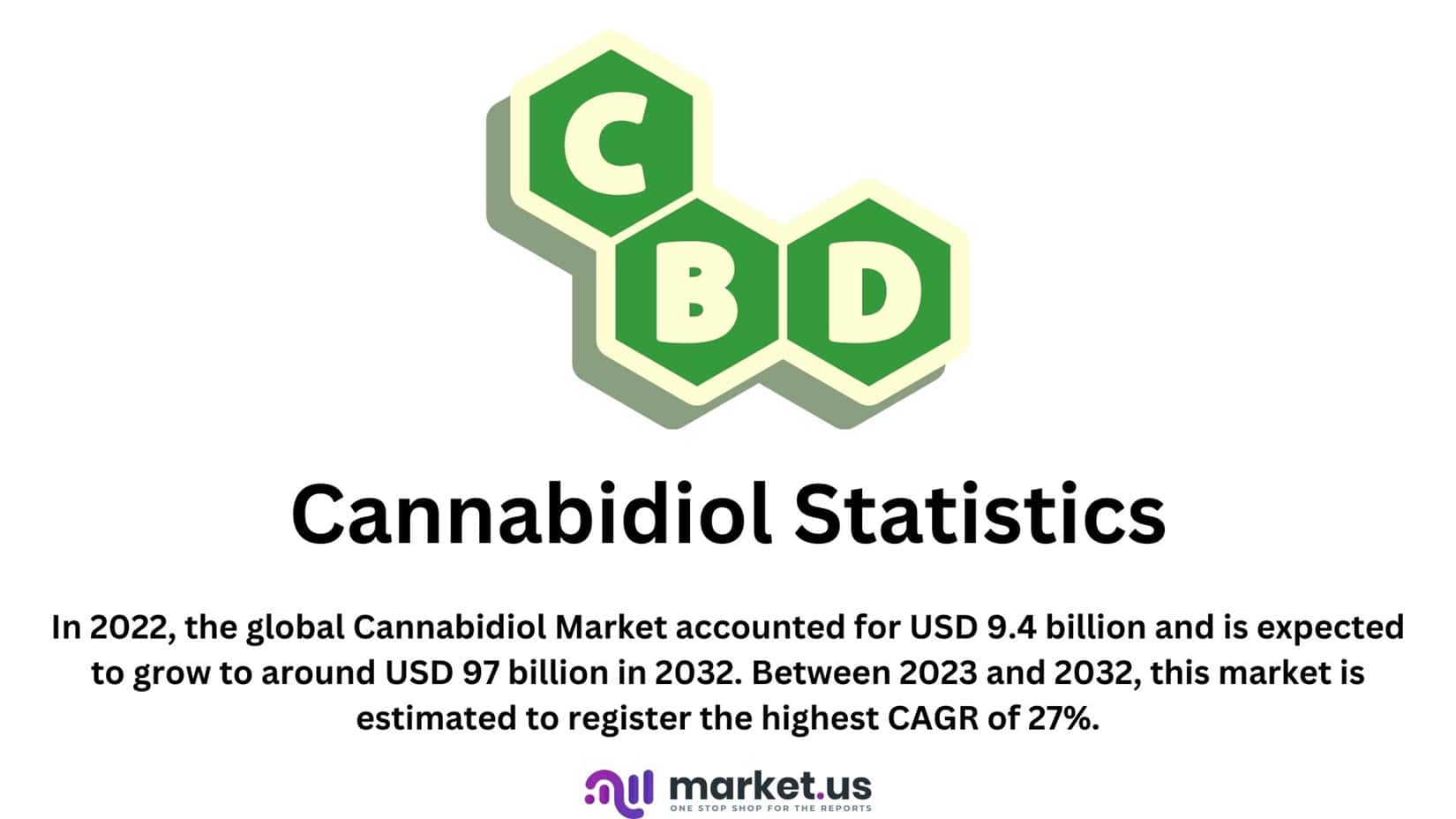 Curators Choice
Approximately 147 million people consume cannabis annually.
Cannabis is consumed by 2.5% of the world's population.
Cannabis abuse has seen a more rapid growth rate in the present decade compared to other substances.
The most common age group for cannabis consumption ranges from 18-25.
Cannabis and its by-products like CBD are also being used for various medical treatments, including pain management and mental health conditions.
Cannabis is consumed at a rate more than 10 times higher than that of cocaine and opiates.
65% of U.S. adults believe that CBD is safer to consume than alcohol. Only 44% of U.S. adults believe that CBD should be legal.
Global Cannabidiol Market Statistics
In 2022, the global Cannabidiol Market accounted for USD 9.4 billion and is expected to grow to around USD 97 billion in 2032. Between 2023 and 2032, this market is estimated to register the highest CAGR of 27%.
Pharmaceuticals represent the most lucrative segment, accounting for over 25% of the market, driven by CBD's neuroprotective and pain-relieving properties.
Online pharmacies hold the largest market share (25%) due to the convenience of online sales and global reach.
Major companies in the CBD market include Medical Marijuana Inc., Isodiol International Inc., Aurora Cannabis Inc., Elixinol Global, and others.
(Source: Market.us)
Cannabidiol Statistics Worldwide
According to a Forbes Health survey of 2,000 U.S. adults conducted by OnePoll, 60% of respondents have tried a CBD product at least once.
The same Forbes Health survey revealed that a significant majority of those who have tried CBD believe it offers medicinal benefits.
A 2018 cross-sectional survey published in Cannabis and Cannabinoid Research indicated that almost 62% of CBD users consume the product specifically to treat a medical condition.
The top three medical conditions for which CBD is most commonly used are pain, anxiety, and depression, as per the 2018 survey.
As of 2023, the consumption of CBD is either conditionally legal or fully legal in all 50 states in the U.S., making it accessible to a broad audience.
The widespread legal acceptance has likely contributed to high market penetration, with 60% of surveyed U.S. adults having tried CBD.
The belief in CBD's medicinal benefits, held by 60% of those surveyed by Forbes Health, highlights growing consumer confidence in the product as an alternative or supplement to traditional medicines.
Although not mentioned in the surveys, the substantial percentage (62%) of people using CBD for medical conditions suggests an urgent need for more in-depth medical research to substantiate these claims.
The legality of CBD in all 50 states as of 2023 signifies a shift in policy that likely correlates with changing public perception and its wide-ranging medicinal applications.
(Source: Forbes)
Cannabidiol Statistics by Age
Young Adults (18-25 years): Among the youngest age group surveyed, 32% have tried CBD, while a substantial majority of 68% have not.
Early to Mid-Adults (26-41 years): This age group shows the highest usage among those surveyed, with 62% having tried CBD, compared to 38% who haven't.
Middle-Aged Adults (42-57 years): A slightly lower but still significant percentage, 59%, of individuals in this age range have tried CBD, while 41% have not.
Older Adults (58-76 years): In this age group, usage is more evenly split: 49% have tried CBD, and 51% have not.
Seniors (77+ years): Surprisingly, the 77 and above age group has the highest reported usage of CBD, with an overwhelming 89% saying they have tried it, and only 11% saying they haven't.
(Source: Forbes)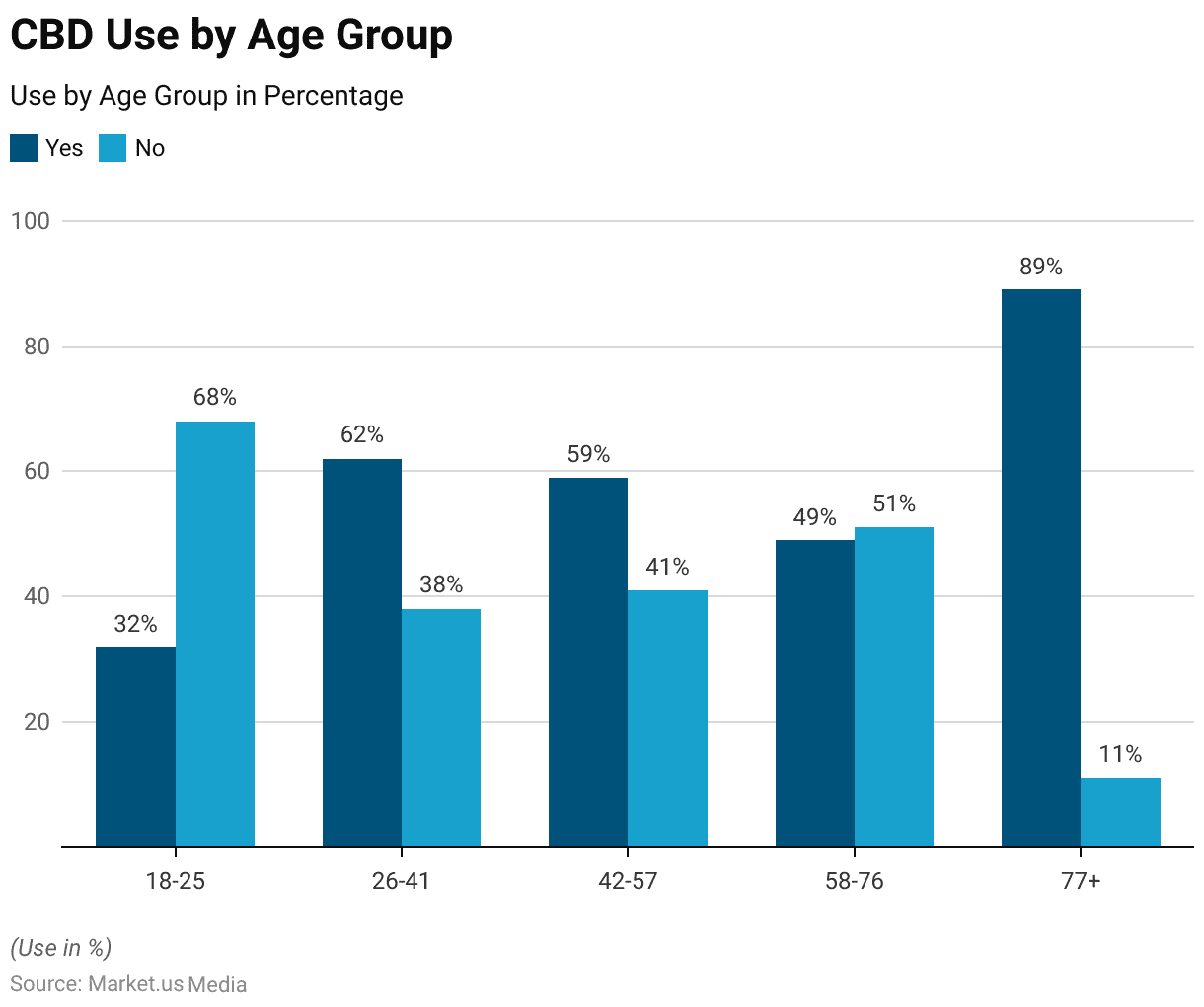 Cannabidiol Statistics by Genders
61% of males use CBD, while 60% of females use it.
Other genders use CBD at a much lower rate, with only 15% of people identifying as others using it.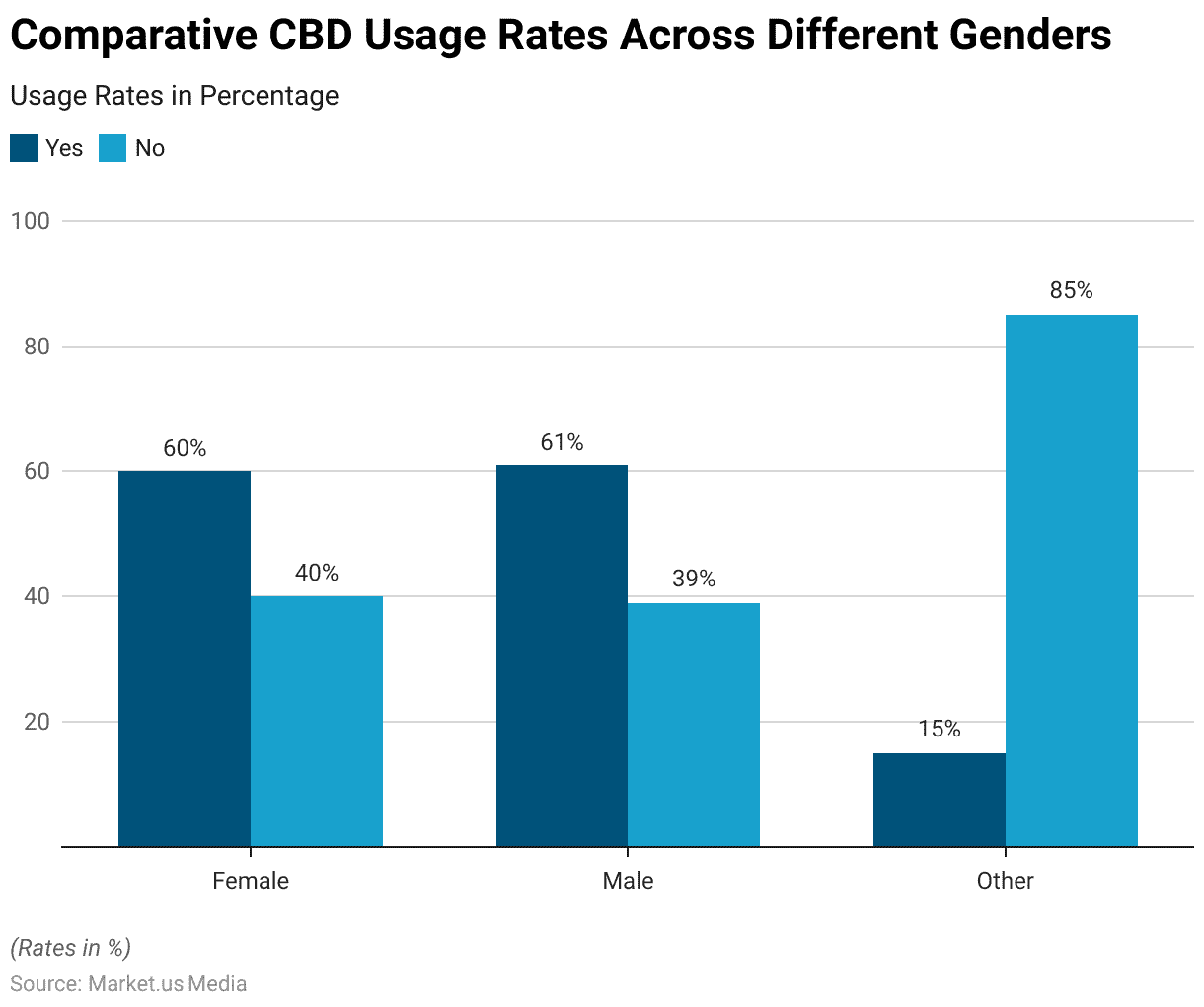 Cannabidiol Statistics by Race
White: A significant majority, 64% of CBD users identify as White. This demographic shows the highest rate of usage among the groups surveyed.
Hispanic/Latino: Making up 12% of CBD users, the Hispanic/Latino community is the second largest demographic group to use CBD.
Black/African American: Representing 5% of CBD users, this demographic group has a relatively low rate of usage compared to other communities.
Asian/Asian American: At 4%, Asian/Asian American individuals form a small but notable portion of CBD users.
Other: Another 4% of CBD users belong to various other racial or ethnic groups, indicating that CBD usage is not strictly limited to any specific community.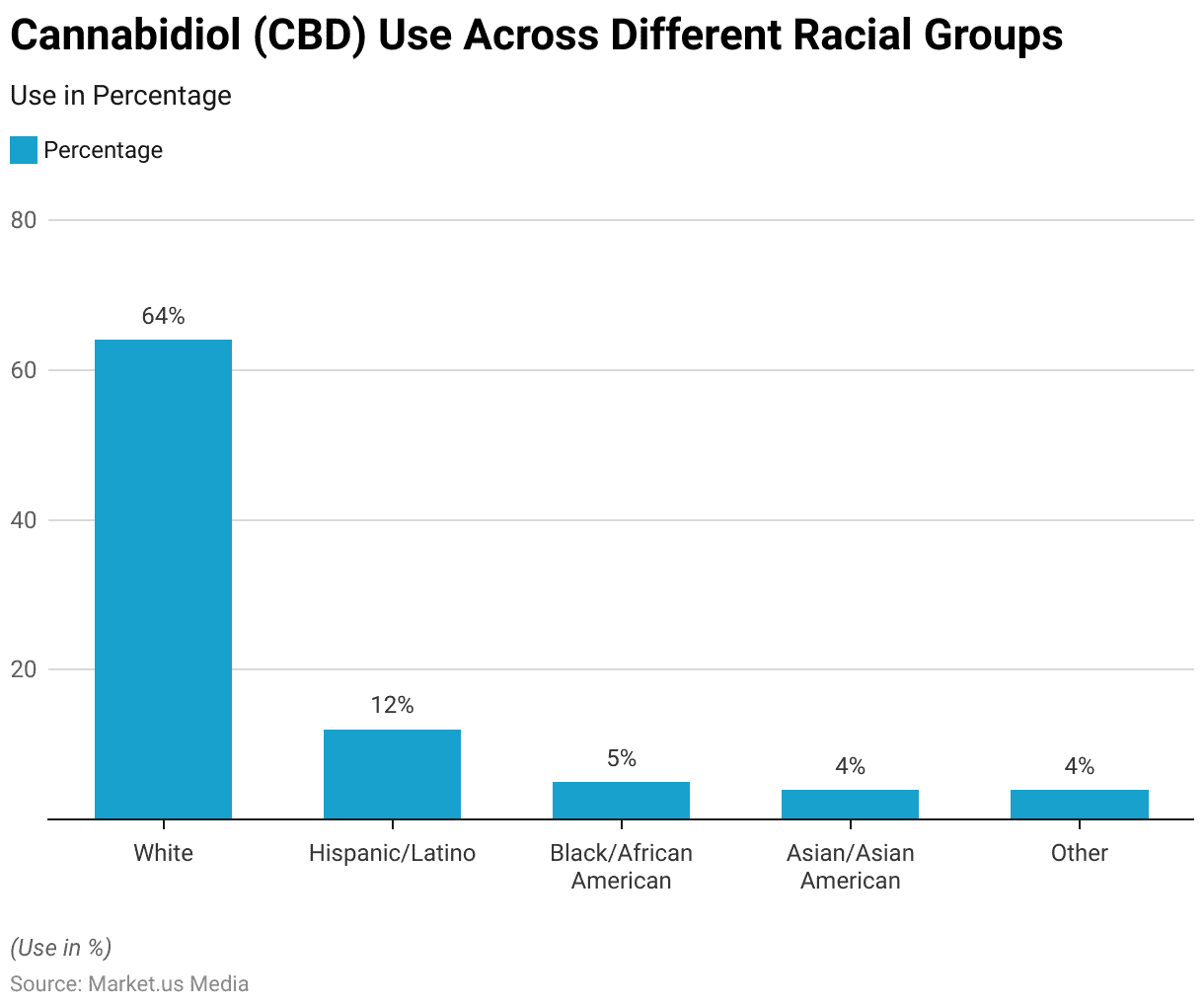 Age-Related Patterns in Cannabidiol Use
Alleviate Anxiety:
18-25: 55% use CBD to alleviate anxiety.
26-41: 56%
42-57: 50%
58-76: 22%
77+: 53%
Curiosity:
18-25: 5% are using CBD out of curiosity.
26-41: 25%
42-57: 25%
58-76: 23%
77+: 44%
Doctor Suggested:
18-25: 35% started using CBD because it was suggested by a doctor.
26-41: 54%
42-57: 39%
58-76: 18%
77+: 73%
For Fun/Recreational Purposes:
18-25: 5% use CBD for fun or recreational purposes.
26-41: 37%
42-57: 33%
58-76: 19%
77+: 57%
Improve Sleep Quality:
18-25: 40% use CBD to improve their sleep quality.
26-41: 60%
42-57: 53%
58-76: 42%
77+: 78%
Reduce Stress/Relax:
18-25: 50% use CBD to reduce stress or relax.
26-41: 65%
42-57: 58%
58-76: 52%
77+: 77%
Relieve Pain:
18-25: 45% use CBD for pain relief.
26-41: 62%
42-57: 62%
58-76: 60%
77+: 51%
(Source: Forbes)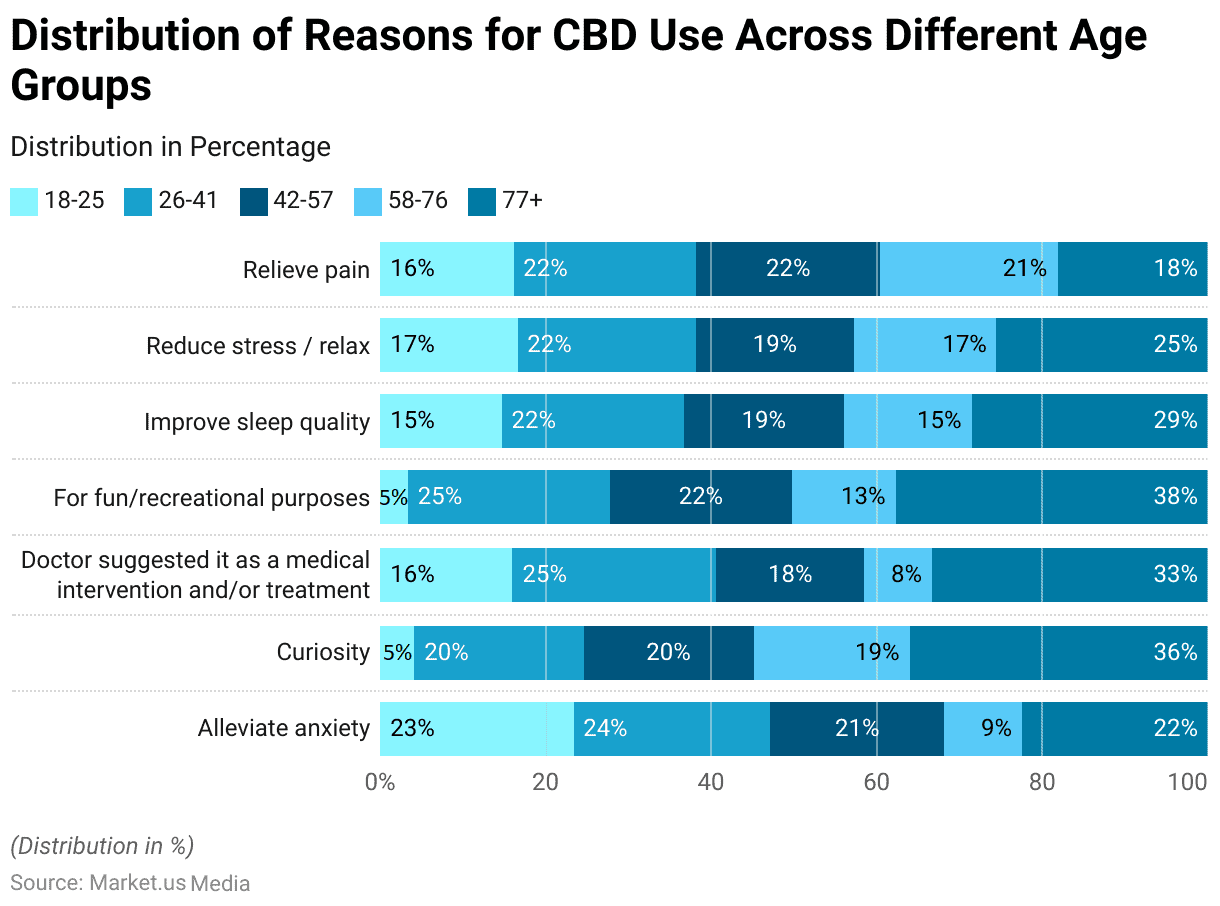 Observations
Young adults (18-25) predominantly use CBD to alleviate anxiety.
The 26-41 age group shows a balanced profile, using CBD for multiple reasons including stress reduction and sleep improvement.
Those aged 42-57 are also using CBD for a wide range of benefits, notably for stress reduction and pain relief.
The 58-76 age group has the lowest percentages across most categories, but a significant 60% use CBD for pain relief.
Among those 77 and older, there is a strong focus on medical recommendations and improving sleep quality.
Cannabidiol Statistics by Consumer Spending
A notable 23% of the respondents have never purchased CBD products, indicating a relatively high percentage of the population not yet engaging with these products.
22% of respondents spend less than $20 per month, suggesting a significant portion is only minimally invested in CBD products, perhaps trying them out or using them sporadically.
Another 23% of respondents spend between $20 to $49 per month. This suggests that a roughly equal proportion of the population is more committed to using CBD products compared to those spending less than $20.
About 16% of respondents fall in the $50 to $99 per month spending range. This indicates a dedicated but smaller consumer base that potentially uses CBD products more regularly or purchases higher-end products.
8% of respondents spend between $100 to $149 per month, signaling a more committed and likely habitual use of CBD products. This group might be relying on CBD for specific therapeutic or wellness benefits, and they are willing to allocate a higher budget for these products.
(Source: Forbes)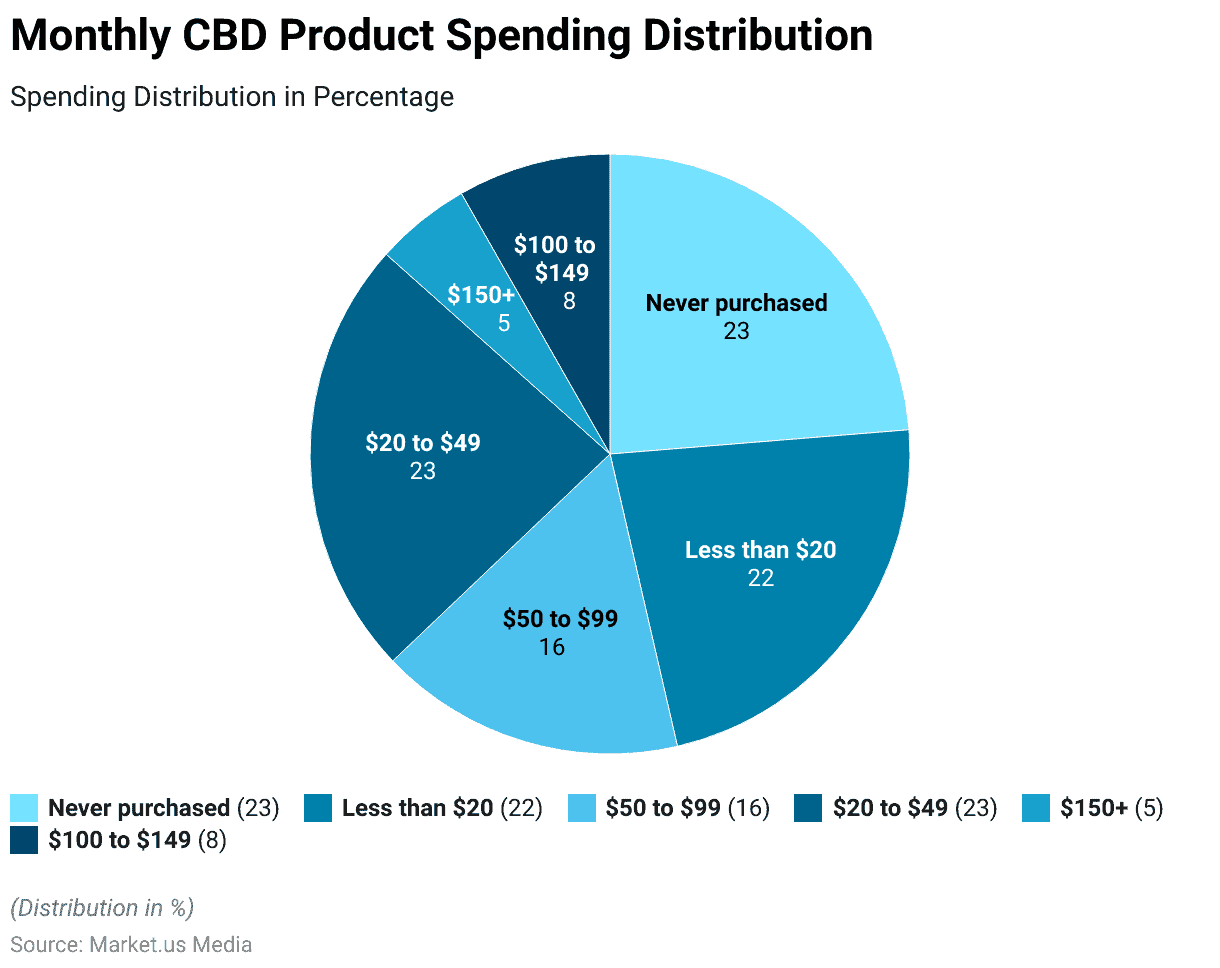 Cannabidiol Statistics by Consumer Views
According to a study by Forbes Health,
Nearly 60% of those surveyed believe that CBD is safe to consume.
Less than half, or 45%, think that consuming CBD is socially acceptable.
Public opinion on the legality of CBD is divided: 44% of U.S. adults believe CBD should be legal, 21% believe it should be illegal, and 19% are undecided.
Regarding THC, 45% of respondents find CBD consumption socially acceptable but do not feel the same way about THC.
Concerns around drug testing are prevalent, with 46% of survey participants believing that CBD could lead to a positive drug test result.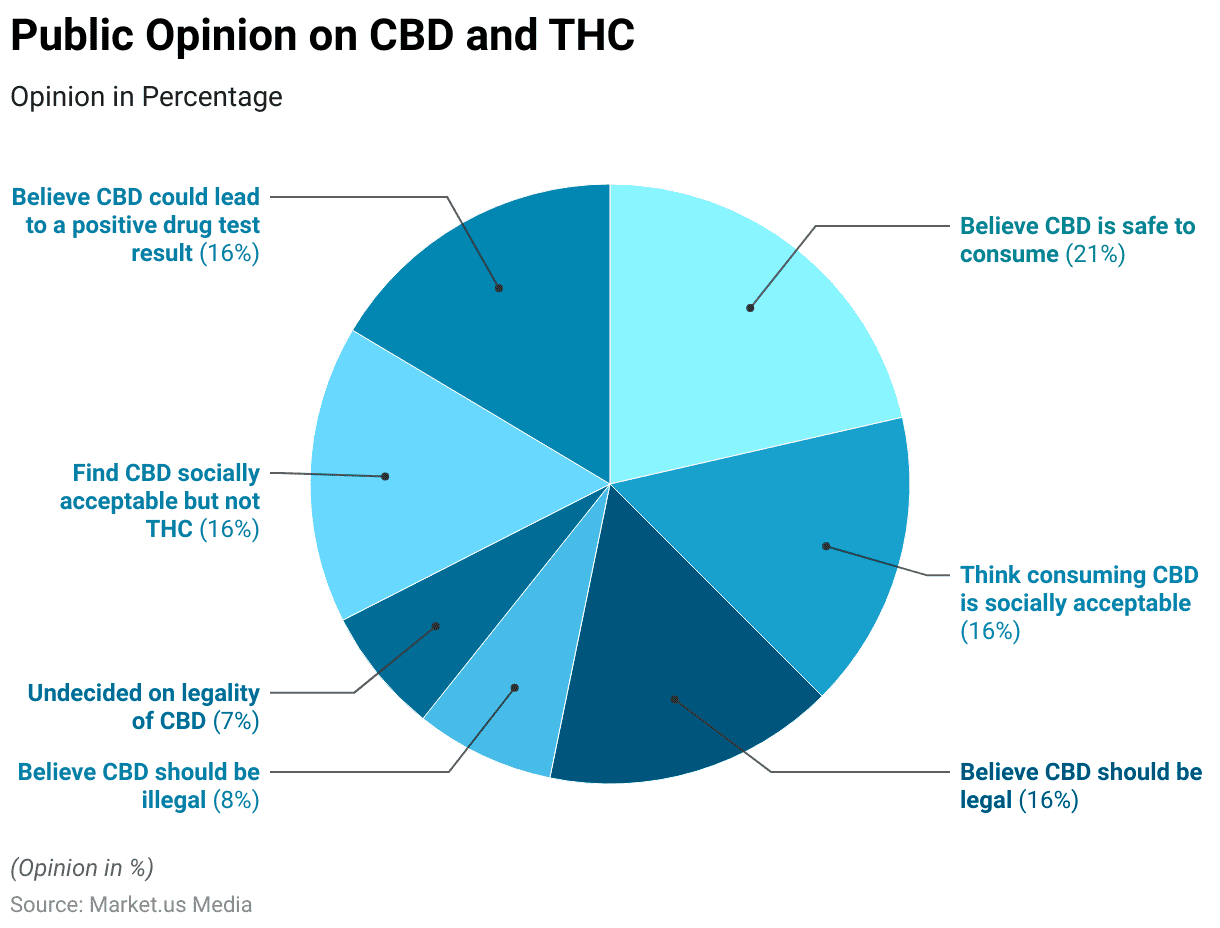 Most Commonly Used Cannabidiol Products
Gummies or Other Edibles: Gummies and other CBD-infused edibles are the most popular CBD products, with 58% of users choosing them. These tasty treats offer a convenient and enjoyable way to consume CBD.
Capsules: Capsules come in second place, with 55% of users opting for this form of CBD consumption. They are easy to dose and provide a precise way to take CBD.
Oils/Tinctures: Tied with capsules at 55%, CBD oils and tinctures are also highly favored. They offer versatility, allowing users to adjust their dosage and mix them with other products.
Lotions: Lotions are preferred by 53% of consumers for topical CBD application. These products are popular for their potential skin benefits and targeted relief.
Topicals/Serums: Topical CBD products, including serums, are chosen by 42% of users. They are known for their localized relief and skincare advantages.
Flower: CBD flower, often used for smoking or vaporization, is favored by 16% of users. It provides a quick onset of effects and a natural form of CBD.
Vapes: Vaporization of CBD, such as in vape pens, appeals to 32% of consumers. Vaping offers rapid absorption and is discreet.
Other: A small percentage of users (2%) prefer CBD products that fall into the "other" category, which may include less common forms of CBD like patches or suppositories.
(Source: Forbes)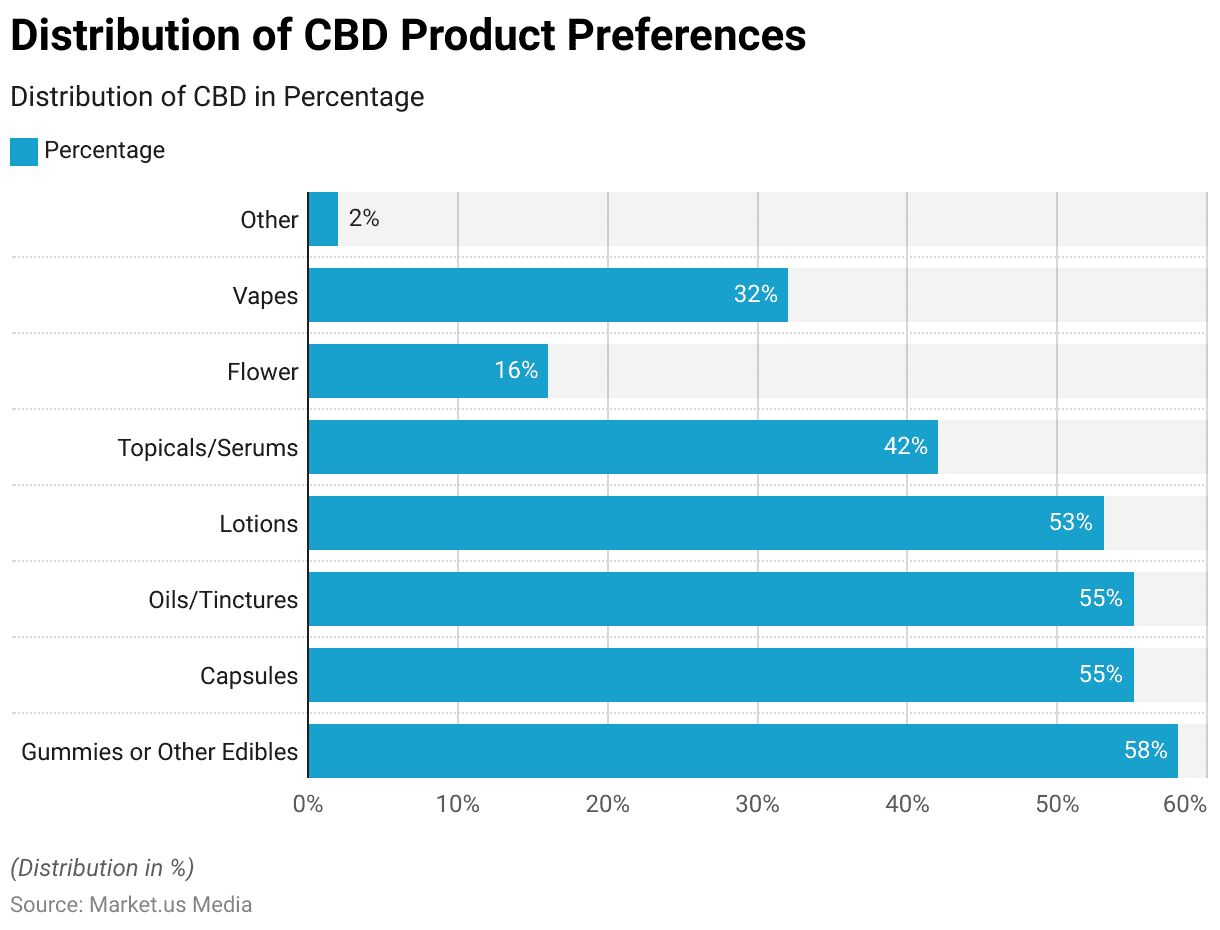 Cannabidiol Statistics by Region
North America
In 2022, approximately 26% of American adults reported using CBD, marking a significant increase from the 6% reported in 2018.
Projections indicate that by 2024, the percentage of CBD users in the United States is expected to grow to 35%, reflecting a continued upward trend in CBD consumption.
Surprisingly, one-third of all US citizens, or 33% of the population, have tried CBD at least once, highlighting the widespread curiosity and experimentation with this compound.
In 2022, sales of CBD products in the United States reached $4.17 billion, and it is projected to grow to $4.23 billion by 2026.
Sales of cannabidiol (CBD) in the e-commerce channel are expected to increase from around $2 billion in 2021 to over $6 billion by 2026 in the United States.
E-commerce was the leading channel for CBD product sales in 2021, accounting for over $2 billion in sales, followed by pharmacies.
In 2022, cannabidiol supplements led sales in convenience stores in the United States, while electronic smoking devices accounted for the largest source of sales, totaling $74.6 million.
Sky Wellness emerged as the top-selling cannabidiol brand in convenience stores in the United States in 2022, generating $700,000 in sales that year.
According to an April 2022 survey, 58% of respondents preferred consuming CBD gummies or other edibles, while an additional 53 percent used CBD lotions.
Seltzers and sparkling waters infused with CBD held a dominant market share of 57 percent among cannabidiol-infused beverages in the United States during the 52 weeks ending on March 27, 2021, whereas Kombucha had a sales share of 5%.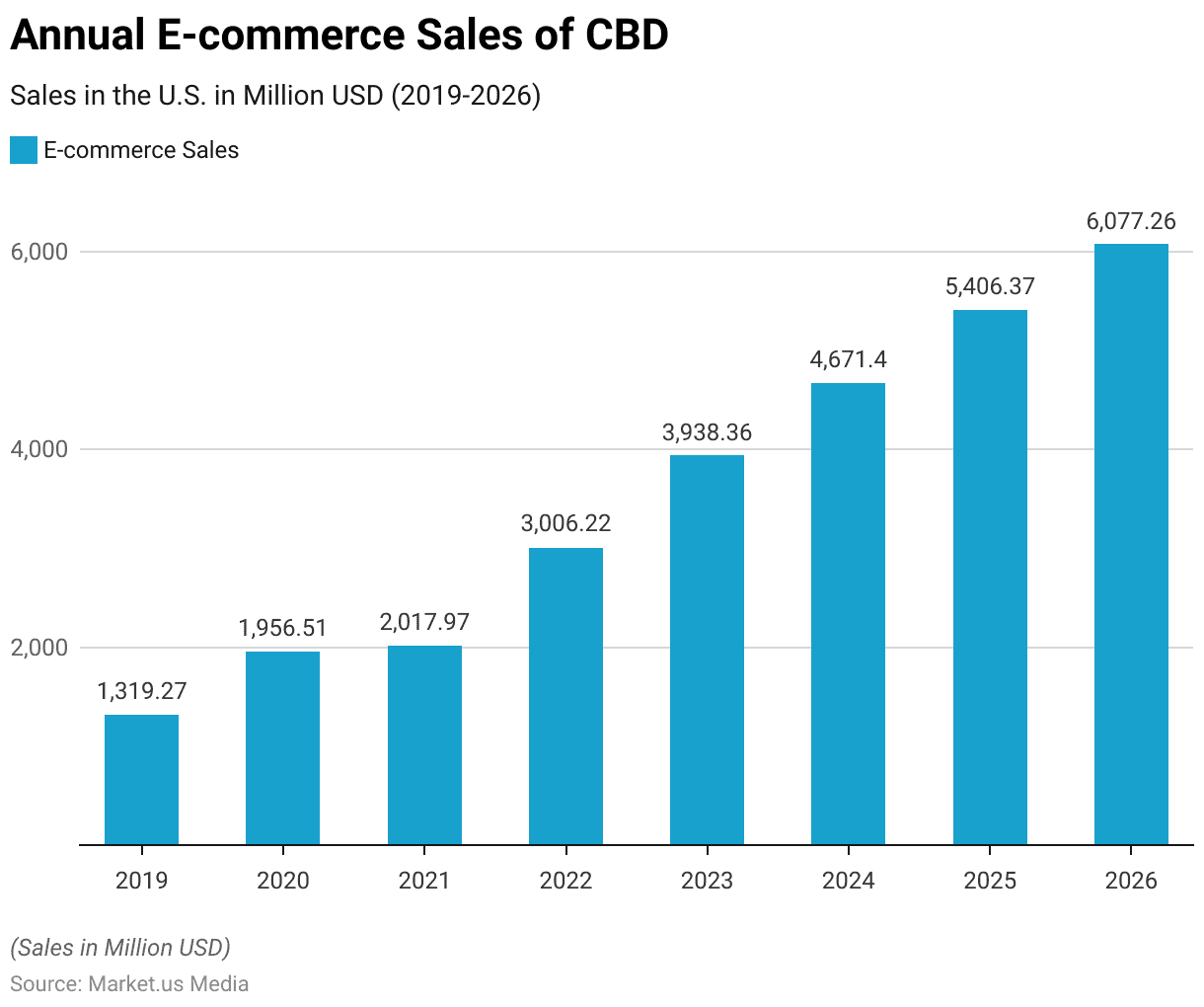 Europe
Overall Cannabis Use (Ages 15-34):
In the European Union, approximately 15.1% of the population aged 15 to 34 used cannabis in the last year.
This translates to an estimated 15.3 million individuals who reported cannabis use.
Notably, males were twice as likely to report cannabis use compared to females.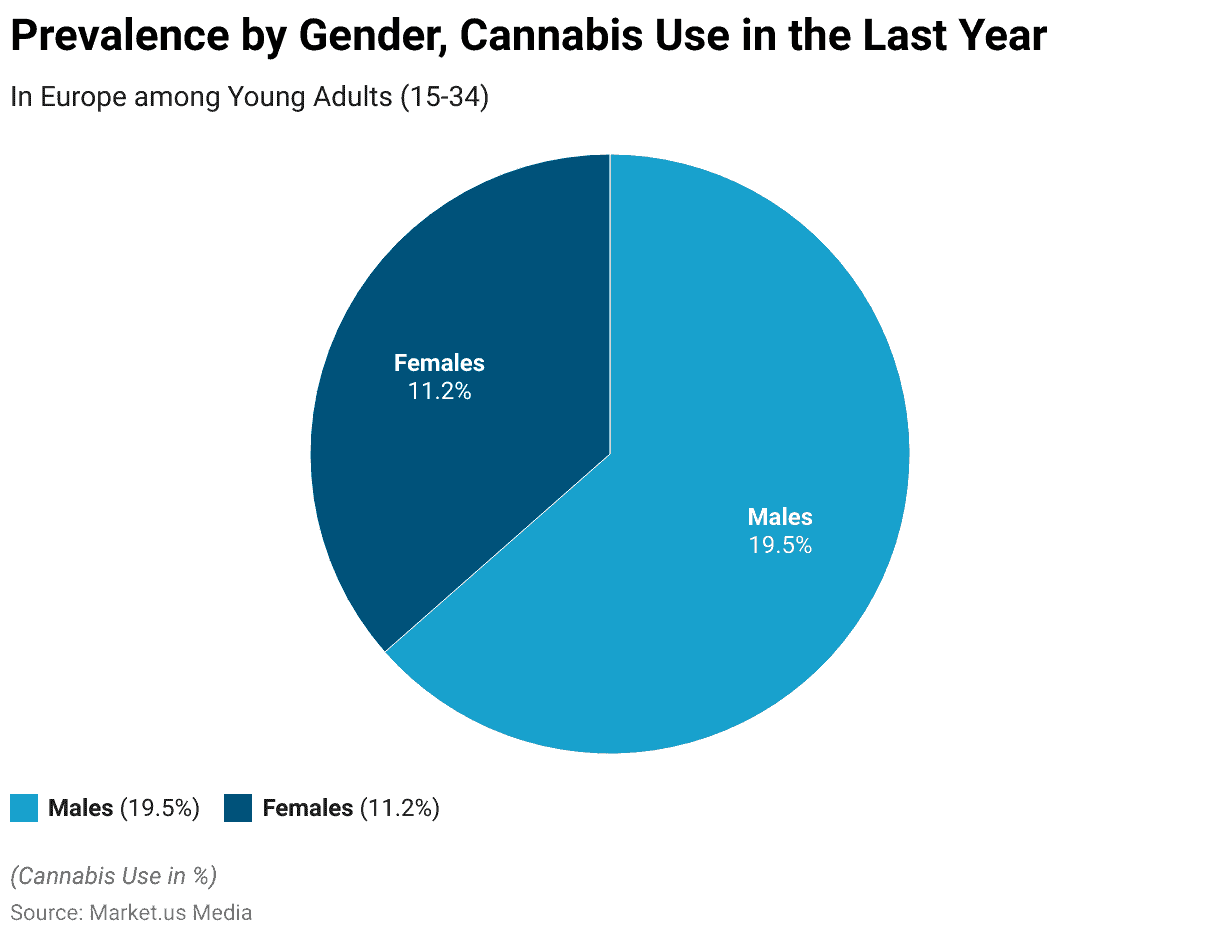 Cannabis Use Among 15- to 24-Year-Olds:
Among the younger age group of 15- to 24-year-olds, about 18.2% used cannabis in the last year.
This represents approximately 8.6 million individuals within this age bracket.
Moreover, 9.6% of these young adults used cannabis in the last month, totaling around 4.5 million users.
Daily or Almost Daily Cannabis Users (Ages 15-64):
It is estimated that around 1.3% of adults aged 15 to 64 are daily or almost daily cannabis users.
This daily use equates to using the drug for 20 days or more in the last month.
In terms of numbers, this accounts for approximately 3.7 million adults.
Daily or Almost Daily Cannabis Users (Ages 15-34):
Focusing on the 15- to 34-year-old age group, an estimated 2.1% are daily or almost daily cannabis users.
This category primarily comprises males, with about three-quarters of these users being men.
Additionally, a significant majority (57%) of daily or almost daily users are under the age of 35.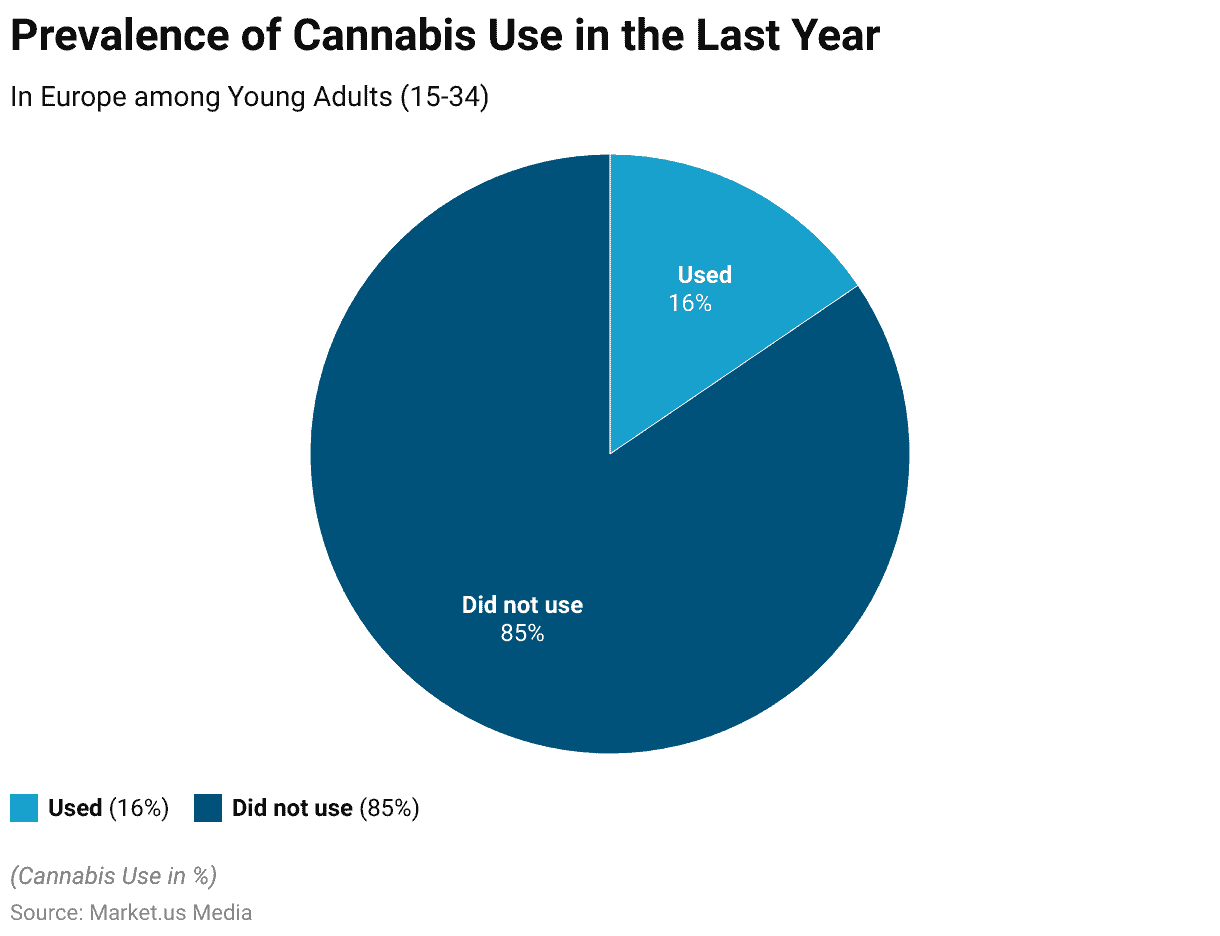 Types of Cannabis Products Used (2021 European Web Survey on Drugs):
In the 2021 European Web Survey on Drugs, it was found that 95% of respondents who used cannabis in the last 12 months reported using herbal cannabis.
In contrast, resin was used by 32% of respondents, edibles by 25%, and extracts by 17%.
(Source: midday)
Asia Pacific
The prevalence of CBD usage in the Asia-Pacific region is approximately 7.5% among adults aged 18 and above.
Around 60% of adults in APAC are aware of CBD and its potential health benefits.
42% of respondents in APAC who use CBD products do so as a natural remedy for various health issues.
Among CBD users in APAC, 35% are aged 35-54, while 28% are aged 18-34.
CBD oil and tinctures are the most preferred CBD products in APAC, with a usage rate of 47%.
68% of consumers in APAC are aware of the varying regulations regarding CBD across different countries in the region.
Latin America
The market value of legal recreational cannabis in Latin America and the Caribbean is expected to reach approximately USD 300 million by 2024.
In 2013, Uruguay became the world's first country to legalize cannabis.
Many countries worldwide are effectively allowing cannabis use through decriminalization, a trend accompanying increasing tolerance and formal legalization.
Medical cannabis is legal in almost every country in Latin America.
Several Latin American countries, including Argentina, Brazil, Chile, Colombia, and Mexico, have decriminalized recreational cannabis, often dependent on the quantity in possession or cultivation.
In 2019, Brazil reported the highest number of cannabis consumers among selected Latin American countries.
In 2019, Brazil's cannabis market was estimated at over USD 2.3 billion, with nearly two-thirds of the revenue coming from the agricultural sector.
Brazil's cannabis market is primarily concentrated in medical marijuana, accounting for over 86% of the market, while recreational or industrial cannabis represents less than 14%.
North America, including Canada and the United States, had the highest share of cannabis users globally in 2019.
The estimated value of cannabis demand in North America exceeded USD 80 billion in the same year, the second-highest value globally after Asia.
(Source: Statista)
Final Words
Cannabidiol Statistics – Cannabidiol (CBD), a non-psychoactive compound found in cannabis, has garnered significant attention for its potential health benefits. According to research, CBD could potentially benefit various conditions including anxiety, chronic pain, epilepsy, and certain neurological disorders.
Due to this buzz surrounding its usage it has created a market of products such as oils, edibles, and creams featuring CBD as a treatment. Although many have reported positive experiences using it as medicine it would be wise to consult a healthcare professional first before starting its use as treatment of any condition or using it as treatment of any disease condition.
FAQs
What are the most common reasons people use CBD?
According to a 2019 Consumer Reports survey, around 64 million Americans had tried CBD in the past 24 months before the survey. Of these, people reported using CBD most commonly for pain relief (64%), anxiety (49%), and insomnia (42%).
What is the market size for CBD?
In 2022, the global Cannabidiol Market accounted for USD 9.4 billion and is expected to grow to around USD 97 billion in 2032. Between 2023 and 2032, this market is estimated to register the highest CAGR of 27%.
How is CBD most commonly consumed?
According to consumer surveys, the most common methods of CBD consumption are oil/tinctures (44%), topicals (26%), and capsules (22%). Vape products, edibles, and beverages are other less common methods of consumption.
Are there any side effects?
CBD is generally considered to be well-tolerated with a good safety profile, according to a World Health Organization report. However, some people may experience side effects like dry mouth, diarrhea, reduced appetite, drowsiness, and fatigue. Drug interactions are also a concern, especially for those taking medications like blood thinners.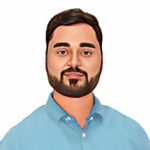 Anurag Sharma
He has been helping in business of varied scales, with key strategic decisions. He is a specialist in healthcare, medical devices, and life-science, and has accurately predicted the trends in the market. Anurag is a fervent traveller, and is passionate in exploring untouched places and locations. In his free time, he loves to introspect and plan ahead.