According to Wearable Healthcare Technology Statistics, the global wearable healthcare technology market accounted for revenue of USD 17.3 billion in 2022.
Wearable Healthcare Technology for Research
Wearable Healthcare Technology like Wearable Medical Devices has a great potential for data gathering and cutting-edge health research. They are capable of collecting information for more effective and precise clinical diagnosis. In recent years wearable healthcare technology has emerged in the following fields.
COVID-19 predictions
Fertility tracking
Heat-related illnesses
Drug effects
Psychological interventions
Smartwatches and Smart Patches
According to Deloitte's 2021 Connectivity and Mobile Trends survey, 39% of participants owned a smartwatch. These devices have primarily been used to aid individuals in getting in shape, shedding weight, and achieving their personal best in athletics.
Most smartwatches now come equipped with heart rate monitors, and some have been approved by the FDA to identify irregularities such as atrial fibrillation, a significant contributor to strokes.
As smartwatch technology advances, more individuals may use it to manage chronic conditions and detect symptoms of severe illnesses. However, only 12% of those earning less than $30,000 per year currently utilize this technology.
Wearable Healthcare Technology Statistics
Deloitte's 2021 Connectivity and Mobile Trends survey found that 39% of respondents owned a smartwatch.
88% of physicians want patients to monitor their health parameters at home.
30% of American adults use wearable technology for healthcare as of 2020.
Nearly 50% of users are dependent on wearable technology in daily life, with more than 80% of users willing to share their data with their healthcare providers.
92% of smartwatch users use this technology for health-tracking activities.
Number of connected wearable devices worldwide is rising from 325 million in 2016 to 722 million in 2019.
Shipments of smartwatches were 100 million in 2020.
Earwear or ear-worn device shipments were increased by 45% to 105 million units by 2023.
86% of patients say that wearable healthcare technology devices improve health outcomes.
wearable technology will flourish over the next 25 years, resulting in a global cost savings of over $200 billion in the healthcare industry.
wearable devices in use in 2020 were approximately 600 million.
According to the National Library of Medicine, the accuracy and precision of wearable devices typically range from 92% to 99%
A 2019 study found that 20% of users abandoned their devices, with the most common reasons cited to be related to data literacy, or device comfort
According to Deloitte Insights, the global market of wearable devices for the medical sector is booming. Compared to 275 million units in 2021, it is projected to reach nearly 440 million units in 2024.
(Source: VICERT)
Top 5 Companies Revenue
Fitbit
Fitbit is the leading company in wearable healthcare technology with a market share of 40%.
The company offers Fitbit Sense 2 and Fitbit Versa 4 smartwatches to track daily fitness activities
Fitbit made an estimated $1.21 billion in revenue in 2021, a 7% increase on the year prior over 31 million people use Fitbit once a week.
Apple
Apple Ins. Holds a market share of 24.1% in the global market.
As of 2021, its market valuation exceeded $2 trillion, making it the most valuable technology company in the world.
In the year 2022, Apple Services accounted for 19% of the company's revenue, making it the second-largest division within Apple.
Garmin
Garmin holds a lucrative market share of 25.57% in global wearable healthcare technology.
Garmin produces a variety of devices, including wearable technology that tracks fitness and health for individuals of all ages.
They offer an all-day activity tracker that monitors steps, distance, intensity, and calories to assist users in maintaining their health and fitness objectives.
Additionally, Garmin's wearable products, such as the Venu series, track bodily patterns, sleep quality, and heart rate, and are compatible with both Apple and Android smartphones for added convenience.
In 2022, Garmin generated 4.86 billion U.S. dollars in revenue.
Philips Healthcare
The company had a 3% share of the global MedTech market.
Philips Healthcare's Annual Revenue is US$6.8 Billion.
Omron Healthcare
OMRON blood pressure monitors are available in more than 110 countries/regions across the world, commanding a market share of approximately 46% worldwide.
Omronhealthcare.la traffic has increased by 33.47%
Omron revenue for the quarter ending September 30, 2022, was $M, a 100% decline year-over-year.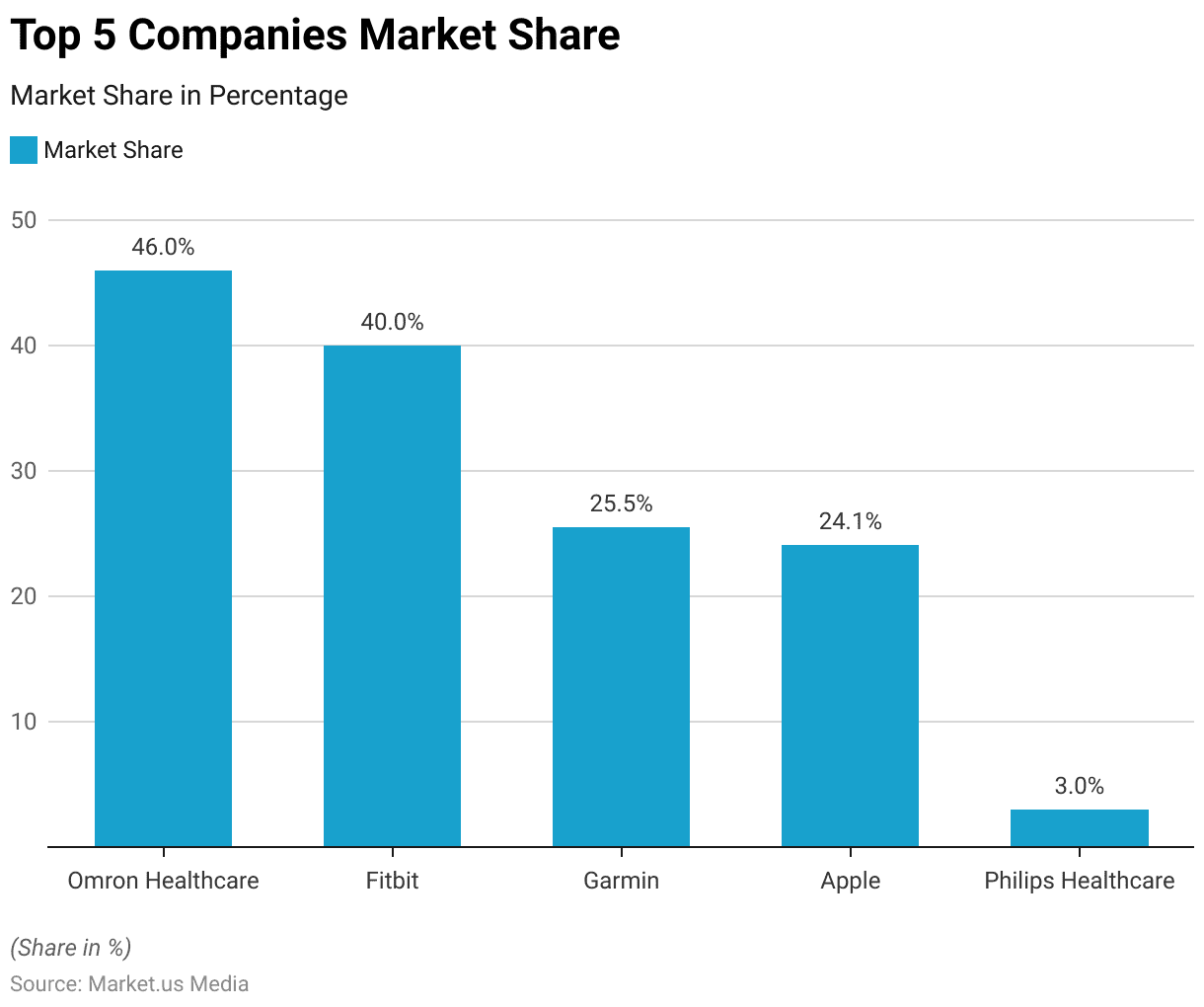 Wearable Devices Users in the United States
According to Gartner, Inc., worldwide user spending on wearable devices totaled $81.5 billion in 2021, an 18.1% increase from $69 billion in 2020.
About 63% of the US population uses fitness trackers.
63% of individuals use smartwatches to track their fitness activities.
21% population uses VR headset
18% of individuals use sleep tracker devices.
10% of individuals in the United States use smart clothing
Among all population, 10% of the population uses smart eyewear
6% of individuals use posture correctors
4% of the population uses other wearable devices to track and monitor their healthcare goals.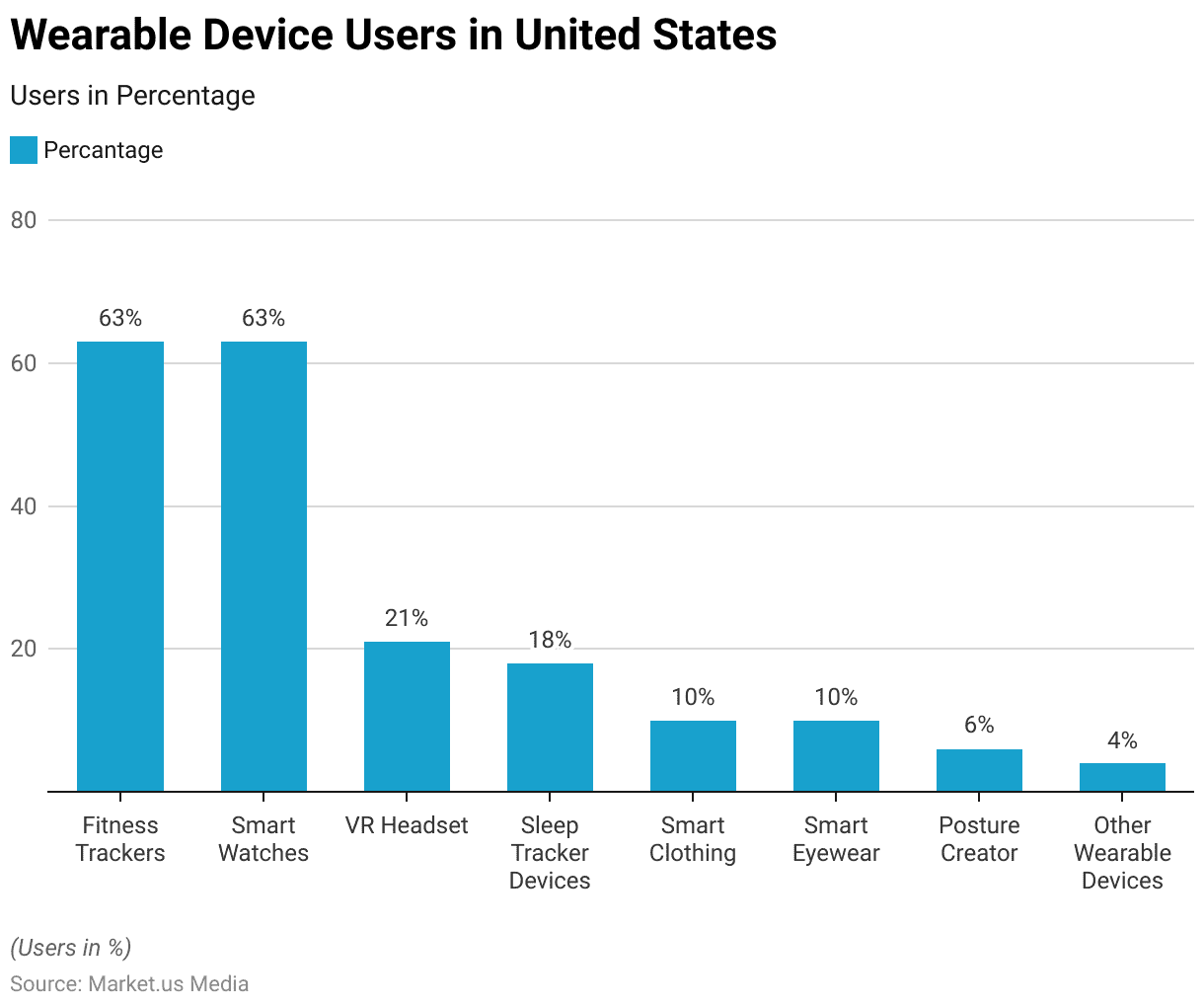 COVID Results in an Increased Use of Wearables
More than 722 million wearable devices market in 2019 were in use globally. The pandemic has led to an increase in the use of wearables as more individuals have become interested in monitoring their health and tracking their physical activity while staying at home.
How Consumers Use Digital Health Tracking Tools Differently During COVID-19?
More consumers reported the use of digital trackers and wearables: Wearable adoption and use were both up in 2020, jumping up 10% points from 33% in 2019 to 43%. Emerging trends such as women's health- for fertility and menstrual tracking contributed to the proliferation of wearables.
63% of women track their fertility and 67% of women track their menstrual cycle by using wearables.
The consumer groups most likely to track their health digitally were under 55 years old.
How Consumers Data Sharing Preference Changed During COVID-19 Pandemic
(A deep look at consumer trust and Willingness to Share Data)
Consumers do not have equal trust in their data: Willingness to share their healthcare data was changed during the COVID-19 pandemic. In some instances, consumers are more likely to be willing to share their COVID-19 results than other personal health information.
A double number of respondents were willing to share their COVID-19 results rather than their health data with the government and their employer.
Digital Health Use in 2020 was a reflection of the Consumer's responses to the COVID-19 Pandemic
43% of respondents reported that they had a video visit as compared to 32% in 2019.
Wearable use was up in 2020, with 43% of all respondents reporting that they owned a wearable up from 33% in 2019.
Chronic condition management could be driving this uptick, with 66% of those who started using wearable for the first time during COVID-19 using it to manage health conditions.
Overall half of the respondents tracked health metrics (eg., weight, heart rate, and blood pressure) using a digital tracker, up 12% points from 2019.
60% of respondents search for provider reviews online, which is a slightly smaller percentage than in 2029.
The majority of respondents continue to search online for health information such as symptoms, treatment, and medications a slightly smaller percentage of respondents reported doing so 67% in 2020 vs 73% in 2019.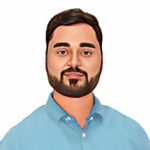 Anurag Sharma
He has been helping in business of varied scales, with key strategic decisions. He is a specialist in healthcare, medical devices, and life-science, and has accurately predicted the trends in the market. Anurag is a fervent traveller, and is passionate in exploring untouched places and locations. In his free time, he loves to introspect and plan ahead.