"According to Telemedicine Statistics, the global telemedicine market accounted for revenue of USD 63.5 billion in 2022, and the market is expected to grow at revenue of USD 590.6 billion in 2032."
International Telehealth Usage Statistics
In 2019, the US- 50% and Sweden- 58% had the highest percentage of medical practices that offer online services such as appointments, prescription refills, viewing test results, and viewing visit summaries.
The US showed a 154% increase in telehealth usage in the first quarter of the year 2020.
About 2,720 million participants rated telemedicine in the COVID-19 pandemic.
70% of medical professionals rated in the COVID-19 pandemic.
Asia Pacific region showed a 52% increase in telehealth access to primary physicians/general patient services from 4% to 56%.
Who Uses Telemedicine and Why?
80% of consumers have used telemedicine at least once.
76% of people over the age of 55 have used.
73% of people who live in rural areas use it.
98% of transgender patients say they have used telemedicine (Rock Health).
61% of patients prefer to use it for prescription management and to receive care for minor illnesses (51%) (Rock Health).
96% of telepsychiatry patients are satisfied with virtual mental healthcare.
The adoption of telemedicine reached up to 80% overall, which is becoming the most preferred channel for prescription care and minor illness issues.
In our 2022 Survey, 80% of all respondents reported having accessed care via telemedicine at some point in their lives, up 8pp from 72% in 2021.
Users of telemedicine aged more than 55+ have increased from 64% to 76% in 2022.
The use of by respondents living in rural areas increased from 60% to 73% in 2022.
The use of telemedicine by respondents without health insurance increased from 37% to 50% in the year 2022.
Telemedicine use also increased among women, with 82% of women respondents reporting having used telemedicine.
82% of Hispanic respondents reported use.
61% of respondents reported preferring telemedicine and minor illness care 51% of respondents reported preferring telemedicine.
71% of respondents with 4+ current prescriptions at the time.
Who are today's telemedicine holdouts?
20% of the respondents who reported no prior use.
44% of respondents indicated that they prefer to discuss health in person.
57% of people use live phone telemedicine.
48% of individuals prefer health apps or websites for the prescription.
43% of respondents prefer emails.
36% of users prefer text messages for the prescription.
Global Telemedicine Market Size Forecast 2022-2032
The telemedicine market has grown significantly in recent years.
The global telemedicine market size is expected to be worth around USD 590.9 Bn by 2032
The Market holds a revenue of USD 63.5 Bn in 2022,
The global market is growing at a CAGR of 25.7% during the forecast period from 2022 to 2032.
45% of users prefer product components.
Region Wise Statistics of Telemedicine
North America
North America is the leading country in the global telemedicine market.
52% of American adults reported usage through live video calls with their healthcare providers.
Revenue from digital health is projected to reach USD 26.59 billion at the end of the year 2023.
Revenue is expected to show an annual growth rate of 7.28%.
Telemedicine use increased with age and was higher among women (42.0%) compared with men (31.7%).
The percentage of adults who used telemedicine increased with education level and varied by family income.
Online Doctor Consultations Statistics- North America
The online doctor consultation segment is expected to reach US$5.88bn in 2023.
Revenue of this segment is expected to show an annual growth rate of 5.36% and is expected to grow at a revenue of US$7.25bn by 2027.
User penetration will be 2.72% in 2023 and is anticipated to increase to 2.89% by 2027.
The average revenue per user (ARPU) is expected to amount to US$0.42k.
North America Telemedicine Statistics by Sex and Age in the Last 12 Months
In the past 12 months 37% of adults aged 18 and above used services.
42% of women used telemedicine services.
31.7% of men used services.
29.4% of individuals aged 18-29 years used telemedicine.
35.3% of people aged 30 to 44 years use services.
38.9% of people aged 45-64 years use services.
43% of people aged 65 and above use services.
COVID-19 Impact on Telemedicine Statistics
The pandemic surged the demand for telemedicine services because patients looking to avoid in-person visits to healthcare. Many healthcare providers have rapidly expanded their offerings, due to the pandemic and added new services of virtual care.
52% of consumers prefer emergency room visits or ambulance calls in the middle of the night while 18% of consumers say that they would choose telehealth rather than hospital visits during the pandemic.
58% of surveyed physicians in 2021 view telehealth more favorably.
In January 2019, 82% of individuals preferred video visits.
69% of individuals rated their virtual visit a 9 out of 10.
In July 2019 found that 81% of respondents preferred a provider who offered services.
Usage of telehealth has doubled from 14% in 2016 to 28% in 2019.
In the last five years, telemedicine has grown by 44%.
66% of consumers are eager to use telehealth, and 8% have tried it in 2019.
Only 20% of consumers willing to use telehealth said they would use it to see a pediatrician for their child.
Popular Service Providers in Telemedicine Market Statistics
Teladoc Health
Teladoc Health is the leading company in the telemedicine industry and provides virtual medical care services to patients around the world.
The fourth quarter revenue grows by 15% year-over-year to $637.7 million and full-year revenue grows by 18% year-over-year to $2,406.8 million
A total of 1.3 M people monthly visit teladoc.com
The revenue of Teladoc Health is $610 – $625 million in 2023.
Amwell
Amwell is another major player in the telemedicine market, that offers a range of virtual care services to patients across the globe. The company provides video visits, remote monitoring, and a variety of other tools to help patients manage their health.
Annual revenue of Amwell is $200.0M – $500.0M
A total of 498.9 K people visited the Amwell site last month.
amwell.com's audience is 45.45% male and 54.55% female.
The largest age group of visitors are 25-34 years old.
Doctor On Demand
Doctor on Demand is a telemedicine company that provides virtual medical care services to patients across the United States.
Doctor on Demand observed tremendous growth in the volume of visits during the COVID-19 pandemic, with total visits volume up to 59%.
All visits among urban residents peaked at 58% above baseline, whereas visits among rural residents peaked at 64% above baseline.
The proportion of patients new to the telehealth platform increased from 40% in February 2020 to 53% in April 2020.
MDLIVE
MDLIVE is a telemedicine company that provides virtual medical care services to patients across the United States.
A significant number (78%) of MDLIVE behavioral health patients reported clinical improvement after just three sessions with an MDLIVE therapist.
93% of MDLIVE dermatology patients reported resolution of their clinical issue during their first consultation.
Among patients utilizing MDLIVE's primary care services, 68% had at least one chronic disease identified via the service's wellness screenings.
American Well
American Well is a telemedicine company that provides virtual medical care services to patients around the world.
American Well has a market cap or net worth of $565.66 million. The enterprise value is $41.16 million.
American Well has 282.83 million shares outstanding. The number of shares has increased by 7.94% in one year.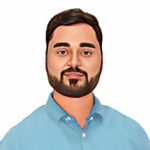 Anurag Sharma
He has been helping in business of varied scales, with key strategic decisions. He is a specialist in healthcare, medical devices, and life-science, and has accurately predicted the trends in the market. Anurag is a fervent traveller, and is passionate in exploring untouched places and locations. In his free time, he loves to introspect and plan ahead.