According to Technology in Mental Health statistics, Technology in mental health refers to the use of various technological tools and applications to support mental health assessment, diagnosis, treatment, and management. It includes digital platforms, mobile applications, wearable devices, teletherapy, online support groups, and virtual reality therapy, among others.
Editor's Choice
According to a survey on mental wellness conducted in India in May 2022, about 61% of female and 55% of male respondents stated that they had used digital technologies such as apps and smart devices to manage their mental well-being.
There are more than 10,000 mental health apps available in major app stores.
About 86% of therapy clients believed that teletherapy sessions are more effective than in-person therapy. 
Artificial Intelligence and machine learning technologies are beneficial in developing predictive models for mental health conditions. AI algorithm could predict the onset of psychosis with 93% accuracy.
Approximately 44% of individuals with mental health conditions do not receive treatment due to barriers such as stigma, cost, and limited access to providers.
Around 70% of individuals reported that they would feel comfortable seeking mental health support from a Chatbot.
Global Prevalence of Mental Health Disorders
Around 20% of the world's children and adolescents have a mental health condition.
Suicide is the leading cause of death among individuals aged 15-29 years.
About 1 in 5 people have post-conflict mental health conditions.
The global median of government health expenditure that goes to mental health is less than 2%.
The two most common health conditions are depression and anxiety.
14.1 million adults aged 18 or older in the United States have Serious Mental Illness.
SMI prevalence is high among females (7.0%) as compared to males (4.0%).
Young adults aged 18-25 years had the highest prevalence of SMI which is about 11.4% compared to adults aged 26-49 years (7.1%).
9.3% of American Indian/Alaskan Native adults have SMI.
8.2% of adults with two or more races have SMI.
The prevalence of SMI among Asian adults is comparatively low (2.8%).
1 in 5 women has a serious mental health disorder.
26% of young women aged 16-24 years old reported that they have a common mental health disorder.
Depression is one of the most common disorders in the United States.
Around 8.3% of US adults reported a major depressive episode in the last year 2022.
Around 32% of those in the US with a major depressive episode in the past year had serious thoughts of suicide compared to just 2% of those who did not have any major depressive episode.
About 1% of the global population is diagnosed with schizophrenia.
Approximately 1.2% of Americans (3.2 million) have schizophrenia disorder.
Tech Adoption in Mental Health
Technological adoption in mental health has witnessed significant growth in recent years. Various technological solutions are being embraced to improve healthcare delivery, increase healthcare access, and enhance well-being.
The revenue of mediation apps in India is expected to reach USD 54.99 million by the end of the year 2023.
It is projected that the user penetration will be 0.13% in 2023 and it is expected to hit 0.15% by 2027.
About 46% of adults aged 18-34 years have used mental health apps at least once.
According to Deloitte, there are more than 20,000 mental health apps available on major online platforms.
Calm and Headspace are the two most popular mental health apps worldwide. The total revenue of the Calm.com mobile app in April 2023 was USD 7 million, including USD 6 million for iOS apps and USD 1 million for Android apps. The total number of Calm app downloaders was 800k in April 2023.
Around 83% of therapists in the United States recommended mental health apps to their clients.
Mental health apps are popular among college students. About 60% of students report using mental health apps to manage their well-being.
Global consumer spending on mental health apps reached USD 270 million in 2020, which is up by 32.5% compared to the previous year. While in 2022, mental well-being apps generated USD 491 million in consumer spending, up by 82.5% compared to 2020.
Teletherapy and Online Counselling
According to Technology in Mental Health, Teletherapy usage has increased significantly in recent years. Teletherapy is effective in treating various mental health conditions. A meta-analysis published in the Journal of Anxiety Disorders in 2018 concluded that teletherapy interventions are generally effective in reducing symptoms of anxiety.
About 76% of psychologists reported transitioning to teletherapy during the COVID-19 pandemic.
The use of teletherapy increased by 12% during the pandemic compared to pre-pandemic levels.
A study published in the Journal of Clinical Psychology in 2018 found that 91% of clients reported satisfaction with teletherapy services.
A study published in the Journal of Technology in Behavioral Health Science in 2020 reported that 84% of clients rated teletherapy as "good" or "excellent" in terms of satisfaction.
About 85% reported using teletherapy or online counseling as a result of COVID-19.
 About 76% of Americans believe that online therapy is more effective than in-person therapy.
VR and AR in Mental Health
AR and VR have been used as distraction tools during medical procedures or chronic pain management. By providing engaging and immersive experiences, they help divert the individual's attention from the pain, reducing their perception of discomfort and distress.
In 2018, the global VR in the healthcare market accounted for a revenue of USD 610 million, and the market is projected to reach a revenue of USD 4.2 billion by 2026.
About 77% of healthcare professionals believe that VR has a positive impact on patient outcomes in medical treatments.
Around 58% of respondents reported that they are interested in using VR for mental health treatments.
VR-based exposure therapy was effective in treating social anxiety disorder, with 52% of participants no longer meeting the criteria for the disorder after treatment.
VR exposure therapy was effective in reducing symptoms of specific phobias, with 90% of participants showing improvement.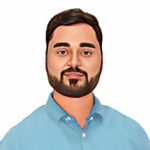 Anurag Sharma
He has been helping in business of varied scales, with key strategic decisions. He is a specialist in healthcare, medical devices, and life-science, and has accurately predicted the trends in the market. Anurag is a fervent traveller, and is passionate in exploring untouched places and locations. In his free time, he loves to introspect and plan ahead.