According to Spa Industry Statistics, The spa industry has experienced significant growth and transformation over the years, driven by increasing consumer interest in health, wellness, and relaxation. Spas offer a range of services and treatments aimed at rejuvenating the body, mind, and spirit. From traditional massage therapies to advanced skin care treatments, spas cater to diverse customer needs and preferences.
Editor' Choice
The medical spa market size is estimated to reach USD 50.9 billion.
The global market size of the spa industry was around $95 billion in 2021.
By 2030, the global market size of the spa industry is expected to exceed $185 billion.
The spa services market, including massage services, beauty and grooming, and physical fitness, is projected to reach over $133 billion by 2027.
The United States spa industry generated approximately $20.8 billion in revenue in 2022.
Massage therapy is one of the most popular spa services, accounting for approximately 70% of spa visits in the United States.
The average spa-goer in the United States spends $87 per visit and visits spas 2.3 times per year.
The spa industry employs over 2.5 million people globally.
The wellness tourism market, which includes spa travel, was valued at $735 billion in 2021.
Size of Spa Services Market Worldwide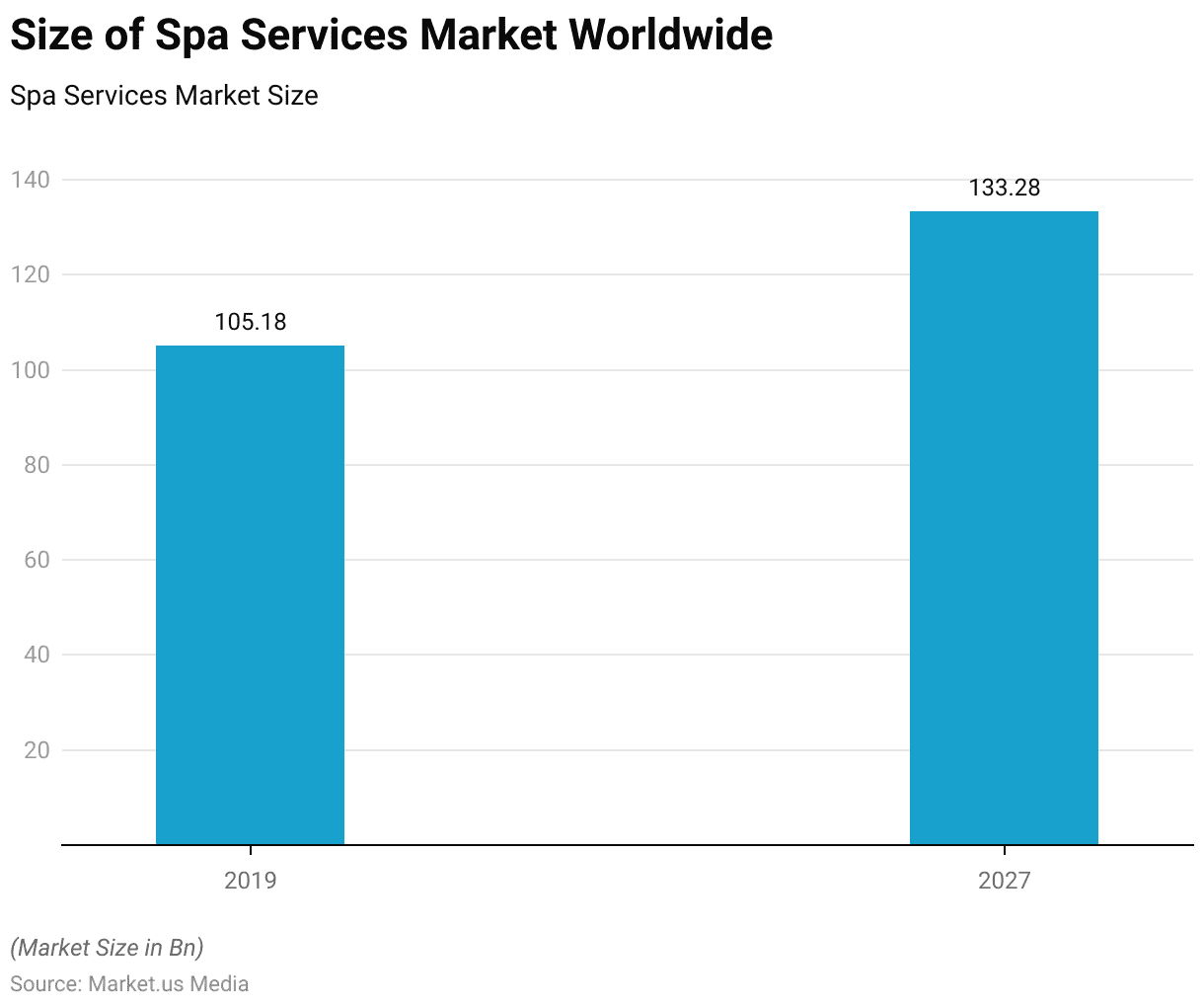 Spa Industry General Statistics
Total spa industry revenue experienced a significant increase of 49.4%, rising from $12.1 billion in 2020 to $18.1 billion in 2021, marking a growth of $6 billion.
The number of spa visits in 2021 reached an estimated 173 million, showing a substantial increase of 39.5% compared to the 124 million visits in 2020.
The number of spa locations remained relatively stable, with a marginal decline of -0.2% in 2021, reaching a total of 21,510, after a 4% drop in 2020.
The average revenue per spa visit witnessed a sharp increase of 7.1%, rising from $97.50 in 2020 to $104.50 in 2021.
Employment in the spa industry showed positive growth, with an estimated overall increase of 13.2%. Full-time employment expanded by 15.8%, slightly outpacing part-time employment, which grew by 12.1%. However, contract employment experienced a slight decline of -0.7%.
Spa Services and Treatments
Massage therapy is the most popular spa treatment, accounting for approximately 70% of spa visits in the United States.
Facial treatments are also highly popular, with approximately 55% of spa-goers choosing these services.
Body treatments, such as wraps and scrubs, are preferred by around 37% of spa visitors.
Aromatherapy is a widely offered service, with more than 80% of spas incorporating it into their treatments.
Reflexology, a foot massage technique, is gaining popularity with around 20% of spas offering this service.
The wellness and holistic services segment is expanding, with services like yoga, meditation, and mindfulness being offered in over 70% of spas.
Alternative therapies such as acupuncture, Reiki, and energy healing, are available in approximately 25% of spas.
CBD-infused treatments, incorporating products with cannabidiol, have gained popularity, with around 13% of spas offering these services.
Demographics of Spa-Goers
In the United States, the largest age group of spa-goers is between 35 and 54 years old, accounting for 48% of spa visits.
Millennials are increasingly becoming spa-goers, representing 38% of all spa visits in the United States.
Women tend to make up the majority of spa-goers, approximately 85% of spa visits in the United States.
In the United States, 33% of spa-goers have an annual household income of $100,000.
Spa-goers in the United States spend an average of $87 per visit, including both services and products.
In a survey conducted by Global Wellness Institute, 34% of global wellness tourists reported spending over $500 per day on wellness-related activities, including spa treatments.
Recommendations from family and friends play a significant role in spa selection, with 63% of spa-goers in the United States citing referral as an influential factor.
Online reviews and ratings also impact consumer choices, with 39% of spa-goers in the United States considering them when selecting a spa.
62.8% of spa attendants are women and 37.2% of spa attendants are men.
Economic Advantages of Resort Spas: Survey of Hotel Managers
According to the survey conducted by Health Fitness Dynamics, an overwhelming 97% of resort/hotel managers believed that having a spa was a marketing advantage.
83% of the managers reported that the presence of a spa on their property led to increased revenues per occupied room.
A substantial 73% of the respondents agreed that having a spa in their establishment increased occupancy rates.
Approximately 43% of hotel managers believed that a spa positively influenced guests' length of stay, encouraging them to spend more time at the resort.
57% of the surveyed managers indicated that the presence of a spa enabled them to charge higher room rates.
A significant majority, 70% of the respondents, stated that a spa enhanced the perceived value of the room rate charged.
In another survey by Spa-per, over 80% of respondents expressed a preference for resorts with a spa, indicating that the presence of a spa influenced their choice of accommodation over others.
27% of managers reported that having a spa led to an increase in the number of people per occupied room.
Spa Industry in the United States
The spa industry in the U.S. consisted of approximately 16,900 day spa establishments by the end of 2021.
Day spas accounted for the majority, representing 78.3% of the total 21,510 spa establishments in the country.
Total employment in the U.S. spa industry reached 345,000 in January 2022, reflecting a 13% increase (+40,200) compared to January 2021.
The spa workforce in January 2022 was at 90% of the pre-pandemic level in January 2020 (383,700).
In 2021, the proportion of resort/hotel spas in the U.S. reporting a loss dropped from 31% in 2020 to 2%.
Across the rest of the spa industry, the proportion reporting a loss fell from 28% in 2020 to 7%, approximately in line with the historical average.
In 2022, the estimated value of the spa industry in the United States was approximately $20.1 billion.
In 2021, the U.S. spa industry was valued at just over $18 billion.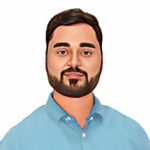 Anurag Sharma
He has been helping in business of varied scales, with key strategic decisions. He is a specialist in healthcare, medical devices, and life-science, and has accurately predicted the trends in the market. Anurag is a fervent traveller, and is passionate in exploring untouched places and locations. In his free time, he loves to introspect and plan ahead.