According to Social Media in Healthcare, The integration of social media platforms in healthcare settings has enabled unprecedented opportunities for patient engagement, information dissemination, and public health campaigns.
As the world becomes increasingly interconnected through digital channels, the use of social media in healthcare continues to evolve, offering immense potential for improving healthcare outcomes and fostering greater transparency in the healthcare landscape.
Editor's Choice
Over 80% of internet users aged 18-49 have reported seeking health information on social media platforms.
Healthcare professionals' adoption of social media for professional purposes has grown to 91%, with 65% using it for patient education.
More than 40% of patients claim that social media interactions with healthcare providers positively impact their decision-making process.
Facebook remains the leading social media platform for healthcare marketing, with around 89% of hospitals actively using it to engage with their audience.
60% of doctors state that social media has positively influenced the quality of patient care they provide.
Twitter has become a prominent platform for health-related discussions, with over 1 million tweets related to health topics posted daily.
72% of people have reported sharing their health experiences on social media, seeking support from their network.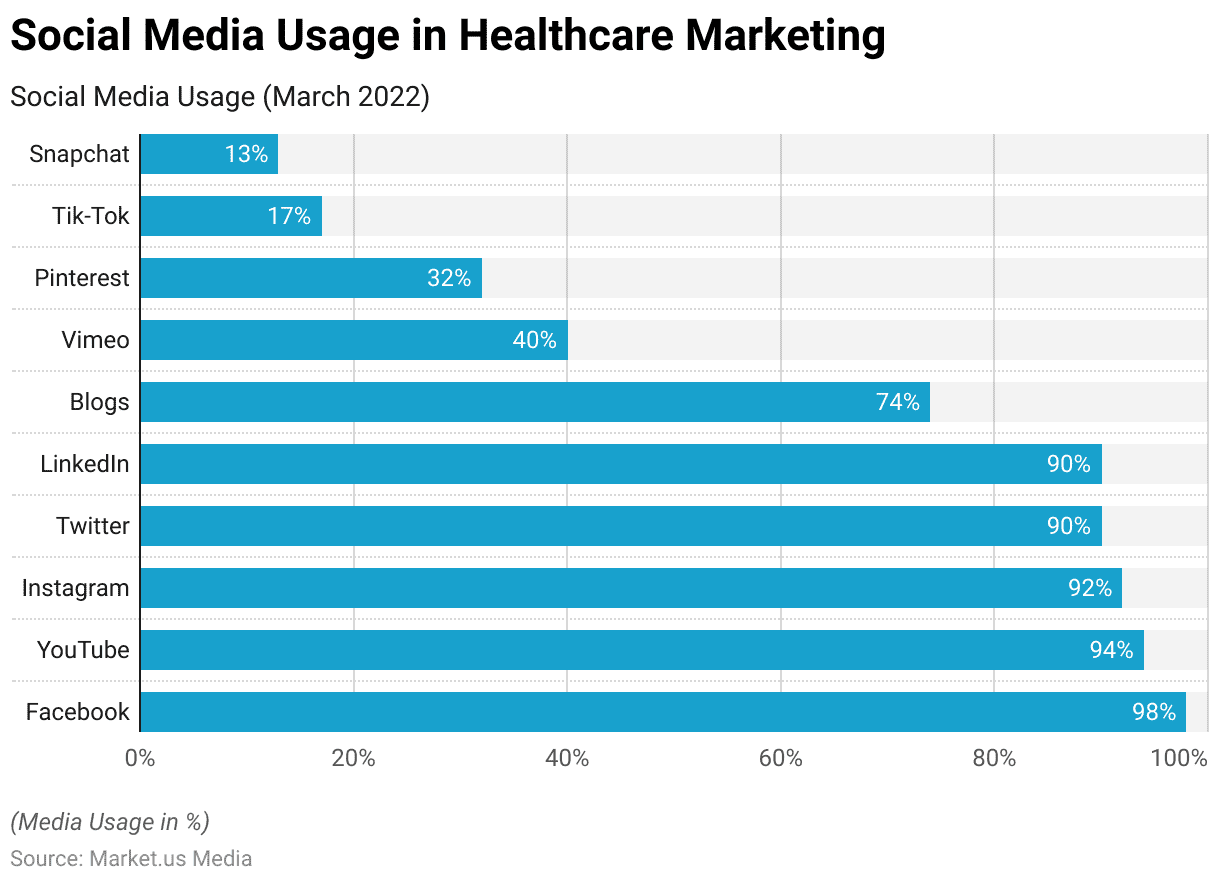 Social Media Usage in the Healthcare Industry
More than 60% of people use social media to search for health information, leading to increased patient engagement and empowerment.
Facebook remains the most popular social media platform for healthcare organizations, with around 95% of hospitals having an active presence on the platform.
Twitter is widely used by healthcare professionals, and approximately 87% of physicians report using Twitter for professional purposes.
Instagram's healthcare engagement is rising, with healthcare-related posts receiving over 4.5 billion likes per month.
LinkedIn is gaining traction in the healthcare industry, with 70% of medical professionals stating they use the platform for networking and professional development.
More than 50% of patients share positive experiences on social media, while 35% share negative experiences, impacting the reputation of healthcare providers.
Around 70% of healthcare consumers trust healthcare information shared by their peers on social media.
Telemedicine adoption has significantly increased, with over 80% of healthcare organizations implementing telemedicine solutions due to COVID-19.
Health-related YouTube videos receive approximately 16 billion views each month, making them a crucial platform for health education and awareness.
Impact of Facebook in Healthcare: Insights and Adoption Trends
Over 70% of healthcare professionals in the United States use Facebook for professional purposes, such as sharing medical knowledge and engaging with patients.
A survey revealed that 40% of patients rely on information from Facebook to make decisions about their healthcare, highlighting the platform's impact on patient decision-making.
Facebook has seen a surge in health-related groups and communities, with over 1.5 billion users engaged in health-related discussions, making it a significant platform for patient support and peer-to-peer interaction.
Healthcare organizations that actively use Facebook for marketing and outreach report an average increase of 45% in website traffic and patient inquiries, indicating its effectiveness as a promotional tool.
Around 88% of hospitals in the United States have a Facebook presence, making it the most widely used social media platform by healthcare institutions.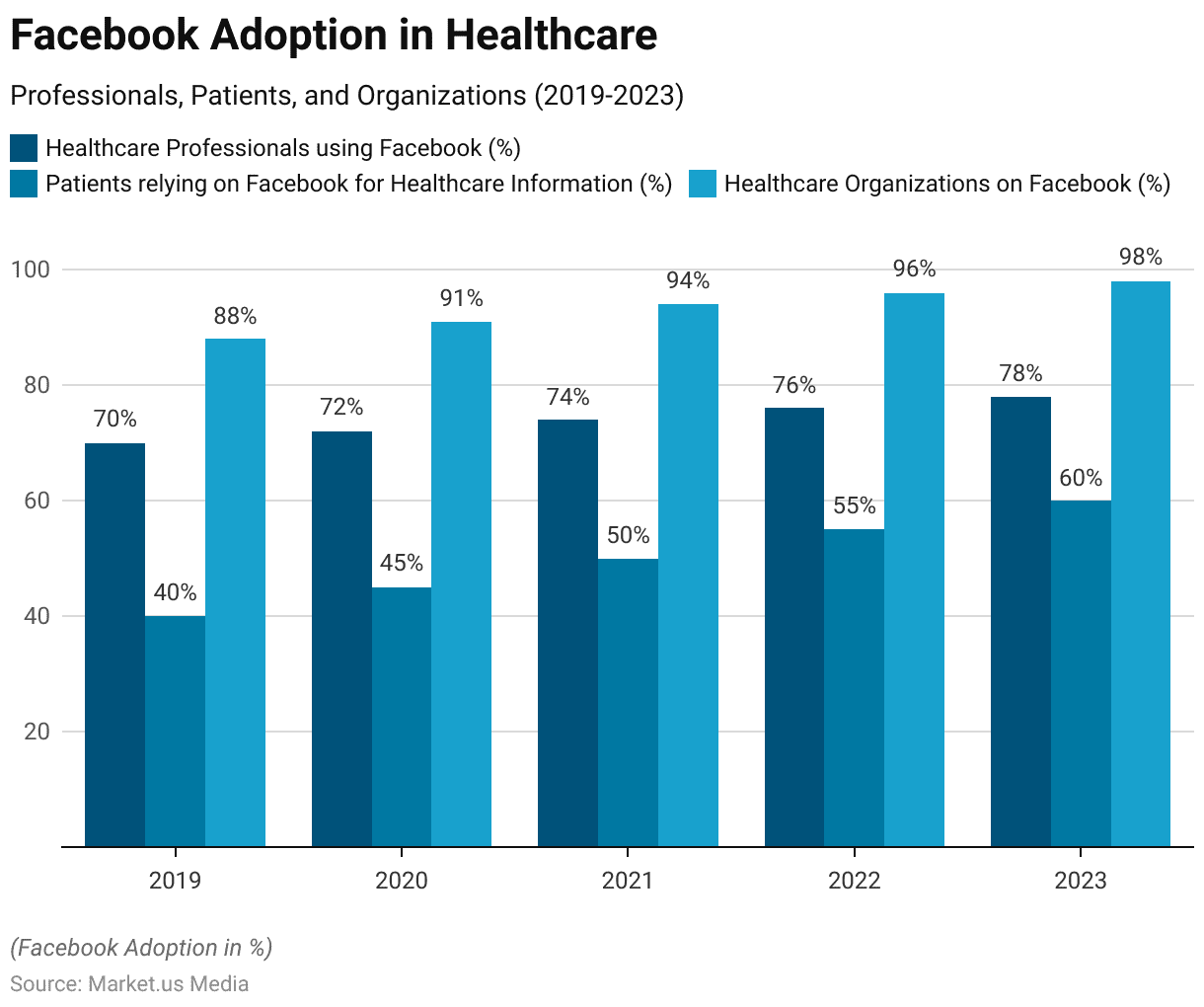 Instagram's Impact on Healthcare
Instagram has over 1 billion monthly active users, making it one of the most popular social media platforms worldwide.
Approximately 70% of healthcare professionals use social media platforms like Instagram for professional networking and sharing medical information.
Healthcare organizations that actively use Instagram experience, on average, a 37% increase in engagement with their target audience.
A study revealed that 57% of Instagram users have searched for health-related information and medical advice on the platform.
Visual content, such as images and videos, on Instagram, receives 40 times more user engagement than other types of content.
73% of consumers trust the health information shared by healthcare providers on Instagram, creating a sense of credibility and trust.)
Healthcare campaigns on Instagram have shown to be effective, with a reach of 3 times more than other social media channels.
Instagram stories have become a popular tool for healthcare providers to share daily health tips, reaching over 500 million daily active users.
Hashtags related to health and wellness, such as #healthyliving and #selfcare, have been used in more than 100 million posts on Instagram.
During the COVID-19 pandemic, healthcare-related posts on Instagram increased by 93%, reflecting the platform's role as a vital source of information during crises.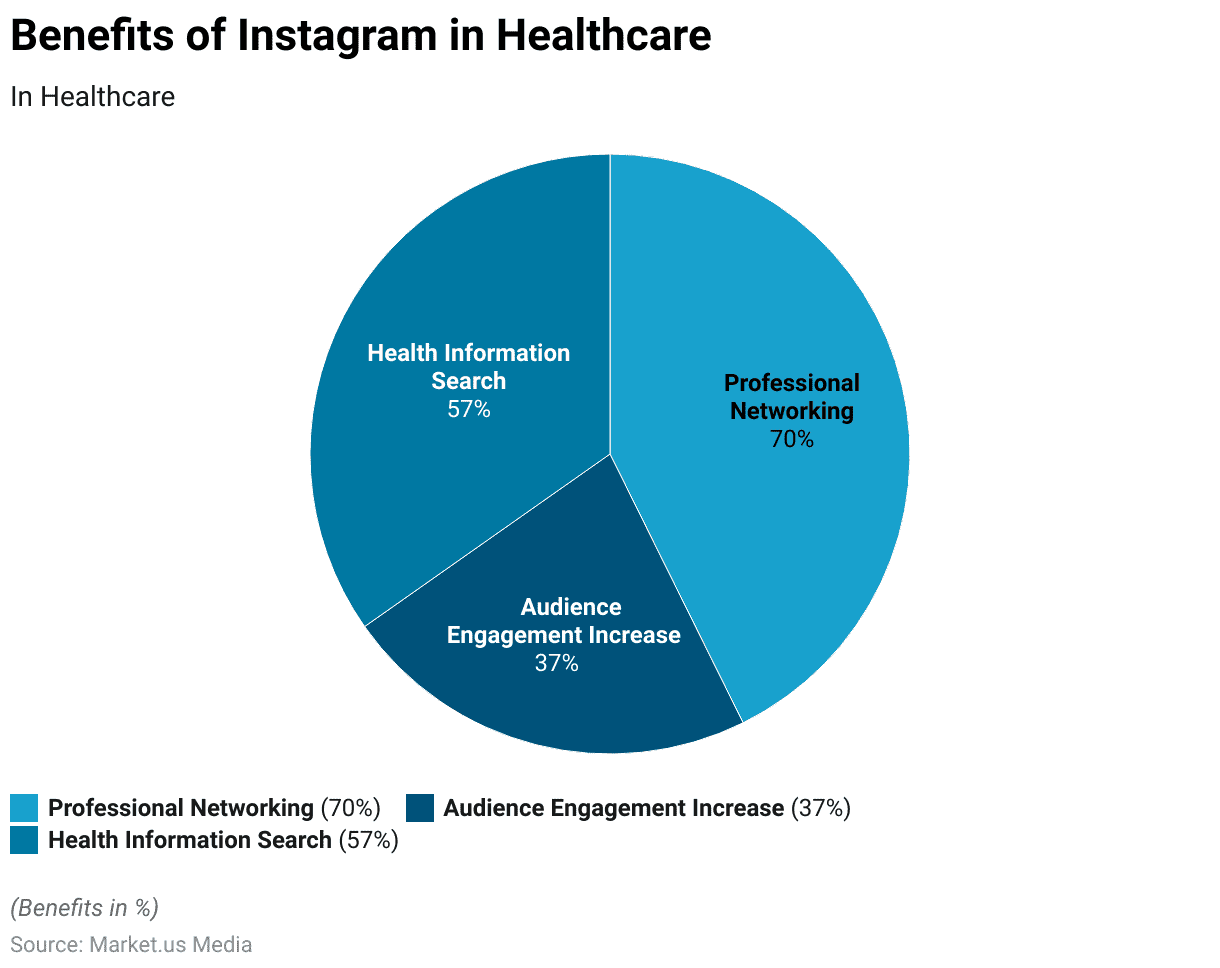 Social Media (YouTube) Usage in Healthcare
YouTube is a prominent platform for healthcare content, with over 74% of adults in the US using it to access health-related information.
Around 71% of healthcare-related searches on YouTube are focused on finding information about specific medical conditions and treatments.
Medical professionals are actively engaging on YouTube, with over 54% of physicians and healthcare providers using the platform to watch professional content.
Health-related videos on YouTube receive an average of 4,000 views, indicating a substantial audience for healthcare content.
Videos featuring patient testimonials and experiences are highly influential, with 86% of viewers saying they were more likely to trust a doctor after watching such content.
52% of patients report that YouTube videos have influenced their health-related decisions, such as choosing a specific treatment or seeking a second opinion.
Approximately 83% of healthcare organizations have an official YouTube channel to share educational content and engage with their audience.
78% of healthcare professionals believe that YouTube has positively impacted patient care and health outcomes through information accessibility.
YouTube's role in patient support is significant, with 64% of patients indicating that they have found comfort and support from healthcare-related videos on the platform.
Key Challenges of Social Media in Healthcare
Patient Privacy Concerns: Around 70% of patients worry about the privacy of their health data when sharing it on social media.
Unreliable Health Information: About 75% of internet users believe that not all health information on social media is accurate.
Regulatory Compliance: Only 21% of healthcare organizations feel confident in their ability to comply with regulations while using social media.
Ethical Dilemmas: Nearly 40% of healthcare professionals have encountered ethical dilemmas related to social media use in patient care.
Data Security Incidents: In a survey, 45% of healthcare employees admitted to accidentally sharing patient data on social media.
Medical Misdiagnosis: Studies suggest that social media contributes to at least 1 in 20 medical cases of misdiagnosis.
Online Bullying: Around 10% of healthcare professionals have experienced online harassment or bullying related to their work.
Patient-Provider Boundaries: Approximately 30% of physicians have received friend requests from patients on personal social media accounts, blurring professional boundaries.
Inaccurate Health Trends: Analysis reveals that popular health trends on social media are often based on limited scientific evidence.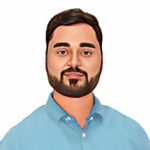 Anurag Sharma
He has been helping in business of varied scales, with key strategic decisions. He is a specialist in healthcare, medical devices, and life-science, and has accurately predicted the trends in the market. Anurag is a fervent traveller, and is passionate in exploring untouched places and locations. In his free time, he loves to introspect and plan ahead.