Robotic Surgery Statistics – Adoption, Surgical Procedures, Safety and Complications
Introduction to Robotic Surgery
Robotic Surgery Statistics: Robotic surgery refers to a surgical technique that utilizes robotic systems as an aid to surgeons performing complex procedures with increased precision, dexterity, and control. It is a form of minimally invasive surgery in which surgeons operate from a console equipped with robotic arms and instruments controlled by hand movements – translating those movements into precise movements of surgical instruments inside patient bodies.
Types of Robotic Surgery
Da Vinci Surgical System
CyberKnife
MAKOplasty
ROSA Robot
Artas System
Versius Surgical Robotic System
ExcelsiusGPS
Editor's Choice
Robotic surgeries have increased to 15% of total surgical procedures despite limited evidence supporting them.
The global market for robotic surgery systems was valued at $4.45 billion in 2020 and is projected to reach $11.45 billion by 2028, growing at a CAGR of 12.3% from 2021 to 2028.
Intuitive Surgical's da Vinci Surgical System is the world's most-utilized robotic surgical system with over 5,000 installations worldwide.
Robotic surgery has most extensively used in urology, with prostatectomy being one of the most common procedures performed using robotic surgery.
Studies comparing robotic-assisted surgery and open surgery for colorectal cancer treatment found that patients undergoing robotic-assisted surgery experienced significantly fewer complications (14.1% vs 21.2%) and shorter hospital stays (6.7 vs 8.4 days).
In 2022, the global surgical robotics market was valued at around USD 65 billion. By 2030, the market size was forecast to increase to nearly USD 119.7 billion.
(Source: Journal of the American Medical Association, European Association of Urology, Intuitive Surgical)
Adoption of Robotic Surgery by Hospitals
Across 73 hospitals, robotic surgery usage increased from 1.8% to 15.1% for all general surgery procedures.
The use of robotic surgery increased by 2.1% per year. (95% CI, 1.9%-2.3%).
Hospitals saw an 8.8% increase in robotic surgery within the first four years of adopting the technology.
The use of laparoscopic surgery decreased from 53.2% to 51.3% after adopting robotic surgery.
In 2018, 753,000 robotic procedures were carried out across the US; these numbers climbed to 883,000 procedures performed in 2019 and then 876,000 procedures in 2020.
(Source: JAMA Network)
According to a Survey by JAMA Network,
42.5% of hospitals that have less than 200 beds have adopted robotic surgery techniques.
15.1% of hospitals that have more than 500 beds have adopted robotic surgery techniques in their hospital.
About 84.9% of teaching hospitals have adopted robotic surgery techniques.
Adoption of Robotic Surgery by Surgeons
The proportion of surgeons performing robotic general surgery
In 2012, about 8.7% of surgeons were performing robotic surgeries, which increased to 35.1% by 2018.
In 2022, about 45% of surgeons were performing robotic surgeries.
(Source: JAMA Network)
Common Surgical Procedures Performed with Robots
Prostatectomy
Robot-assisted laparoscopic prostatectomy is an increasingly popular treatment option for prostate cancer, offering various advantages like reduced blood loss, shorter hospital stays duration, and faster recovery timeframe.
In 2019, approximately 87% of prostatectomies performed in the US were carried out via robotic prostatectomy.
(Source: American Cancer Society)
Hysterectomy
Robot-assisted laparoscopic hysterectomy (RALH) is an emerging, minimally invasive solution for uterine removal. Due to improved visualization and precise surgical movements, its popularity has grown quickly.
In 2018, 60.8% of hysterectomies performed in the United States used robotic assistance.
(Source: Journal of Minimally Invasive Gynecology)
Colorectal Surgery
Robot-assisted cardiac surgery has become an integral component of mitral valve repair, coronary artery bypass grafting, and atrial septal defect closure procedures. Utilizing robotic techniques allows for precise movements with improved visualization at the surgical site.
An estimated 18% of mitral valve repair procedures will likely use robotic technology by 2020.
(source: European Journal of Cardio-Thoracic Surgery)
Bariatric Surgery
Robot-assisted bariatric surgery – including procedures like gastric bypass and sleeve gastrectomy – has become increasingly popular, offering benefits such as decreased postoperative discomfort and faster healing time.
In 2019, approximately 7% of bariatric surgeries performed in the US were done so with robotic technology.
(Source: American Society for Metabolic and Bariatric Surgery)
Da Vinci Surgical System
The da Vinci Surgical System is a widely used robotic surgery system developed by Intuitive Surgical. It is designed to assist surgeons in performing minimally invasive surgical procedures.
Today, there are over 1,700 da Vinci Systems installed worldwide in hospitals.
Over 775,000 patients worldwide have undergone da Vinci procedures.
Today, approximately three out of every four prostate cancer surgeries in the U.S. use da Vinci Surgery technology; more U.S. men select this form of treatment than any other.
86% of urology residency programs in the U.S. currently utilize da Vinci Systems while all 42 gynecologic oncology fellowship programs use da Vinci technology for their fellowship programs.
U.S. News & World Report's 2009 Best Hospitals Ranking shows that all top-ranked hospitals own at least one da Vinci Surgical System, including all cancer hospitals that hold this title.
Robotic procedures are still most widely performed in the urology department which is the largest specialty with a total number of procedures of more than 40,000 (45.5%).
About 40 hospitals performed 300 urological robotic procedures.
7 hospitals performed 1,000 procedures.
There are about 9 hospitals with 600-1,000 procedures.
There are about 13 hospitals that perform 400-600 robotic surgery procedures.
11 hospitals performed 300-400 robotic surgery procedures.
(Source: ScienceDirect, stclair)
The number of da Vinci surgical procedures in different specialties in the Chinese mainland in 2021.
As of the end of 2021, over 6730 da Vinci surgical systems have been installed in 69 countries around the world and more than 10 million minimally invasive robotic surgical procedures were performed, including more than 1.5 million surgical procedures in 2021.
The number of da Vinci procedures in each year since 2015 and the growth rate compared with the previous year.
Safety and Complications in Robotics Surgery
The rate of conversion from robotic surgery to open surgery is relatively low ranging from 0.8% to 5%, which is depending upon specific procedures and surgeons' experience.
According to the study low rate of surgical site infections in the surgery, generally ranging from 0.8% to 2.5%.
Major complications like bowel injury or vascular injury are rare, with rates generally less than 1%.
Studies have reported that the overall complication rate ranges from 4% to 9% with major complications occurring in less than 5% of cases.
Complication rates vary depending on the specific procedure, but major complications are generally less than 10%.
(Source: sciencedirect)
COVID-19 Impact on Robotic Surgery
The COVID-19 pandemic led to a drop in robotic-assisted surgeries globally, forcing hospitals and healthcare facilities to prioritize urgent procedures over elective surgeries such as robotic ones. Many surgeries were postponed or canceled.
General surgery RAS saw an overall 30% increase in robotic procedures during 2019.
Gynaecologic procedures saw a 6% increase in robotic systems in 2019.
Gynaecologic procedures saw a 6% increase in robotic systems in 2019.
The number of RAS cases increased from 335 during Q2 2022 to 669 cases during Q3 2020.
Q4 2020 witnessed a further increase to 755 cases, demonstrating a 99.70% and 12.85% increase, respectively.
General surgery RAS (robotic-assisted surgery) saw a 2% increase during Q1 2020 in the United States.
(Source: sciencedirect)
Robotic Surgery Statistics by Country
United States
The United States has long been considered an innovator in robotic surgery, with an ever-increasing number of procedures using robotic systems like those developed by Intuitive Survival's da Vinci Surgical System proving popular across different surgical specialties across the country.
Data provided by the American Society of Robotic Surgery indicates that in 2020 alone, approximately 1.12 million robotic surgery procedures were completed across multiple surgical specialties – such as urology, Gynecology, general surgery, and cardiothoracic surgery.
As of 2020, over 5,500 da Vinci systems were installed in hospitals across the country.
In 2020, robotic-assisted surgery was used in over 300,000 urological procedures – from prostatectomies and kidney surgeries to bladder surgeries and bladder removal procedures.
In 2020 alone, approximately 250,000 gynecological procedures were performed using robotic systems in the United States.
In 2020, over 70,000 robotic-assisted general surgery procedures and approximately 30,000 colorectal procedures were performed across the US.
(Source: srobotics)
Germany
Germany is well known for its advanced healthcare system and advanced robotic surgery capabilities. Numerous hospitals throughout Germany have integrated robotic surgical systems into their practices for specialties like urology, Gynecology, and general surgery.
Germany boasts an extensive deployment of robotic surgical systems. As of 2021, more than 180 da Vinci Surgical Systems from Intuitive Surgical had been installed across German hospitals.
(Source: srobotics)
Japan
Japan has made major advances in robotic surgery and boasts an exceptional rate of adoption of surgical robots. Japan is widely recognized for developing cutting-edge robotic surgical systems and has been at the forefront of research and development within this field.
In 2019, over 20,000 robotic surgeries were performed across the nation, highlighting their growing acceptance and use.
In 2021, Japan's medical and nursing care robot market was estimated at 14.2 billion Japanese yen; by 2027 it is projected to have grown significantly more than 23 billion yen, an impressive surge of growth.
(Source: Statista)
China
China has seen a rapid expansion of robotic surgery usage over recent years. Urology, general surgery, and Gynecology surgeries have all experienced increased adoption of automated systems; Chinese hospitals and medical institutions have actively integrated automated technology into their surgical departments.
The robotic surgery market in China accounted for a revenue of USD 1137 million in 2022.
In 2021, endoscopy accounted for about 75% of all surgical robot applications in China.
The Chinese market for vascular interventional surgery robots was expected to reach 34 million yuan in 2022 and grow to around 5.8 billion yuan in 2030.
As of 2020, over 1,000 robotic surgical systems were installed in Chinese hospitals.
(Source: Statista)
Wrap Up
Robotic surgery statistics have experienced widespread adoption across several nations, such as the United States, Germany, Japan, and China. The da Vinci Surgical System from Intuitive Surgical is widely utilized globally with over 5,000 installations; especially popular within urology for prostatectomy procedures.
Robotic surgery has revolutionized surgery, giving surgeons enhanced precision, dexterity, and control during procedures. With ongoing advancements and increasing adoption, robotic surgery is likely to play an even more significant role in the future of healthcare.
FAQs
What is robotic surgery?
Robotic surgery, also known as robot-assisted surgery, is a type of minimally invasive surgery that utilizes robotic systems to assist surgeons during procedures. The surgeon controls the robotic system, which consists of robotic arms and surgical instruments, from a console. The robotic arms translate the surgeon's movements into precise actions inside the patient's body.
What types of procedures can be performed using robotic surgery?
Robotic surgery is used in various specialties, including urology, Gynecology, general surgery, cardiothoracic surgery, and more. Procedures commonly performed using robotic surgery include prostatectomies, hysterectomies, colorectal surgeries, lung surgeries, and bariatric surgeries.
How does robotic surgery differ from traditional surgery?
In traditional surgery, the surgeon directly operates on the patient using manual instruments. In robotic surgery, the surgeon sits at a console and controls the robotic arms, which have instruments attached to them. The robotic system enhances the surgeon's precision, flexibility, and control over the instruments.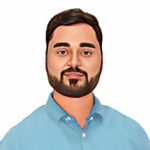 Anurag Sharma
He has been helping in business of varied scales, with key strategic decisions. He is a specialist in healthcare, medical devices, and life-science, and has accurately predicted the trends in the market. Anurag is a fervent traveller, and is passionate in exploring untouched places and locations. In his free time, he loves to introspect and plan ahead.