According to Mental Health Statistics, depression is one of the major leading causes of mental disorders and suicide is the fourth leading cause of death among 15-29 years old individuals.
Top Key Mental Health Statistics
Around 20% of the world's children and adolescents have a health condition.
Suicide is the leading cause of death among individuals aged 15-29 years.
About 1 in 5 people have post-conflict conditions.
The global median of government health expenditure that goes to mental health is less than 2%.
The two most common health conditions are depression and anxiety.
The cost of the global economy is USD 1 trillion each year.
Prevalence of Any Mental Illness (AMI) Statistics
More than 57.8 million adults aged 18 or older in the United States have Any Mental Illness in 2021.
The prevalence of AMI is more (27.2%) in females.
18.1% of males have any mental illness which is comparatively less than females. 
33.7% of young adults aged 18-25 years had the highest prevalence of AMI.
28.1% of adults aged from 26-49 years have AMI.
15% of individuals aged more than 50 years have Any Mental Illness.
The prevalence of AMI was highest among the adults reporting two or more races (34.9%).
26.6% of American Indian/Alaskan Native adults have AMI.
16.4% of Asian adults have AMI.
Mental Health Services – AMI Statistics
In 2021, 52.8 million adults with Any Mental Illness, and 26.5 million adults received health services.
61.7% of females with AMI received mental health services.
40% of males received services in the past year.
44.6% of young adults aged 18-25 with AMI received services in 2022.
48.1% of adults aged 26-49 years with AMI received health services in the past year.
Women's Mental Health Statistics
1 in 5 women has a serious disorder.
26% of young women aged 16-24 years old reported that they have a common disorder.
Women are more likely to be affected by depression than men.
About 53% of women have mental health problems.
44% of women are currently facing the problem of anxiety, and 38% of women are battling body image issues.
1 in 5 girls in their teenage years have an eating disorder.
More than 20% of women are facing infertility/fertility challenges.
More than 23% of women are suffering from perinatal depression and anxiety.
Global Consumer Spends On Mental Wellness Statistics
In 2022, global consumer spending for mental wellness apps reached almost USD 270 million as compared to the previous year.
In 2022, mobile mental wellness apps generated revenue of USD 491 million in consumer spending, up by 82.5% compared to 2020.
Mental Health in Asia Statistics
Mental health is a rising global health concern, and the prevalence of issues is varying according to each country, and cultural factors.
Many individuals use mental health apps to analyze their mental health conditions.
Singapore
1 in 7 individuals in Singapore has experienced mental health conditions.
1 in 16 people in Singapore has a major depressive disorder.
1 in 24 people in Singapore has alcohol abuse.
1 in 28 people in Singapore have obsessive-compulsive disorder.
About 18% of the population in Singapore lives with depression.
Singapore has the lowest number of psychiatrists and psychologists.
India
In 2021, 10% of the population in India will suffer from one or more conditions.
India accounted for 15% of the global mental, substance abuse, and neurological disorder burden.
More than 70% to 80% of individuals are suffering from mental illness issues and are struggling with treatment.
According to WHO reports India spent less than 2% of their healthcare budget on mental health.
74% of Indians suffered from stress while 88% suffered from some kind of anxiety disorder.
Malaysia
Mental health conditions are the second biggest health problem among individuals in Malaysia.
About 29.2% of adults in Malaysia aged 16 years and above have any illness.
The states Kelantan, Sarawak, Sabah, and Kuala Lumpur have the highest prevalence of mental health conditions.
1 in 5 adults aged 13-17 years are suffering from depression in Malaysia.
59% of respondents aged between 16 and 24 years indicated that they had higher levels of stress and anxiety.
34% of respondents aged between 25 and 34 years indicated that they had stress and anxiety.
Philippines
More than 3.3 million Philippines population have a depressive disorder, and have a suicide rate of 2.5% male and 1.7% female per 100,000 persons.
57% of the Philippines population actively working on their mental illness.
10% of children aged 5-15 years are affected by mental health problems.
According to WHO, 16.8% of adults aged 13-17 years have attempted suicide at least once.
Mental Health Treatment in the United States Statistics
Treatment of mental health issues can come in many different forms and depend on the type of issues and severity of disorders. The common treatment methods include behavioral therapy, psychotherapy, and support groups.
In 2021, around 50% of respondents in the United States with a major depressive episode reported they received treatment from a general family doctor.
43% of adults in the United States reported that they do not receive mental health services.
35% of adults said that they did not know where to go for such services.
Primary Mental Health Issues Among US College Students 2022
The primary health concern of college students in the United States, as reported by mental health clinicians, for the academic year 2021-2022 was anxiety.
Around 24.6% of mental health, clinicians stated that anxiety was the top concern in college students.
Stress, relationship problems, and family problems are some of the leading issues among college students in the United States.
41% of college students reported that they have depression syndrome.
In 2021, 31% of college students in the United States had been diagnosed with anxiety disorder.
27% of college students have been diagnosed with depression or other mood disorders.
In the academic year 2021-2022, 35% of college students in the United States received treatment.
COVID-19 Impact on Mental Health Statistics
COVID-19 has a significant impact around the world. Social distancing measures and quarantine have led to increased feelings of isolation and loneliness, particularly among those who live alone. The coronavirus crisis led to increased stigma and discrimination towards certain groups, such as those who have been infected with COVID-19.
The high percentage of adults who experienced mental illness was 23% in Australia, 26% in Canada, 24% in France, 23% in New Zealand, 26% in the United Kingdom, and 33% in the United States.
The lower rate of mental illness is 14% in the Netherlands, 10% in Norway, and 18% in Sweden.
A WHO survey in the second quarter of 2020 found that more than 60% of countries worldwide reported disruption in services.
In 2020, 14% of community mental health centers have been closed.
19.7% of individuals were suffering from anxiety.
14.2% of individuals have a sleep disorder.
13.7% of individuals have high-stress issues.
4.2% of individuals were suffering from eating disorders.
13% of Americans began using substances to deal with pandemic-related stress.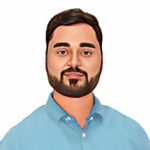 Anurag Sharma
He has been helping in business of varied scales, with key strategic decisions. He is a specialist in healthcare, medical devices, and life-science, and has accurately predicted the trends in the market. Anurag is a fervent traveller, and is passionate in exploring untouched places and locations. In his free time, he loves to introspect and plan ahead.