According to Prescription Drug Statistics, Prescription drugs play a pivotal role in modern healthcare, providing vital treatments for a myriad of medical conditions and improving the quality of life for millions of people worldwide. These medications, often available only with a healthcare provider's prescription, are a crucial component of disease management, symptom relief, and preventive care.
The prescription drug industry encompasses a vast array of therapeutic classes, ranging from antibiotics and pain relievers to medications for chronic conditions like hypertension and diabetes.
Editor's Choice
The pharmacy market size is expected to be worth around USD 1,750 billion by 2032
The global prescription drugs market was valued at US$ 1050.26 Mn in 2021 and is projected to register а САGR of 9.0% by 2031.
The most prescribed drug category is analgesics (pain relievers), accounting for approximately 24% of total prescriptions.
Humira (adalimumab) holds the top position as the most prescribed drug by sales, generating a staggering $19.8 billion in sales in 2021.
Prescription drug expenditure constitutes approximately 18% of the overall healthcare spending in the United States.
The prevalence of prescription drug abuse affects around 18 million people in the United States aged 12 and older, highlighting the significant impact of this issue on public health.
Generic drugs dominate the global pharmaceutical market, filling over 70% of all prescriptions, showcasing their widespread utilization and cost-effectiveness.
Adverse drug reactions (ADRs) remain a concerning aspect of prescription drug use, as they account for 1 in 3 hospital-acquired injuries, emphasizing the importance of drug safety measures.
Projected Global Prescription Drug Revenue (2020-2028)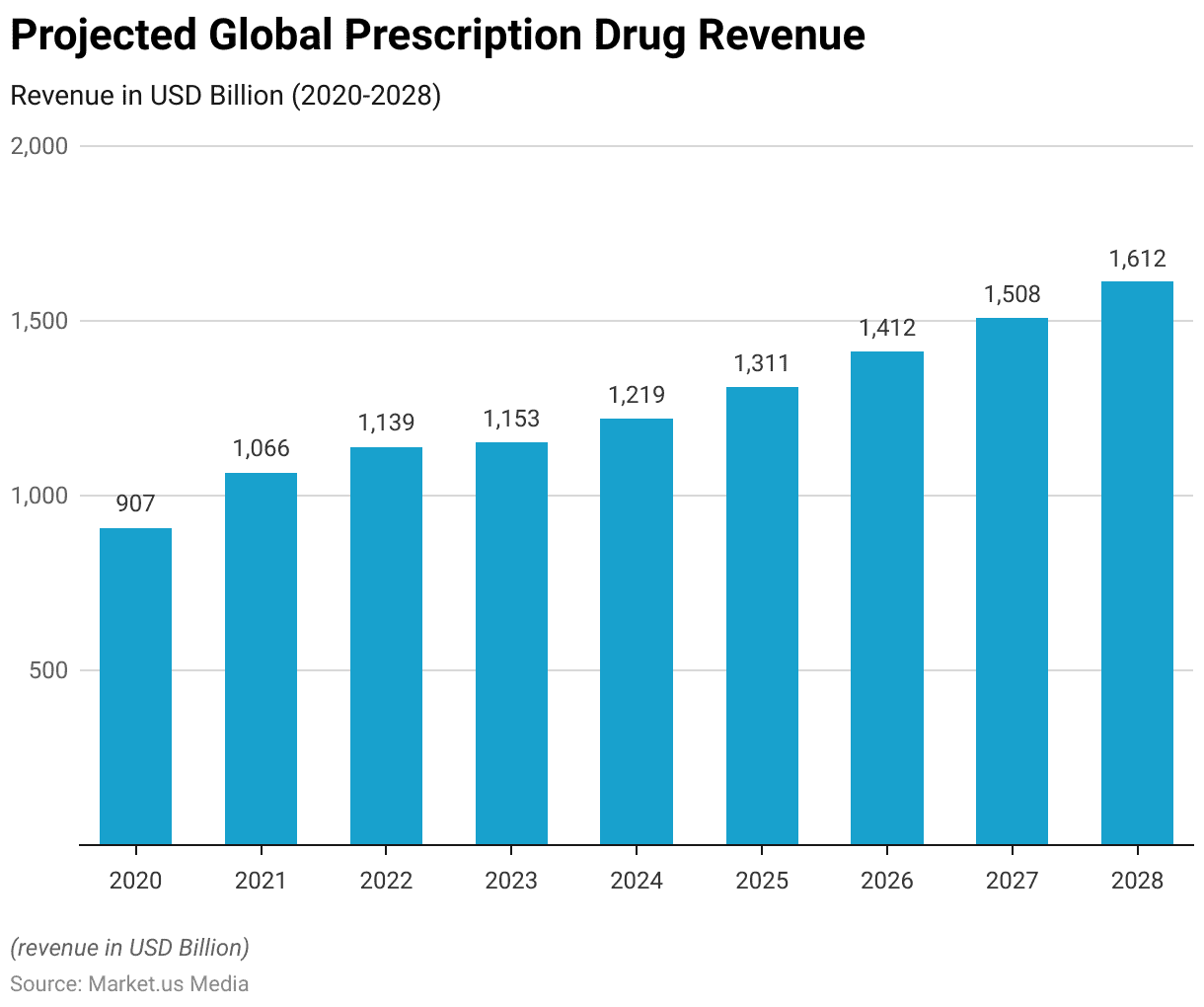 Prescription Drug Usage Statistics
In 2021, the global prescription drug market was valued at approximately $1.4 trillion.
The United States accounted for the largest share of prescription drug sales, with an estimated expenditure of over $500 billion in 2021.
Antibiotics were among the most commonly prescribed drugs worldwide, with around 266.1 million prescriptions issued in the United States alone in 2020.
Statins, used to lower cholesterol levels, remained one of the top prescribed drug classes, with over 202 million prescriptions in the United States in 2020.
Opioid analgesics, such as oxycodone and hydrocodone, continued to be heavily prescribed despite concerns about their potential for abuse. In 2019, healthcare providers in the U.S. wrote around 153 million prescriptions for opioids.
Prescription drug expenditure accounted for a significant portion of healthcare spending. In 2019, prescription drugs constituted 10% of total healthcare spending in the United States.
Generic drugs play a vital role in reducing prescription drug costs. In 2020, generic drugs accounted for about 84% of all prescriptions dispensed in the United States but only 18% of drug spending.
The average out-of-pocket cost for a 30-day supply of a prescription drug in the U.S. was $15 in 2020.
Over 20% of Americans reported facing difficulties in affording their prescription medications in 2020.
In 2021, over 1.6 million adverse drug reactions were reported to the U.S. FDA through its Adverse Event Reporting System (FAERS).
The COVID-19 pandemic significantly impacted prescription drug usage, with increased demand for medications like antivirals, steroids, and sedatives for critically ill patients.
Prescription Drug Usage and Expenditure by Drug Class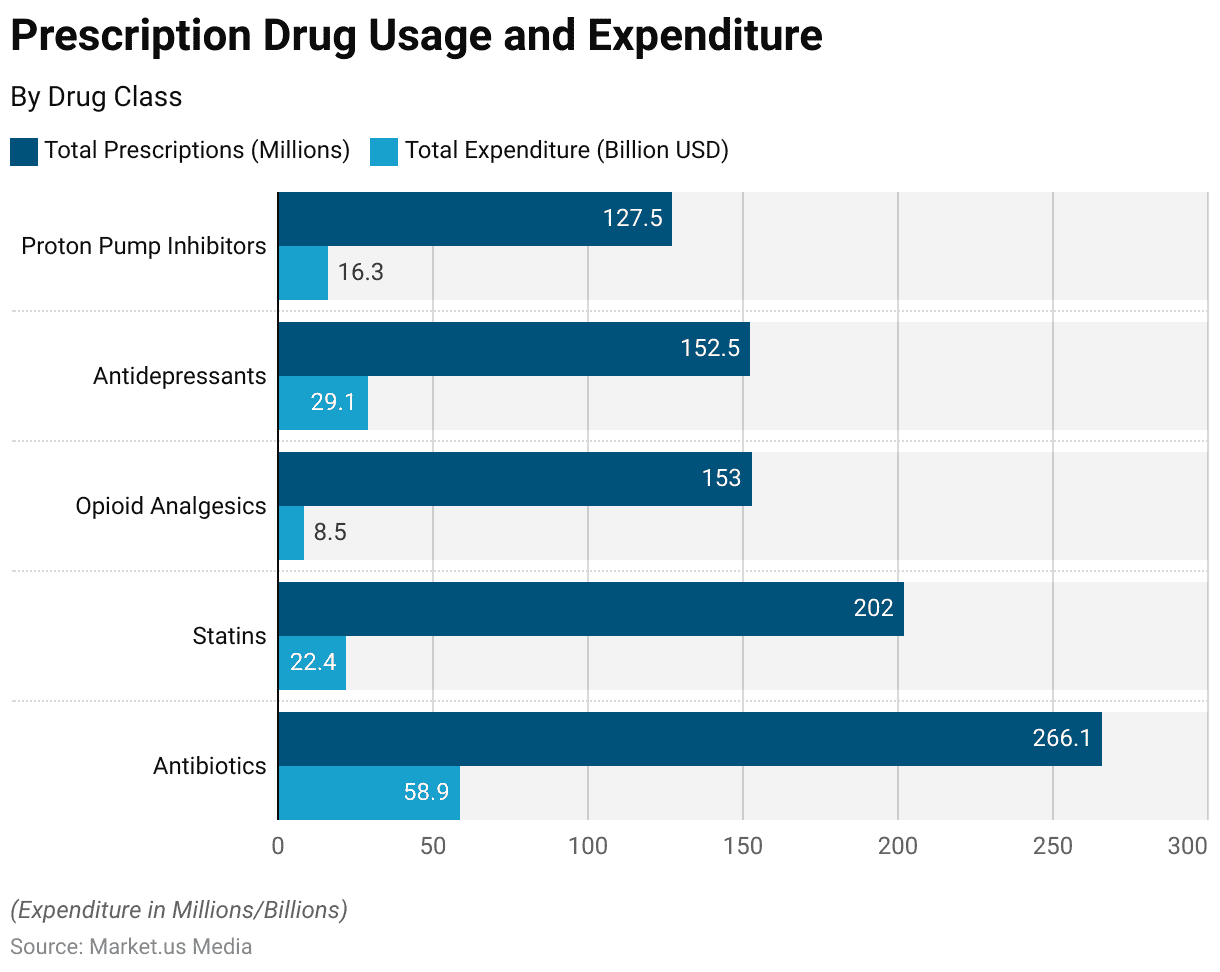 Top Prescribed Drugs
Atorvastatin (Lipitor)
Statin medication is used to lower cholesterol levels.
In 2019, it was one of the top-selling drugs worldwide with over $7 billion in sales.
Prescribed to treat hypercholesterolemia and reduce the risk of cardiovascular events.
More than 100 million prescriptions were filled for atorvastatin in the United States in 2017.
Levothyroxine (Synthroid, Levoxyl)
Synthetic thyroid hormone is prescribed to treat hypothyroidism.
It was one of the most commonly prescribed drugs in the United States, with over 98 million prescriptions in 2017.
Ranked among the top ten most dispensed drugs in the U.S., and widely used globally.
Generic levothyroxine formulations dominate the market due to their cost-effectiveness.
Metformin (Glucophage)
Oral anti-diabetic medication is used to treat type 2 diabetes.
In 2019, it was the most prescribed antidiabetic drug in the United States.
Metformin has consistently been recommended as the first-line treatment for type 2 diabetes by medical guidelines.
It is also being investigated for potential anti-aging and anti-cancer properties.
Amlodipine (Norvasc)
Calcium channel blockers are used to treat hypertension and angina.
One of the most commonly prescribed antihypertensive drugs globally.
In 2019, amlodipine was one of the top 10 most commonly prescribed medications in the United States.
Available in generic form, contributing to its widespread use and accessibility.
Prescription Drug Expenditure Worldwide
 The global prescription drug expenditure surpassed $1.2 trillion.
In the United States, prescription drug spending reached $335 billion.
Out-of-pocket spending on prescription drugs in the U.S. accounted for $59.9 billion.
The United States spent approximately $1,220 per capita on prescription drugs, making it one of the highest per capita spenders globally.
Canada's prescription drug expenditure amounted to $42.3 billion.
The European Union collectively spent over €200 billion on prescription drugs.
Japan's pharmaceutical market expenditure reached ¥16.5 trillion.
China's total pharmaceutical spending, including prescription drugs, exceeded ¥2 trillion.
Brazil's pharmaceutical market saw prescription drug sales worth BRL 61.5 billion.
India's prescription drug market value reached INR 1.29 trillion.
Australia spent AUD 22.3 billion on prescription medicines.
Prescription drug expenditure in Germany amounted to €43.7 billion.
France's spending on prescription drugs reached €37.1 billion.
The United Kingdom's National Health Service (NHS) spent £15.5 billion on prescription drugs.
| | |
| --- | --- |
| Country | Total Expenditure on Prescription Drugs |
| Global | $1.2 |
| United States | $335 |
| United States | $59.9 |
| United States | $1,220 per capita |
| Canada | $42.3 |
| European Union | €200 |
| Japan | ¥16.5 trillion |
| China | ¥2 trillion |
| Brazil | BRL 61.5 billion |
| India | INR 1.29 trillion |
| Australia | AUD 22.3 billion |
| Germany | €43.7 |
| France | €37.1 |
| United Kingdom | £15.5 billion |
Prescription Drug Abuse and Misuse
Prescription drug abuse affects approximately 18 million people in the United States alone.
Opioids are among the most commonly abused prescription drugs, with an estimated 10.3 million Americans misusing them in some form.
Non-medical use of prescription stimulants is a concern, with around 5.9% of high school seniors reporting misuse of drugs like Adderall and Ritalin.
Benzodiazepines are also widely abused, with over 5% of adults in the U.S. misusing them for non-medical purposes.
Prescription drug misuse leads to approximately 17,000 deaths each year in the United States.
Women are more likely to be prescribed and misuse prescription drugs compared to men.
Over 70% of people who misuse prescription drugs get them from friends or family, often without their knowledge.
Prescription drug abuse is linked to a higher risk of transitioning to heroin use, with about 80% of heroin users reporting prior misuse of prescription opioids.
The economic burden of prescription drug misuse in the U.S. is estimated to be over $78 billion annually, including healthcare costs, lost productivity, and criminal justice expenses.
Efforts to combat prescription drug abuse have shown some positive outcomes, with a 13% decrease in opioid overdose deaths in states that have implemented prescription drug monitoring programs.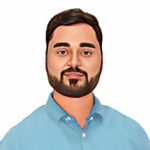 Anurag Sharma
He has been helping in business of varied scales, with key strategic decisions. He is a specialist in healthcare, medical devices, and life-science, and has accurately predicted the trends in the market. Anurag is a fervent traveller, and is passionate in exploring untouched places and locations. In his free time, he loves to introspect and plan ahead.