"According to Market.us, the global precision medicine market size is expected to be worth around USD 254 Bn by 2032 from USD 83.4 Bn in 2022, growing at a CAGR of 12.1% during the forecast period from 2022 to 2032."
Precision Medicine in a Data-Driven World
According to Precision Medicine Statistics, In the past few years, rapid progress in technology in storing, analyzing, and collecting complex and vast medical data changed the future of the healthcare industry.
It is estimated that in the next five years, about 90% of both payers and provider's organizations will adopt "big data analytics capabilities".
About 50% of drug submissions to health technology assessment authorities already use real-world evidence.
The global next-generation sequencing market is expected to grow by 21% annually.
The Department of Health and Human Services (HHS) has invested USD 35 billion in healthcare IT.
There are more than 13 million electronic medical records for cancer patients in the United States.
Benefits by Patients and Health System
Shifting The Emphasis in Medicine from Reaction to Prevention
Precision medicine provides the ability to uncover cellular and molecular markers that signal the disease risks or presence before clinical signs and symptoms occur, which offers the opportunity to focus on prevention and early prevention. Early genetic testing can save several lives in some areas.
A woman with certain BRCA1 or BRCA2 gene variations has up to an 85% chance of cancer compared to a 13% chance among the general female population.
A woman with harmful BRCA1 and BRCA2 mutations has up to 39% and 17% chances of developing ovarian cancer as compared to only 1.3% chances among the general female population.
The BRCA1 and BRCA2 genetic tests can help in guiding preventive measures such as chemoprevention, disease monitoring, and reducing chances of surgery.
Directing Targeted Therapy and Reducing Trial-and-Error Prescribing
In many disease areas, predictive diagnostic tests enable physicians to identify the most effective treatment strategy for a patient to provide better diagnostics. The major application of targeted therapy is in women with breast cancer.
More than 30% of cases of breast cancer can be analyzed by using targeted therapy.
It is possible to reduce the recurrence of breast cancer chances up to 52% by adding targeted drugs like trastuzumab (Herceptin®) or pertuzumab (Perjeta®), lapatinib (Tykerb®), neratinib (Nerlynx®) and trastuzumab emtansine (Kadcyla™). 
Complex tests such as Oncotype DX® and MammaPrint® help physicians to provide targeted and effective treatment for certain breast cancer patients.
Reducing the Frequency and Magnitude of Adverse Drug Reactions
Personalized medicine tests such as pharmacogenomics tests help in the prediction of what medications at what doses will be effective and safe for an individual based on genetics.
Several studies showed that about 5.3% of all hospital admissions are due to Adverse Drug Reactions (ADRs).
Much of these adverse drug reactions are attributed to variations in genes that code the drug-metabolizing enzymes.
One example is a family of genes called cytochrome P450 (CYP450). Pharmacogenomics testing can help in guiding the safe applications of medications for any health condition.
Using Cell-Based or Gene Therapy to Replace or Circumvent Molecular Pathways Associated with Disease
Gene and cell-based therapies are another category of personalized medicines. This therapy is particularly designed to provide permanent or long-term benefits to patients by altering the molecular pathway associated with diseases.
The therapies to treat some form of lymphoma or leukemia, axicabtagene citoleucel (Yescarta®)17 and tisagenlecleucel (Kymriah®) were the first FDA-approved cell-based therapies.
Avoiding Invasive Testing Procedures
The molecular tests require only a blood sample, which can also sometimes be replaced with invasive and uncomfortable tissue biopsies. A multi-gene expression test such as Allomap® used to detect whether the immune system of a heart transplant patient is rejecting the new organ.
Approximately 25% of heart transplant patients experience rejection of a new organ after a heart transplant. The blood-based tests are also gaining popularity as an ideal alternative to cell-based diagnostic tests in cancer. Liquid biopsies are also gaining traction and being used for monitoring relapse in cancer care.
Helping to Control the Overall Cost of Health Care
The recent technological advancements in the healthcare sector introduced innovative science that creates sustainability and efficiencies. Personalized medicines have the potential to reduce healthcare costs by improving patient care.
Precision medicines also play a vital role in the implementation of value-based payment and delivery models, which help patients reduce healthcare costs.
The portability related to non-optimized prescription medication use has been noted as an annual cost of USD 495.3 billion to USD 672.7 billion in 2022.
The breast cancer therapies guided by the Oncotype Dx® test have been estimated to provide a net cost saving of USD 2,256 per patient tested.
Precision Medicine Statistics- By Country
Precision medicine is a global concept, and its implementations and advancements are varying from country to country. Here is an overview of precision medicine and developments in several top countries. 
The United States
The United States is the leading country in the global precision medicine market. The flagship project of the initiative is the All of Us Research Program, which seeks to collect health data from one million or more volunteers to create a diverse research cohort.
The United States has adopted electronic health records, and about 90% of office-based physicians in the United States have adopted EHRs.
Precision medicine has made a substantial impact on cancer treatment in the United States. According to the American Society of Clinical Oncology (ASCO), there were over 500 targeted therapies and immunotherapies approved for various types of cancer in 2021.
China
The Chinese government is investing more and more in healthcare technology and precision medicines. The Chinese precision medicines initiatives, launched in 2016, focus on genomic research, genetic testing, and targeted therapies. The diverse population of China is expected to provide significant opportunities in the precision medicine field. The revenue of healthcare in China is expected to reach USD 19.94 billion at the end of the year 2023, and the market is driving at a CAGR of 9.56% (2023-2027).
The medical technology market in China accounted for a revenue of USD 42.29 billion in 2022.
The medical devices segment accounted for the largest revenue of USD 31.24 billion in 2023.
The medical technology market in China is growing at a CAGR of 7.39%.
China's Ministry of Science and Technology (MOST) launched a precision medicine project as a part of a national key research and development program.
The MOST has invested about 1.3 billion yuan (USD 200.04 million) in 100 genomic projects.
The potential of using big data to study health issues and chronic diseases is greater in China due to its larger population.
The West China Hospital is available for genetic sequencing, which has funding of 50 million yuan annually.
China's National GeneBank in Shenzhen, which is operated by Beijing Genome Institute, has more than 500 million genetic sequences of over 8,000 species stored in more than 40 databases.
Non-Oncology Precision Medicine Market 2019 | Forecast 2030
In 2019, the total non-oncology precision medicine market accounted for revenue of USD 41.1 billion.
It is expected that the market will grow at a revenue of USD 129.9 billion by 2032.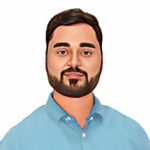 Anurag Sharma
He has been helping in business of varied scales, with key strategic decisions. He is a specialist in healthcare, medical devices, and life-science, and has accurately predicted the trends in the market. Anurag is a fervent traveller, and is passionate in exploring untouched places and locations. In his free time, he loves to introspect and plan ahead.