Podcasting Statistics – The Podcast Revolution and Insights
What is a Podcast?
A podcast is essentially an online audio broadcast. People may listen to a podcast on occasion when unwinding at home after a long day or simply relaxing. Alternatively, as the following podcast statistics demonstrate, it is often listened to while performing multiple tasks, such as commuting to or from work, performing duties, working out, and so on.
A podcast, either a video or a blog post, lacks the visual component. It's much simpler to consume this way.
We've all seen how important 2021 was for the podcasting business. The increase in podcasters, listeners, and marketers was astounding! Podcasting's rise as a popular medium continued in 2022, with 464.7 million listeners globally.
By 2023, the total number of podcast listeners had risen to 464.7 million. It's critical to monitor the evolution of the podcast sector.
Global Podcasting Market Value
In 2022, the global podcasting market accounted for USD 21.4 billion and is expected to reach around USD 233.9 billion in 2032. Between 2023 and 2032, this market is estimated to register a CAGR of 27.8%. (Source: Market.us)
Notable Podcasting Statistics
As of 2023, there are 464.7 million podcast listeners worldwide. This figure is expected to reach 504.9 million by the end of 2024.
The podcasting industry market is expected to be worth $23.56 billion in 2023.
There are over five million podcasts, with more than 70 million episodes.
The USA includes the highest number of people who listen to podcasts in the world. Over 100 million present podcast listeners are expected in the United States by 2023.
The Scandinavian nations have the highest rate of podcast penetration.
Almost 25% of Americans obtain news through podcasts.
During the epidemic, smart speaker sales climbed by 22%, and it is now one of the most popular ways for listening to podcasts.
Podcasts are known to 78% of the United States population. 28% of them listen to podcasts every week.
Podcasts have been listened to at least once by 160 million Americans.
Podcasts are known to 91% of Australians.
Most audiobooks are listened to in the morning, and the majority of them are listened to on a mobile phone.
The total amount of podcasts across the world. Who hears podcasts?
As of April 2023, there have been over 5 million podcasts with more than 70 million episodes.
Spotify has approximately 5 million podcast episodes on its website.
The number of people that listen to podcasts (Podcast Popularity)
As of April 2023, there are 464.7 million podcast listeners worldwide.
It is anticipated that by the end of 2024, there will be approximately 504.9 million podcast listeners globally.
This is a significant increase from 2019 when there were 274.8 million podcast listeners worldwide.
Here is a graph showing the number of podcast listeners globally over the years: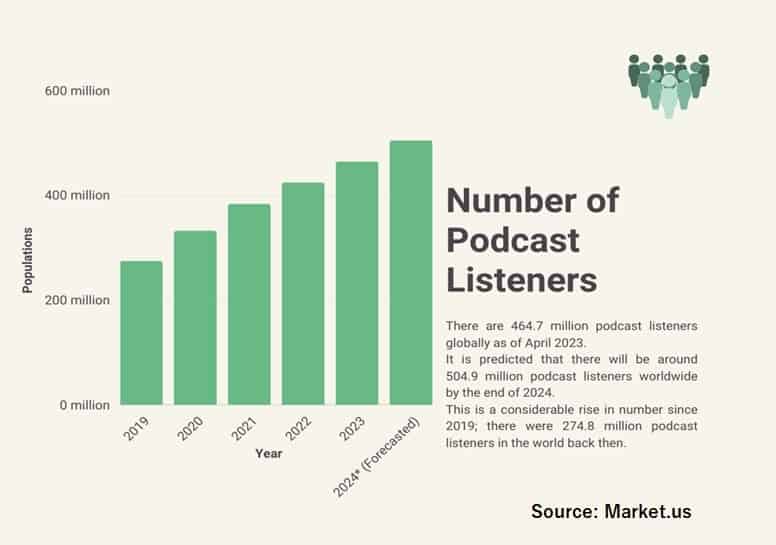 International Podcast Statistics
Podcasting is undoubtedly popular in the United States, but it does not rank first in terms of growth or listenership.
Brazil was first in podcast consumption in 2022, followed by Sweden and Mexico.
North America and Asia Pacific have the most listeners.
Monthly listeners account for 58% of adults in South Korea.
Podcasting engagement increases year after year in most countries.
By 2020, 18% of adults in the United Kingdom will be listening to podcasts weekly.
Every month, 9 million Canadians aged 18 and up listen to podcasts.
In the previous year, nearly 38% of adult Canadians listened to a podcast.
28% of Canadian radio listeners earn $100,000 or more per year.
The majority of Canadian podcast listeners are between the ages of 18 and 34.
In the last year, 49% of Italians aged 18 and up have listened to a podcast.
Music podcasts are preferred by 45% of Italian podcast listeners, followed by news podcasts.
How Do People Listen To Podcasts?
Most podcast listeners use their smartphones to listen to audio content and play episodes through a major podcast app such as Apple or Spotify.
On a desktop or laptop, 13% of Americans listen to podcasts.
While driving, 28% of adults in the United States listen to podcasts.
73% of people listen to podcasts on their smartphones.
Podcasts are listened to by 32% of those aged 18 and up who have driven in the last month.
18% of those aged 18 and up own a vehicle equipped with a smart entertainment system.
At home, 49% of the consumption of podcasts occurs.
According to a qualitative study conducted by Edison Research, young people listen to podcasts on their TVs while doing chores around the house.
Between 10 a.m. and 2 p.m., the majority of people (26%) listen to podcasts. Before 10 a.m. is the next most popular time to listen to podcasts (25%).
Other popular podcasts listening times include:
2 PM – 6 PM | 21%
6 PM – 10 PM | 15%
10 PM – 2 AM | 11%
What Are The Most Popular Podcasts?
According to the Edison Podcast Metrics, the 10 top podcasts are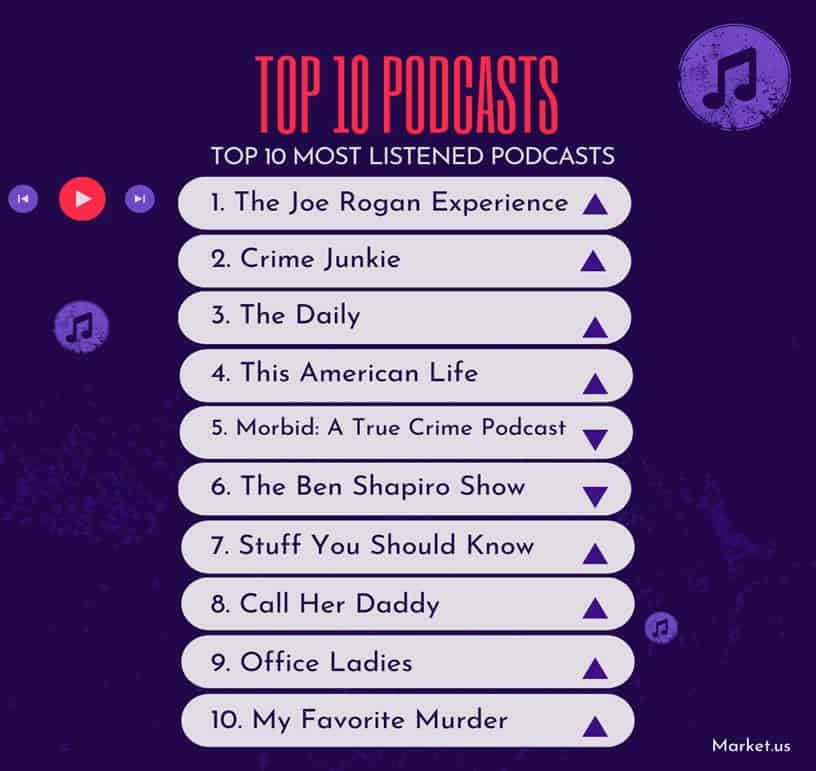 Top Countries with Rapid Podcast Growth
According to Voxnest's research, Chile is the fastest-growing country in the podcasting industry.
The graph below depicts the nations that are rapidly growing in the podcasting scene:
In the United States, the podcasting industry will be worth $4 billion by 2024.
The audio podcasting market in the USA is estimated to be worth $2 billion by 2023. This sector is projected to be of value $4 billion by 2024.
79% of Americans are cognizant of podcasting.
Podcasts are known to 79% of the American population as of 2023. In 2006, it was only 20%.
That's a 59% increase in 17 years.
Swedish people consume the most podcasts.
47% of Swedes claim to have listened to more than one podcast in the year before.
91% of Australians are aware of podcasts.
62% of US Citizens Have listened to a Podcast
More than 205.5 million Americans have listened to a podcast at least once in their lives.
When a similar survey was conducted in 2006, only 29% of the American population had listened to podcasts at least once.
Here is a table showing the share of the U.S. population that has listened to podcasts over the years:
Monthly and Weekly Listeners in the United States
Every month, 41% of Americans listen to a podcast, and 28% listen weekly.
According to Insider Intelligence, approximately 144 million people in the United States listen to a podcast each month.
While driving, 22% of people listen to a podcast.
According to an infinite dial survey, 22% of people listen to a podcast episode while driving.
The Smartphone Is the Most Popular Podcast Streaming Device
79% of Americans listen to podcasts on their smartphones.
It's no surprise, given that approximately 280 million Americans use a smartphone to access the internet.
A quarter of all Podcast listeners access the service through a web browser.
Only 6% of people use a tablet.
Popular Podcast Listening Apps
According to a buzz sprout report, Apple Podcasts is the market leader in podcast streaming.
Although Spotify has a larger podcast library, the majority of people around the world use an iOS device and Apple Podcast to listen to their favorite shows.
Spotify had recently surpassed Apple in the leaderboard, but Apple has since reclaimed the top spot.
Here is the overview of the top Podcast streaming apps in 2023:
People aged 12 to 34 are the most likely to listen to the podcast.
According to the Infinity Dial report, 50% of people aged 12 to 34 listen to podcasts at least once a month.
Weekly listeners consume an average of 8 podcast episodes.
The average US podcast listener consumes 8 episodes per week.
Buzzsprout conducted a study that stated that the top 1% of podcasts receive an average of 3994+ downloading in the first 7 days of being released.
Here is the overview of podcast ranks and the Average no. of downloads in the first 7 days of release:
The top 1% of Podcasts have over 3994 downloads.
The top 5% of Podcasts have over 795 downloads.
The top 10% of podcasts have over 335 downloads.
The top 25% of podcasts receive over 93 downloads.
More than 30 downloads are received by the top 50% of podcasts.
Video Podcasts According to a podcast host survey, only 17% of hosts of podcasts record episodes that are in video form as well.
According to the survey, only 10% of podcast creators go live.
Podcast advertisements have been introduced. 69% of those listening are interested in new products.
According to a study conducted by the podcast host, 69% of listeners claim to have ever been introduced to new companies and goods as a result of podcast advertisements.
Podcasts are available on the most popular two listening platforms.
Spotify has 5 million podcast titles in its collection as of April 2023.
The total number of Apple podcasts is 2,456,503.
Top Podcasts on Spotify
Here is the region-wise list of top Spotify podcasts.
Top 5 Podcasts in the United States of America
The Joe Rogan Experience
Huberman Lab
Crime Junkie
Let's Not Meet: A True Horror Podcast
Call Her Daddy
Top 5 Podcasts in Australia
The Joe Rogan Experience
Besties
Do You F*****g Mind?
Huberman LabAlpha Blokes Podcast
Top 5 Podcasts in the United Kingdom
The Joe Rogan Experience
The Diary of A CEO with Steven Bartlett
Rob Beckett and Josh Widdicombe's Parenting Hell
The Rest Is Politics
The Rest Is History
Source: https://podcastcharts.byspotify.com
Most Popular Podcast Genres
According to Statista, the most popular podcast genre in the United States is comedy.
Here is the complete list
Comedy
Social and Cultural
Health and Fitness
Arts & Entertainment.
Education.
Popular Podcast Genres in the United Kingdom.
Statista discovered that people aged 25 to 34 in the United Kingdom enjoyed comical podcasts.
Comedy received 22% of the vote, while Football received 10%, making it the second most popular podcast genre in the UK.
Statistics for International Podcasts
Apple podcasts are particularly popular among French podcast listeners. Deezer, a French listening to podcasts platform, is ranked second in the French with 7% of the vote.
With 1.38 million downloading per week, Relatos de la Noche was Latin America's most popular podcast.
Here is the overview of the top 3 downloaded podcasts in Latin America:
Every month, approximately 58% of South Korean adults listen to a podcast.
Over 9 million Canadian adults listen to podcasts every month.
Every week, 24% of Danish radio listeners tune in.
Statistics on Podcast Publishers and It's Playtime
The majority of podcasts last 20-40 minutes. Only 15% of podcasts are under 10 minutes long.
Here is an overview of the average length of podcasts.
iHeartPodcasts is the most popular podcast publisher in the United States.
Podcasts are created in large part by publishers. With 30.43 million unique monthly listeners, iHearPodcasts is the leading podcast publisher in the United States.
'Wondery' and 'NPR' are in second and third place, with 25.51 and 18.25 million unique monthly audiences, respectively.
The following are the top podcast publishers in the United States as of 2023: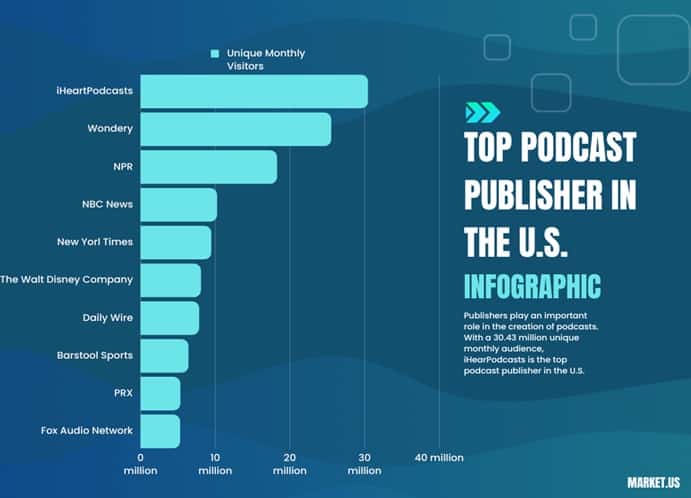 Additional Podcasting Data
Here is a list of additional interesting and important podcasting statistics.
In 2023, more people (18%) are listening to podcasts than they were eight years ago.
Podcasts are most popular between 10:00 and 15:00. Podcast listening is at its peak between 08:15 and 08:30 a.m.
Households earning $100,000 to $150,000 per year account for approximately 17% of total monthly podcast listeners in the United States.
51% of monthly podcast listeners work full-time, and 25% have a college diploma.
59% of people listen to a podcast while doing something else.
Over 70 podcasts are subscribed to by 21.7% of podcast listeners.
The stats indicate that 18,4% of podcasts available on Apple Podcasts have active episodes. This means that they have released a new podcast in the last 90 days.
Apple Podcasts currently has 474,230 podcasts active as of May 2023
Daniel J. Lewis provides podcast industry insights.
From 755,715 in July 2021
Dropping from 548-447 in December 2021
From 512,480 in March 2022
Increased from 459.11 in November 2022
From 449,041 in Jan 2023
In May 2023, the percentage of podcasts that are active has decreased from 34% down to just above 18%.
It seems like a massive drop in activity has occurred in less than two years. We've seen slight increases in activity again in 2023.
Here are the recent stats, on a percentage basis.
December 2020: 59% of active podcasts
March 2021: 37% of active podcasts
June 2021: 34% of active podcasts
December 2021: 23% of active podcasts
April 2022: 21% active podcasts
November 2022: 18% active podcasts
January 2023: 17.7% active podcasts
May 2023: 18.4% active podcasts
Statistics: Podcasts that Make Money
According to Interactive Advertising Bureau's (IAB) annual study on podcast advertising revenues, US podcast advertising revenues have grown significantly over the past few years. In 2018, the revenue was estimated to be $479 million. By 2019, it had reached $708 million. According to the study, by 2021 revenue will surpass $1 billion.
The number of US podcast listeners has increased from 73,000,000 in 2018 to over 116,000,000 in 2021. This increasing audience shows the potential for increased revenue in the podcasting industry.
Sponsorships and direct support. Podcast creators may also be able to earn money by promoting products or services during their podcasts. Some podcasts are supported by direct listener contributions, usually through platforms such as Patreon and BuyMeACoffee. Listeners can donate money to their favorite shows.
Premium content and subscriptions: Podcasters can generate income by offering premium content or subscription-based access to their shows. Platforms like Apple Podcasts and Spotify have introduced paid subscription options for podcast creators, allowing them to monetize their content more effectively.
Conclusion
In recent years, podcasts have grown in popularity as a form of audio entertainment. Millions of people tune in daily to listen to different shows. Podcasts are more accessible now than ever thanks to smartphones and other mobile devices. Many people listen to them while they commute, work out, or do other daily activities.
Listeners can find podcasts in almost any genre or topic they're interested in. From news and politics to sports, music, and science, there are so many options. Podcasts often feature expert guests and engaging hosts, which makes them an excellent source of education and entertainment.
FAQ's
How do podcasts measure performance?
Here are the line items used to measure podcast performance:
1.      Total downloads
2.      Number of downloads for each episode
3.      Daily/Monthly number of downloads
4.      Engagement rate
5.      WebsiTrafficfic
Do podcasters make money?
Some do. The world's best podcasters get a lot of listeners and a lot of ad revenue. For example, The Ringer had approximately 420 million downloads in 2018, earning $15 million.
(Source: Podcast Insights)
How many downloads make a successful podcast?
If you're thinking about starting a podcast, you're probably wondering how many downloads constitute a successful podcast. According to the most recent podcast download statistics, the most successful podcast episode received approximately 50,000 downloads 30 days after it was published. According to podcast industry statistics, an episode with 9,000 downloads across multiple streaming platforms ranks in the top 5% of podcasts. An episode should receive approximately 3,400 downloads to rank in the top 10% of podcasts. The average podcast, on the other hand, receives 141 downloads in the first month.
(Source: Income School)
Are podcasts pre-recorded?
Podcasters have the option to record live content or to use pre-recorded material. Both options come with advantages and disadvantages.
(Source: Helium Radio)
Why are podcasts better than radio?
Unlike radio, where listeners must adhere to the station's schedule, podcast listeners can stream or download episodes whenever they want. Podcasts give consumers control over what they want, and depending on the platform, they can even do so without advertisements.
(Source: Bunny Studio)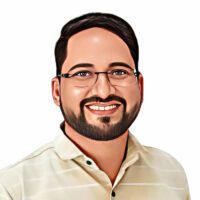 Yogesh Shinde
Yogesh is an author, tech blogger, and digital marketing expert who has been writing for Market.us since 4.5 years. He is a computer engineer by profession.