According to Medical Tourism Statistics, Medical tourism has emerged as a significant global industry where individuals travel across international borders to seek medical treatment, often for reasons such as cost savings, access to specialized treatments, or shorter wait times.
This phenomenon has gained momentum due to advancements in transportation, communication, and healthcare technologies, making it easier for patients to access medical services in different parts of the world.
Editor's Choice
Growth Rate: The medical tourism market is growing at an estimated rate of 15-25% annually.
Top Destinations: Popular tourism destinations include Thailand, Mexico, India, Turkey, Malaysia, Costa Rica, and Singapore.
Motivation – Cost: Approximately 40-80% savings on medical procedures motivate patients to seek treatment abroad.
Common Procedures: The most sought-after medical procedures in tourism include cosmetic surgery, dental treatments, orthopedic surgeries, and cardiac procedures.
Patient Origin: The majority of medical tourists come from the United States, Canada, the United Kingdom, and Western Europe.
Satisfaction Rate: Over 90% of medical tourists express satisfaction with the quality of care received during their medical journey.
Economic Impact: The tourism industry is estimated to contribute over $100 billion annually to the global economy.
Global Medical Tourism Market Key Statistics
The global medical tourism market size is expected to be worth around USD 35.9 Bn by 2032 from USD 11.7 Bn in 2022, growing at a CAGR of 12.20% during the forecast period from 2022 to 2032.
The Asia Pacific region is the largest market for tourism, accounting for 75% of the global market in 2021. 
Medical tourism can save patients up to 70% on the cost of care compared to the United States.
Reasons for Medical Tourism
Cost Savings: The primary reason for medical tourism is cost savings, with procedures often costing 30-80% less than in the patient's home country.
Quality of Care: About 50% of medical tourists choose tourism destinations due to access to high-quality healthcare services.
No Insurance Coverage: Around 25% of medical tourists seek treatment abroad because certain procedures aren't covered by their insurance plans.
Shorter Wait Times: Long waiting lists in home countries drive 20% of medical tourists to seek faster treatment options abroad.
Advanced Technology: Approximately 30% of medical tourists travel to access cutting-edge medical technology and treatments.
Privacy and Confidentiality: About 15% of medical tourists prioritize the privacy and confidentiality offered by healthcare facilities abroad.
Lack of Local Expertise: Nearly 20% of medical tourists travel because the specific medical expertise they need is unavailable locally.
Holistic and Alternative Therapies: Around 10% of medical tourists seek alternative therapies and holistic treatments available in certain tourism destinations.
Combining Treatment with Vacation: Approximately 40% of medical tourists view medical travel as an opportunity to combine treatment with leisure and vacation.
Referrals and Recommendations: Recommendations from friends, family, and medical professionals influence the medical tourism decision of about 25% of patients.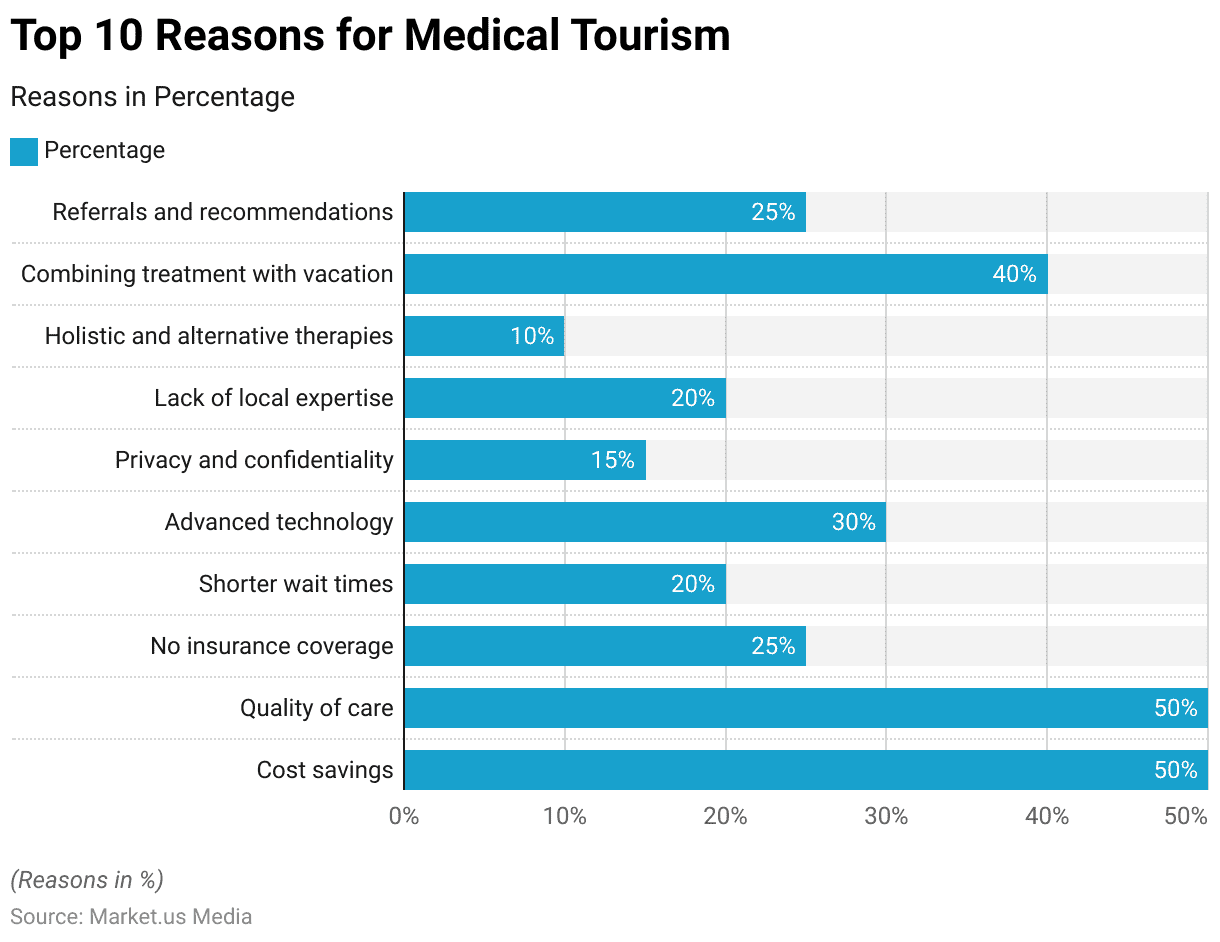 Top Medical Tourism Destinations
India
The Indian tourism market is estimated to be worth $6 billion.
India receives around 500,000 medical tourists annually, making it a prominent destination.
Cardiac surgery and orthopedic procedures are some of the most sought-after treatments by medical tourists due to India's expertise.
Medical tourists in India can experience savings of 65-90% on medical expenses compared to Western countries.
The country offers over 20,000 registered medical tourists' beds across various hospitals, ensuring quality care.
India's accredited medical facilities and skilled doctors provide a high level of patient satisfaction.
The Indian government has taken steps to simplify the medical visa process, enhancing the ease of access for international patients.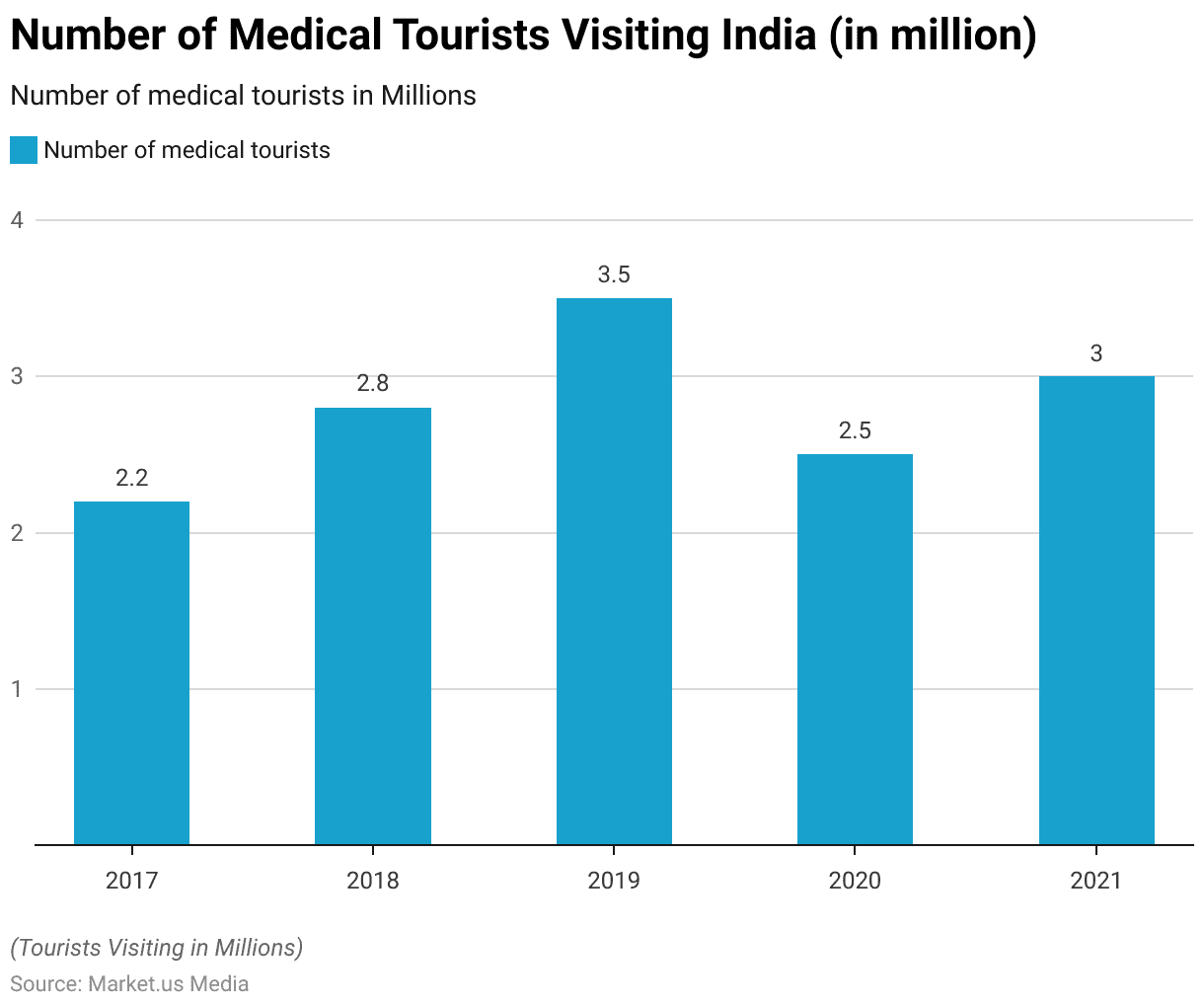 Thailand
The number of medical tourists visiting Thailand has increased by 20% per year in recent years.
Thailand has over 100 hospitals and clinics that are accredited by the Joint Commission International (JCI).
Over 2.5 million medical tourists visit Thailand annually for healthcare services.
Medical treatments in Thailand can cost 30-70% less than in Western countries, attracting budget-conscious patients.
The value of tourism in Thailand amounted to around 9 billion U.S. dollars. This was forecast to reach approximately 24.4 billion U.S. dollars in 2027. 
Government policy aims for Thailand to be a 'Medical and Wellness' destination and a world-class medical hub.
In 2017, international patients were forecasted to generate THB 48-49 billion in income for private hospitals, showing a 3%-4% growth from the previous year.
The number of international patients is projected to increase to 2.4-3.3 million, including medical tourists and expats.
Medical tourism is expected to support a tourism sector growth of approximately 16% annually during 2017-2020.
Singapore
The average cost of medical care in Singapore is 30-50% lower than in the United States.
Singapore receives 500,000 medical tourists each year.
The cost of knee replacement surgery in Singapore is S$22,000, more than double Malaysian prices at S$10,000.
Singapore's medical cost inflation was 10% in 2018, 10 times the estimated rate of 1%.
The cost of medical visits and treatments in Singapore has increased by approximately 9% since 2015.
Singapore is ranked the most expensive city in the world for the 6th year running.
Singapore's healthcare remains competitive compared to the US. For instance, a knee replacement surgery costs more than double in the US at US$35,000 compared to US$16,000 in Singapore.
More than half of Singapore's medical tourists are from Indonesia, with approximately 250,000 Indonesians visiting Singapore for medical care each year.
Age and Gender Distribution of Medical Tourism
Age Distribution: The majority of medical tourists fall within the age range of 40 to 60 years old, comprising around 45% of all medical tourists.
Gender Breakdown: Women constitute a higher percentage of medical tourists, making up approximately 60% of the total tourism population.
Younger Patients: An emerging trend shows a rise in medical tourists aged 18 to 30, accounting for about 15% of the total tourism demographic.
Elderly Medical Travelers: Patients aged 60 and above make up about 25% of medical tourists, seeking specialized treatments such as joint replacements and cardiac surgeries.
Gender Preference in Procedures: Women often dominate cosmetic procedures, constituting about 80% of patients, while men tend to seek treatments for cardiology and orthopedics.
Economic Impact of Medical Tourism
Medical tourism is estimated to contribute over $100 billion to the global economy annually.
Popular tourism destinations often witness an increase of up to 25% in healthcare-related revenue.
Employment opportunities in tourism-related sectors can grow by 15% in certain regions.
Infrastructure development in tourism hubs can attract investments exceeding $500 million.
Medical tourism can account for up to 10% of a country's GDP in certain cases.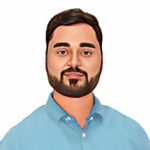 Anurag Sharma
He has been helping in business of varied scales, with key strategic decisions. He is a specialist in healthcare, medical devices, and life-science, and has accurately predicted the trends in the market. Anurag is a fervent traveller, and is passionate in exploring untouched places and locations. In his free time, he loves to introspect and plan ahead.