According to Medical Biotechnology Statistics, Medical biotechnology refers to the application of biological processes, techniques, and organisms to develop products and technologies for diagnosing, preventing, and treating diseases. Medical biotechnology involves the use of living systems and their components to produce pharmaceutical drugs, vaccines, diagnostic tests, and other medical products.
Editor's Choice
The global biopharmaceuticals market size is expected to be worth around USD 566 billion by 2032 from USD 263 billion in 2022, growing at a CAGR of 8.2% during the forecast period from 2022 to 2032.
The overall success rate for phase I trials is around 16%, while for phase II trials it is around 10%. Phase III trials, which involve larger patient populations, have a success rate of around 25%.
The average cost of bringing a new drug to market is projected to be around USD 2.6 billion.
The National Genome Institute estimates that the cost of sequencing a human genome has fallen from around USD 100 million in 2001 to less than USD 1,000 in recent years.
 In 2020, WIPO received over 23,500 biotechnology-related patent applications, demonstrating the growing innovation and research in the field.
The US biotechnology industry employed over 2.1 million people in 2020, including direct and indirect jobs.
Explosive Growth and Dominance of Biopharmaceuticals
Pharmaceutical biotechnology focuses on the development of therapeutic drugs using biological sources and techniques. It includes the production of recombinant proteins, monoclonal antibodies, vaccines, and gene therapies.
According to EvaluatePharma's report, the global biopharmaceutical market was valued at $330 billion in 2020 and is projected to reach $526 billion by 2026 at an expected compound annual growth rate (CAGR) of 8.2% during this forecast period.
Data from the U.S. Food and Drug Administration (FDA) indicates that biologics accounted for over 25% of new drug approvals, surpassing traditional small-molecule drugs as the preferred choice.
According to IQVIA Institute for Human Data Sciences, biologics drugs accounted for approximately 29% of global pharmaceutical sales in 2020, with total sales reaching USD 337 billion.
The Orphan Drugs Market size is expected to be worth around US$ 477 Bn by 2032 from US$ 168 Bn in 2022, growing at a CAGR of 11.3% during the forecast period from 2023 to 2032.
Market Trends in Personalized Medicine and Genomics
Genomics involves the study of an individual's genetic material, such as DNA, to understand their unique genetic makeup and its impact on health and diseases. Personalized medicine utilizes this genomic information to tailor medical treatments to an individual's genetic profile, leading to more precise and effective therapies.
According to market.us, the global precision medicine market accounted for a revenue of USD 83.4 billion in 2022, and the market is expected to reach a revenue of USD 254 billion by 2032.
In 2020, the American Cancer Society reported approximately 606,520 cancer-related deaths in the US and 1.8 million new disease cases.
Around 30% of patients with advanced cancers receive genomic testing to guide treatment decisions.
About 95% of the US hospitals surveyed reported using pharmacogenomics data to guide medication decisions, indicating the growing adoption of personalized medicine.
Whole-genome sequencing led to a diagnosis in approximately 25% of pediatric patients with previously undiagnosed rare diseases.
Growth and Advancements in Regenerative Medicine
Regenerative medicine focuses on repairing or replacing damaged or diseased tissues and organs. It involves the use of tissue engineering and gene therapy to stimulate the body's natural healing processes or create new tissues for transplantation.
The Global Regenerative Medicine Market size is expected to be worth around USD 89504.23 million by 2032 from USD 31,522 million in 2022, growing at a CAGR of 11% during the forecast period from 2022 to 2032.
The global tissue engineering market size is expected to be worth around USD 35 Bn by 2032 from USD 12 Bn in 2022, growing at a CAGR of 11.45% during the forecast period from 2023 to 2032.
As of September 2021, there were over 2,000 active clinical trials related to regenerative medicine, covering various therapeutic areas such as cardiovascular, musculoskeletal, and dermatology.
Between 2008 and 2017, the number of patent applications in regenerative medicine increased by an average of 28.4% annually indicating the growing innovation in the field.
CRISPR Gene Editing in Medical Biotechnology
CRISPR stands for Clustered Regulatory Interspaced Short Palindromic Repeats, which is a revolutionary gene-editing technology in the healthcare system. CRISPR allows scientists to make precise changes to the DNA of living organisms including plants, animals, and human beings.
The global CRISPR gene editing market accounted for revenue of USD 1.1 billion in 2020, and the market is projected to grow at a revenue of USD 18.9 billion by 2032.
CRISPR technology has revolutionized genetic research, leading to more than 10,000 publications on its applications and potential.
Clinical trials using CRISPR-based therapies have shown promising results, with over 100 ongoing clinical trials worldwide, which are targeting a variety of genetic disorders and diseases. 
There are more than 1,000 patents of CRISPR granted globally, which indicates intense interest and commercial potential of CRISPR.
Ethics and policy in CRISPR have gained significant traction with more than 50 countries across the globe implementing guidelines and regulations to address ethical concerns.
The efficiency of CRISPR-mediated gene editing is increasing, with success rates ranging from 50% to 90% in different experimental setups. 
NIH funding for CRISPR-related research grew from more than $5 million in FY2011 to $1.1 billion in FY2018. Similarly, the number of CRISPR-related scientific publications increased from 87 in 2011 to 3,917 in 2018
Beam Therapeutics was the leading company in the CRISPR gene editing market with funding of USD 222 million in 2022.
Editas Medicine was the second leading company in funding for CRISPR technology which funded approximately USD 210 billion in 2021.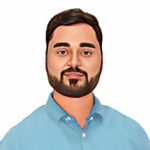 Anurag Sharma
He has been helping in business of varied scales, with key strategic decisions. He is a specialist in healthcare, medical devices, and life-science, and has accurately predicted the trends in the market. Anurag is a fervent traveller, and is passionate in exploring untouched places and locations. In his free time, he loves to introspect and plan ahead.