According to The Internet of Medical Things Statistics (IoMT) refers to the network of interconnected medical devices, healthcare systems, and software applications that collect, transmit, and analyze healthcare data. IoMT combines medical devices, sensors, software, and network connectivity to enable remote monitoring, data analysis, and intervention in healthcare delivery.
Editor's Choice
More than 83% of healthcare organizations have adopted IoMT solutions or are planning to do so by 2022.
Patients are adopting IoMT technologies, with about 64% of patients using at least one IoMT device in their daily lives.
Connected medical devices accounted for the largest market share within IoMT, with a market share of USD 63.7 billion by 2026.
IoMT-enabled remote patient monitoring can reduce hospital readmission by 50%.
IoMT solutions have the potential to save the healthcare industry USD 300 billion annually in remote patient monitoring of chronic management.
Data security and privacy remain major concerns in IoMT implementation, with 80% of healthcare organizations experiencing at least one IoT-related security breach.
Internet of Medical Things Market Size and Growth
In 2022, the global Internet of Medical Things market was valued at US$ 48.7 billion and is expected to grow to US$ 370.9 billion. Between 2023 and 2032, this market is estimated to register a CAGR of 23.15%.
North America is estimated to be the dominator in the global Internet of Things market, with the largest market share of 35.8% and revenue of USD 17.43 billion.
Adoption of IoMT by Patients and Healthcare Providers
Approximately 64% of patients use at least one IoMT device in their daily lives, such as fitness trackers, smartwatches, and health monitoring devices.
About 79% of patients are willing to share health data generated by Internet of Medical Things devices with their healthcare providers.
30% of American adults use wearable technology for healthcare as of 2020.
According to Deloitte Insights, the global wearable devices market for the medical sector is booming. Compared to 275 million units in 2021, it is projected to reach nearly 440 million units in 2024.
59% of healthcare providers reported that they have already implemented Internet of Medical Things solutions in their organizations.
About 83% of organizations adopted IoMT solutions.
About 85% of healthcare providers use IoMT devices to support patient engagement and monitoring.
87% of healthcare professionals believe that IoMT will revolutionize the healthcare industry in the next three years.
Types of Internet of Medical Things
Connected Medical Devices
Connected medical devices such as wearable devices, implantable devices, and monitoring equipment play an important role in the Internet of Medical Things.
The connected medical devices segment accounted for the largest market share within IoMT, with a projected revenue of USD 63.7 billion by 2026.
30% of American adults use wearable technology for healthcare as of 2020.
Nearly 50% of users are dependent on wearable technology in daily life, with more than 80% of users willing to share their data with their healthcare providers.
As of 2020, approximately 33% of consumers in the United States owned wearable fitness trackers or smartwatches.
60% of individuals aged 65 and above are willing to use remote monitoring for their health conditions.
About 60% of smartphone users have downloaded health apps, and 25% use a wearable device to track their fitness activities.
The wearable technology will flourish over the next 25 years, resulting in global cost savings of over $200 billion in the healthcare industry.
Remote Patient Monitoring System
In 2020, about 29.1 million individuals in the United States were using remote patient monitoring systems, this number is expected to grow to 709.6 million in 2024 with 16% more as compared to 2020.
RPM technology engagement rates reached 78.9% in 2021. Emergency department visit and hospitalization rates within 30 days of enrolment ranged between 11.4% and 9.4%; while the 30-day mortality rate stood at 0.4%.
23.4 million U.S. patients will utilize remote patient monitoring services and tools in 2022.
By 2024, remote patient monitoring services and tools are expected to reach 30 million U.S. patients.
80% of Americans favor remote patient monitoring and more than one-half are strongly supportive of incorporating it into medical care services.
Smart Pills and Capsules
Smart pills and capsules are widely used for diagnosis and monitoring gastrointestinal (GI) disorders, such as chronic diseases, ulcerative colitis, and gastrointestinal bleeding.
The global smart pills market accounted for revenue of USD 3.83 billion in 2020, and the market is projected to grow to a revenue of USD 8.98 billion by 2024. 
Only 3% of adults in the United States are aware of smart pills.
About 30% of respondents expressed willingness to use smart pills.
According to a study about 75% of healthcare providers are willing to prescribe smart pills or capsules to their patients.
Internet of Medical Things Applications in Healthcare
Telemedicine
Telemedicine gained significant demand due to the integration of IoMT, which allows remote consultations and virtual care delivery.
The COVID-19 pandemic surged the demand for telemedicine, with a 154% increase in telehealth visits in the United States in March 2020 as compared to the previous year.
About 46% of patients used telemedicine in the United States during the COVID-19 pandemic.
Use of telemedicine is increased among other age groups, with 56% of individuals aged 18-34 years and 46% of individuals aged 35-44 years. 
More than 53% of behavioral mental health visits in the United States are conducted via telemedicine.
Chronic Disease Management
IoMT-enabled diabetes management led to a 26% reduction in HbA1c levels, indicating improved blood sugar control.
Telemonitoring for hypertension led to a 24% reduction in systolic blood pressure and a 20% decrease in diastolic blood pressure.  
IoMT-enabled asthma management resulted in a 57% decrease in asthma exacerbations and a 30% reduction in emergency department visits.
Remote monitoring for heart failure reduces all-cause mortality by 20% and heart failure-related hospitalization by 25%.
Edge Computing and Fog Computing in IoMT
Edge computing enables IoMT devices to perform real-time data processing and analysis without transmitting it back to central cloud servers, thus decreasing latency and transmission costs. Fog computing extends the capabilities of edge computing by introducing a hierarchical architecture that includes intermediate computing nodes, known as fog nodes or fog servers.
The edge computing market size is expected to be worth around USD 206 billion by 2032 from USD 40 billion in 2022, growing at a CAGR of 18.3% during the forecast period from 2023 to 2032.
According to a survey, 73% of organizations intend to adopt edge computing by 2022 due to real-time data analysis and decreased latency requirements.
Edge computing in healthcare can significantly decrease network latency, enabling real-time analysis of patient data and supporting essential applications like remote monitoring and telemedicine
OpenFog Consortium conducted a survey that revealed that 82% of organizations believed fog computing was essential to their IoT solutions, such as healthcare applications.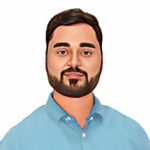 Anurag Sharma
He has been helping in business of varied scales, with key strategic decisions. He is a specialist in healthcare, medical devices, and life-science, and has accurately predicted the trends in the market. Anurag is a fervent traveller, and is passionate in exploring untouched places and locations. In his free time, he loves to introspect and plan ahead.