According to Fitbit Usage Statistics, Fitbit has revolutionized the way people track and monitor their health and fitness. As a leading fitness tracking device, Fitbit provides users with valuable insights into their daily activity levels, sleep patterns, heart rate, and more. By collecting and analyzing personal health data, empowers individuals to make informed decisions about their lifestyle and wellness goals.
Editor's Choice
Fitbit fitness tracker market, the companion Android app has surpassed 50 million downloads on Google Play Store in 2023.
Google acquired it for $2.1 billion.
Fitbit had an estimated user base of over 30 million active users worldwide in 2021.
The most popular models in 2021 were the Fitbit Charge 4, Fitbit Inspire 2, and Fitbit Versa 3.
Fitbit users averaged approximately 7,500 steps per day in 2021, with variations based on factors such as age and gender.
The users averaged around 6.8 hours of sleep per night in 2021.
The resting heart rate for users in 2021 averaged around 60-70 beats per minute.
Users recorded an average of 150 minutes of moderate to intense activity per week in 2021.
Fitbit users engaged in challenges and competitions, with over 200 million challenges completed in 2021.
Reasons for Using Fitbit
Approximately 96.10% of users utilize the device for accurate tracking of their daily activity levels, including steps taken, distance covered, calories burned, and active minutes throughout the day.
Around 86% of users rely on the device to monitor their sleep patterns, such as sleep duration, quality, and sleep stages. provides valuable insights into sleep habits, enabling users to improve their overall sleep quality.
Approximately 72.87% of users utilize the device's heart rate monitoring feature to gain insights into their resting heart rate, heart rate zones during exercise, and overall cardiovascular health. Fitbit devices have been found to provide accurate heart rate measurements across various activity intensities.
Around 65% of users utilize the device to set personal goals, track their progress, and receive motivational notifications. Fitbit's goal-setting feature fosters a sense of achievement and provides continuous motivation for users to maintain an active lifestyle.
Approximately 45% of users engage in social features, such as challenges and competitions. These features enable users to connect with friends, participate in friendly competitions, and receive social support and accountability, thereby enhancing their overall fitness journey.
Fitbit User Base Statistics
Fitbit had over 31 million registered users as of 2021. (Source: businessofapps)
Brand awareness in Western countries was extremely high.
It ranked the sixth most popular wearable brand in the UK in 2022.
Fitbit became the second-most used health tracker in America as of 2023.
Users in the United States in 2020 walked a collective 47 Trillion Steps.
In 2014, It had approximately 6.7 million monthly active users.
The number of monthly active users increased to 16.9 million in 2015.
By 2016, Fitbit saw further growth, reaching 23.2 million monthly active users.
In 2017, the number of monthly active users reached 25.4 million.
The trend of growth continued in 2018, with 27.6 million monthly active users.
By 2019, the user base expanded to approximately 29.6 million monthly active users.
In 2020, the Monthly active user count reached 31 million.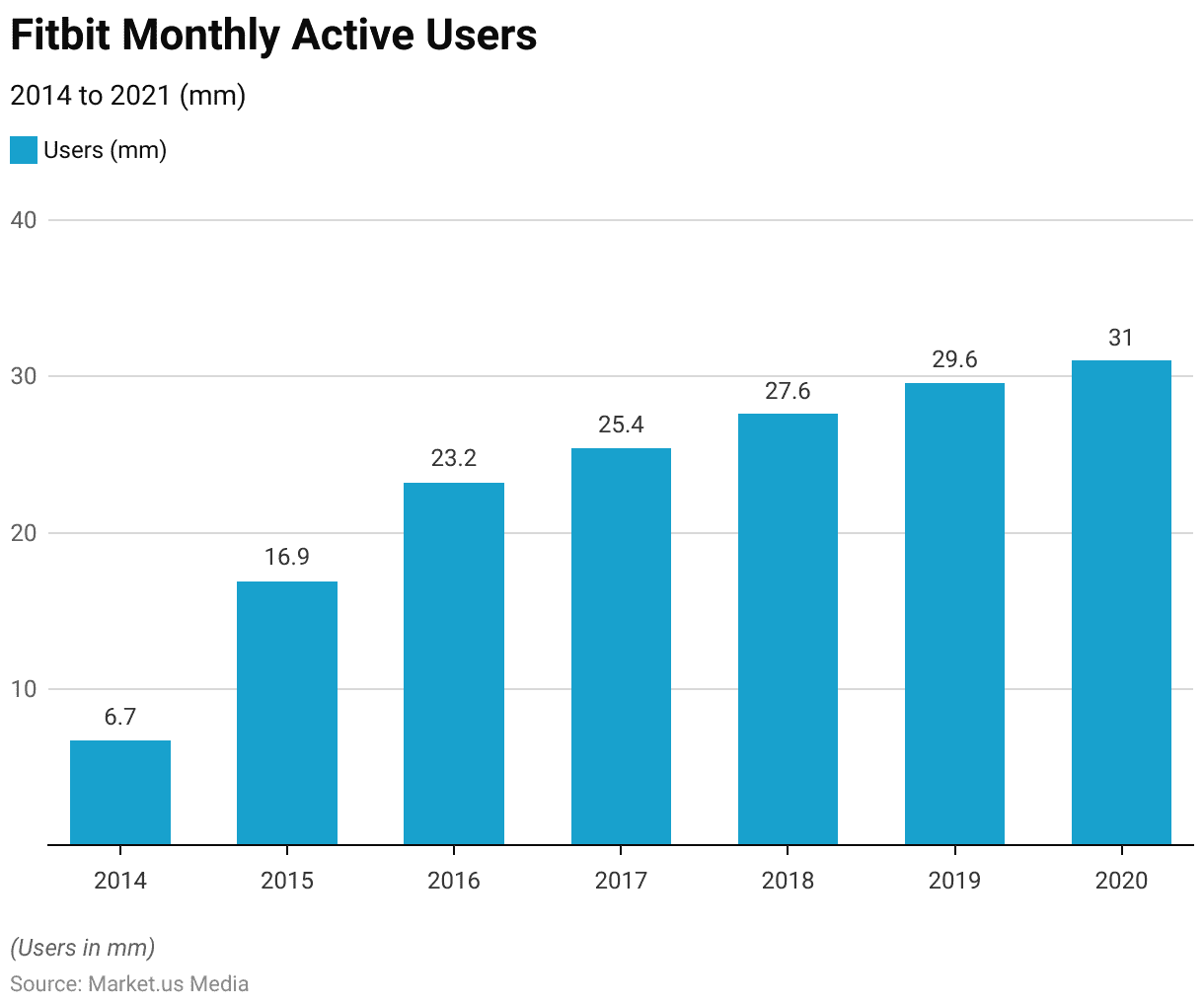 Fitbit Users by Age
Among users, 15.79% fall into the age range of 18-24 years old.
The age group of 25-34 years old represents 25.93% of users.
Fitbit users aged 35-44 years old account for 19.40% of the user base.
Approximately 16.08% of users are between the ages of 45 and 54.
Fitbit users aged 55-64 make up 12.94% of the user base.
Users aged 65 and above constitute 9.87% of users.
Fitbit Annual Revenue
Fitbit made an estimated $1.21 billion in revenue in 2021, a 7% increase from the year prior.
In 2014, Annual revenue amounted to $0.74 billion.
The following year, in 2015, revenue increased to $1.85 billion.
In 2016, The annual revenue continued to grow, reaching $2.16 billion.
However, in 2017, It experienced a slight decline in revenue, with $1.61 billion generated.
The downward trend continued in 2018, as revenue dropped to $1.52 billion.
In 2019, The revenue decreased further to $1.43 billion.
The year 2020 saw a significant decline in annual revenue, with only $1.13 billion generated.
Fitbit User Engagement and Retention
Fitbit users who engage with the app at least three times per week are 46% less likely to be overweight.
Users who participate in challenges with friends are 75% more active than those who don't.
Fitbit users who track their exercise using the app are 27% more likely to achieve their weekly exercise goals.
Users who wear their device consistently for 6 months are more likely to continue using it for the long term.
Fitbit's monthly active users (MAUs) reached 29 million in the first quarter of 2021.
Reported an average engagement rate of over 85% among its active users.
Fitbit's Impact on Fitness and Health
Fitbit users take an average of 700 more steps per day compared to non-users.
Fitbit wearers are 43% more likely to increase their physical activity levels.
Users report 43% more minutes of moderate to intense physical activity per week compared to non-users.
These trackers have helped users achieve an average of 4.2 more hours of weekly active minutes.
Users who consistently track their sleep report sleeping an average of 20 minutes longer per night.
Wearers experience a 10% improvement in resting heart rate on average.
Fitbit users who set a weight loss goal with the app have lost an average of 7.4% of their body weight.
Fitbit User Distribution by Country
United States: The United States has the highest user base, accounting for approximately 61.79% of all users globally.
United Kingdom: Users in the United Kingdom make up about 8.16% of the total user base.
Canada: Canada represents approximately 5.43% of users worldwide.
Japan: Users in Japan account for around 4.51% of the global user base.
Germany: Germany has a user base of approximately 3.79% of all users globally.
Other Countries: The "Others" category represents approximately 16.32% of users worldwide.
Tajammul Pangarkar
Tajammul Pangarkar is a CFO of Prudour Pvt Ltd. Tajammul longstanding experience in the fields of mobile technology and industry research is often reflected in his insightful body of work.