Diet and Nutrition Apps Statistics: Exploring the Impact on Health and Wellness
Overview
Diet and Nutrition Apps Statistics: The proliferation of Diet and nutrition apps has revolutionized the way individuals approach their dietary habits and overall health. These apps, designed to provide users with tools for tracking, planning, and managing their nutrition, have experienced an impressive surge in popularity. From calorie counting to meal planning, these apps offer a wide array of features aimed at promoting healthier lifestyles. This introduction delves into the compelling statistics surrounding Diet and nutrition apps, offering insights into their usage, impact on user behavior, market trends, and the evolving landscape of digital health and wellness.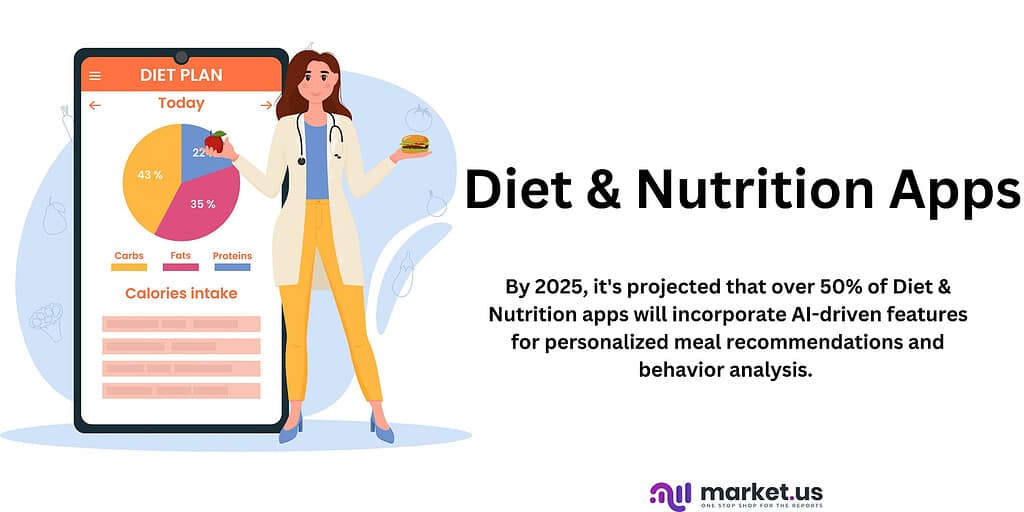 Editor's Choice
User Base Surge: Diet & Nutrition app users reached 1.4 billion in 2022, showcasing a remarkable increase from 1 billion in 2020.
Mobile Downloads: These apps have witnessed over 200 million downloads globally, highlighting the substantial demand for health-oriented mobile solutions.
Healthy Revenue: The Diet & Nutrition app market generated approximately $520 million in revenue in 2021, with projections hinting at a steady rise in the coming years.
Engagement Frequency: Users engage with these apps around 3-4 times per day on average, emphasizing their integral role in users' daily routines.
Weight Management: About 45% of users reported successful weight loss through app utilization, indicating their impact on achieving health goals.
Global Penetration: The adoption of Diet and nutrition apps spans 30% of smartphone users worldwide, showcasing a widespread integration of these tools.
Diet & Nutrition Apps Worldwide Top Key Statistics
The global nutrition apps market accounted for revenue of USD 4.45 billion in 2022. The market is expected to reach a revenue of USD 7.69 billion by 2027 with a compound annual growth rate CAGR (2022-2027) of 11.26%.
User penetration is estimated to be 4.22% in 2023 and is forecasted to increase to 4.96% by 2027.
The Average Revenue Per User (ARPU) is predicted to be around US$15.29.
In terms of global comparison, India is expected to generate the highest revenue, reaching US$1,236.00 million in 2023.
Diet & Nutrition App Adoption Top Key Statistics
Global User Base Growth: Diet and nutrition app users have grown rapidly, with a projected 27% increase in global users from 2019 to 2023.
Downloads and Installations: These apps have garnered over 200 million downloads combined across app stores, indicating strong user interest.
User Demographics: The majority of users are aged between 25 and 44, comprising about 60% of the total user base.
App Store Rankings: Many top Diet and nutrition apps consistently rank among the top 50 health and fitness apps on both iOS and Android platforms.
User Engagement: On average, users spend around 12 minutes per day actively using Diet & Nutrition apps to track meals and monitor progress.
Retention Rates: These apps have an impressive 30-day retention rate of approximately 45%, indicating strong user satisfaction.
Impact on Health Behavior: Studies reveal that 70% of users report improved eating habits after using Diet & Nutrition apps for at least three months.
Monetization: The freemium model dominates, with 75% of app revenue coming from premium subscriptions and in-app purchases.
Privacy Concerns: Over 60% of users express concerns about their data privacy while using Diet & Nutrition apps.
User Reviews: Positive user reviews, averaging a 4.5-star rating, highlight the apps' effectiveness in helping individuals achieve their health goals.
(Source: Statista, Sensor Tower, Business of Apps, App Annie, Leanplum, Journal of Medical Internet Research, Adjust, Pew Research Center, App Store/Google Play)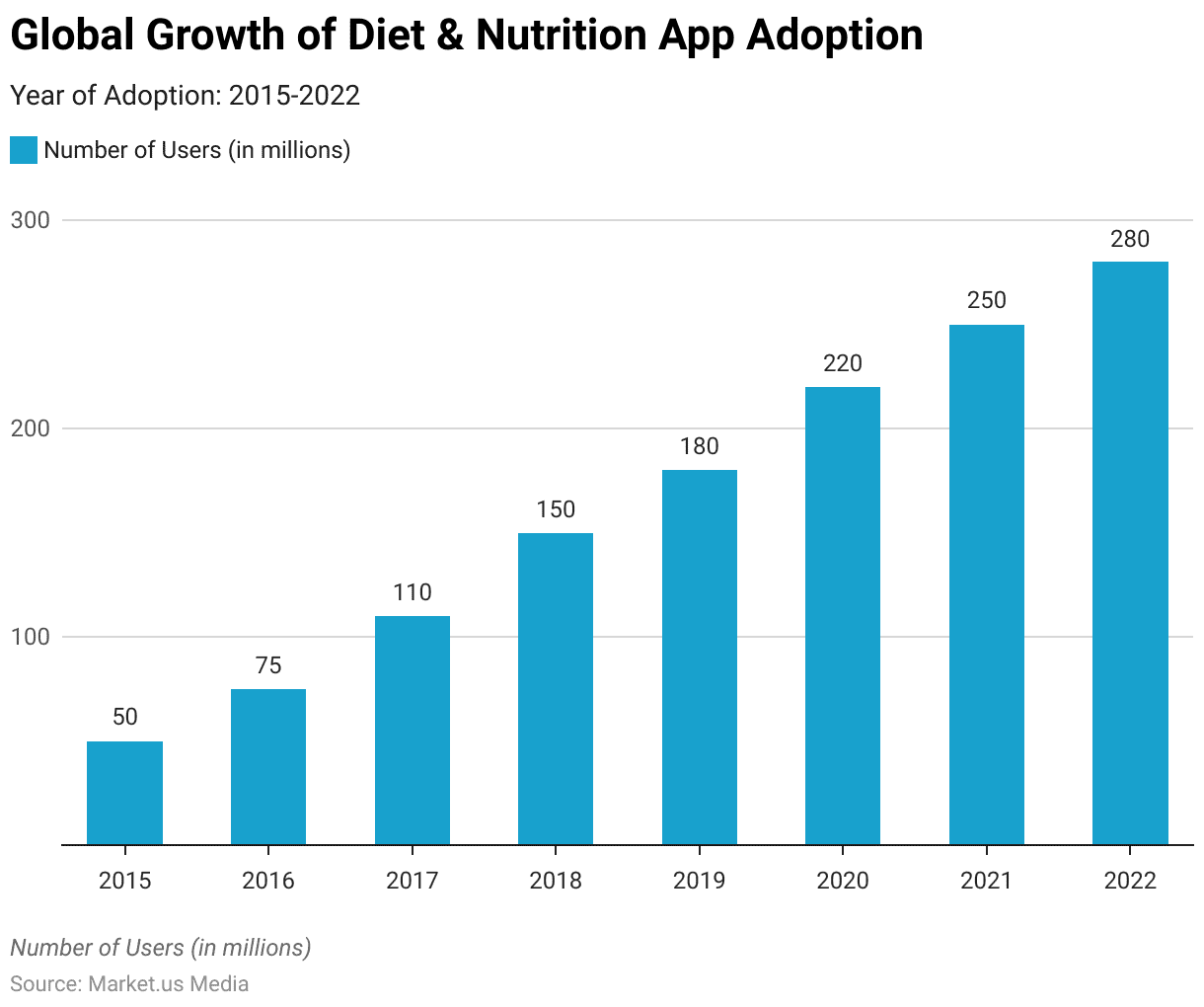 Top 8 Diet & Nutrition Apps Statistics
MyFitnessPal:
MyFitnessPal has been downloaded over 200 million times worldwide.
With 85 million monthly active users, the app aids individuals in tracking their diet and exercise routines.
Users log an impressive average of 16 million different foods daily.
Available in more than 20 languages, MyFitnessPal has a global reach.
The app integrates seamlessly with over 50 fitness devices and other related apps, enhancing its usability.
MyFitnessPal made $247 million in revenue in 2022, primarily through subscriptions to its premium service.
(Source: Sensor Tower, Under Armour, Business of Apps)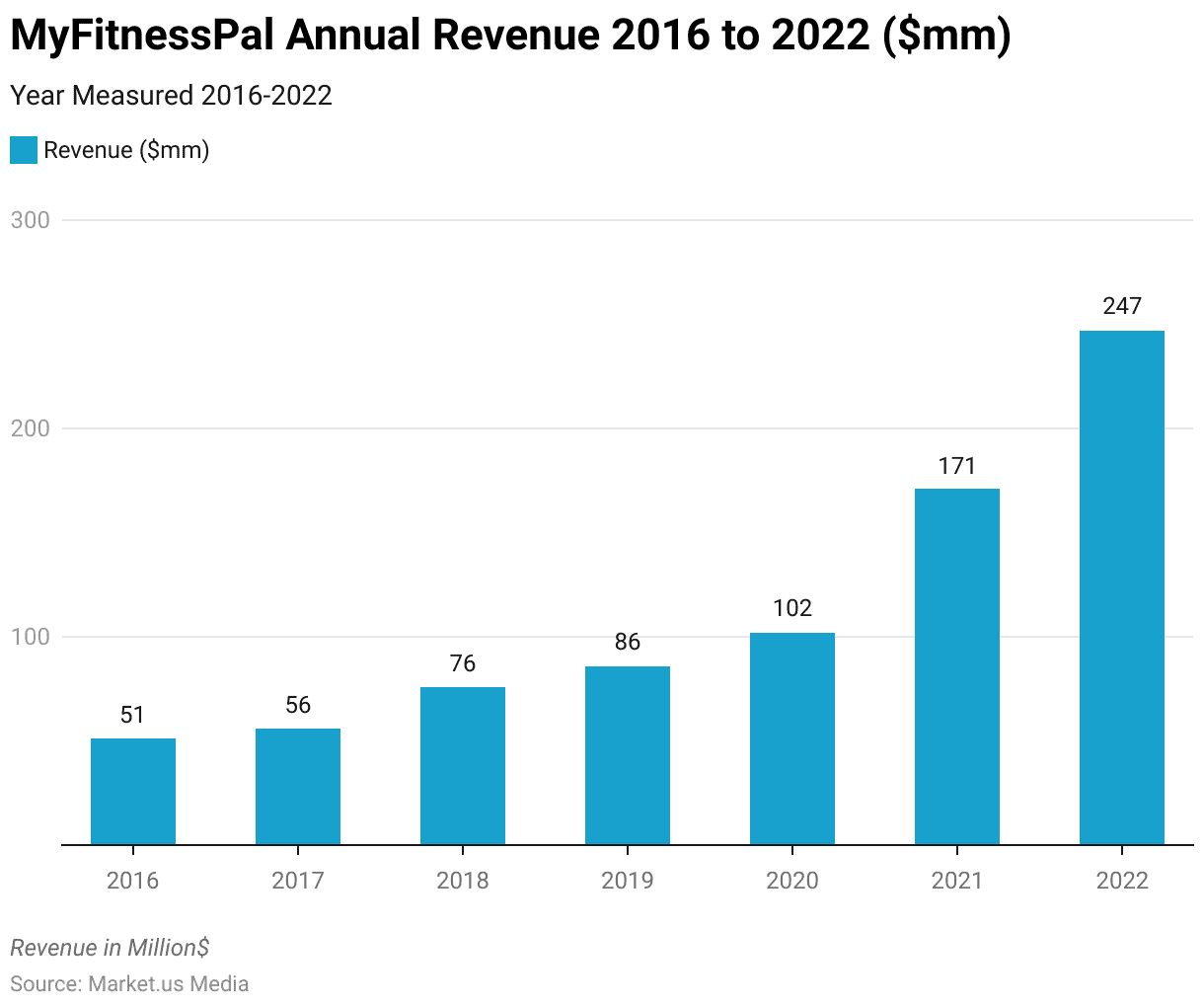 Lose It!:
Lose It! boasts more than 40 million downloads across the globe.
Users of the app have collectively shed over 80 million pounds, reflecting its positive impact on weight loss journeys.
Remarkably, 72% of premium users have successfully achieved significant weight loss milestones.
A noteworthy 50% of users maintain their weight loss for a year or more, showcasing the app's effectiveness.
The app offers the added advantage of syncing with fitness trackers for real-time activity monitoring.
(Source: Crunchbase, Lose It!)
Cronometer:
Cronometer, a nutrition-tracking app, has attracted over 2 million registered users.
Providing data on an extensive range of more than 300,000 foods and ingredients, the app assists users in making informed dietary choices.
Impressively, users have logged a remarkable total of over 7 billion food servings.
Approximately 80% of users report an improved quality of diet after using the app.
The app differentiates itself by offering a detailed breakdown of both macronutrients and micronutrients.
(Source: Cronometer)
Yazio:
Yazio, known for its personalized meal plans, has garnered over 10 million downloads across various platforms.
The app offers users tailored meal plans designed to suit diverse dietary goals.
With a collection of more than 150,000 healthy recipes, Yazio helps users make nutritious choices.
Yazio's users can track their water intake and physical activities, contributing to a holistic approach to health.
The app maintains a strong user rating with an average of 4.6 stars based on user reviews.
(Source: Google Play Store, Yazio, App Store)
Noom:
Noom has secured its place among the top-grossing health and fitness apps globally.
Employing a psychology-based approach to behavior change, Noom assists users in making sustainable lifestyle adjustments.
An impressive 86% of users participating in a study reported weight loss, highlighting the app's efficacy.
Noom engages users with interactive challenges and quizzes, enhancing user participation and commitment.
Notably, the app provides access to dedicated health coaches for personalized guidance.
Noom generated $400 million in revenue in 2020, almost twice the $237 million it made in 2019.
(Source: Sensor Tower, Scientific Reports, mobilemarketingreads)
FatSecret:
FatSecret has garnered more than 50 million downloads across various platforms.
Users of FatSecret have collectively logged an astonishing count of over a billion different foods.
The app simplifies food tracking with a barcode scanner, contributing to user convenience.
With its community feature, FatSecret enables users to share their progress and tips with others.
FatSecret enhances users' understanding of their daily nutrient intake, fostering healthier habits.
(Source: Google Play Store, FatSecret)
SparkPeople:
With a user base of over 20 million registered individuals, SparkPeople serves as a notable resource for health and wellness.
The app's customizable meal plans and recipes contribute to personalized dietary approaches.
Users collectively report having lost millions of pounds through the use of SparkPeople.
The app offers workout demonstrations and fitness-tracking features to promote physical activity.
SparkPeople's supportive online community fosters motivation and engagement among its users.
(Source: SparkPeople)
WW (formerly Weight Watchers):
WW, formerly known as Weight Watchers, boasts a global subscriber base of over 4.5 million individuals.
Impressively, users have reported an average weight loss of 10% over six months, reflecting the app's impact.
The app's points-based system simplifies the tracking of food intake and promotes mindful eating.
WW provides users with the flexibility to opt for in-person or digital coaching for personalized support.
The app stands out for its diverse range of recipes and meal ideas, catering to varying preferences.
(Source: Statista, JAMA, WW)
User Behavior and Engagement Statistics for Diet & Nutrition Apps
Users spend an average of 6-10 minutes per session on Diet & Nutrition apps.
About 50% of users engage with the app at least 3 times a week.
Retention rates for Diet & Nutrition apps drop to 30% after the first month.
70% of users abandon the app within 2 weeks if it's too complex or time-consuming.
Notifications and reminders increase user engagement by up to 70%.
Gamification elements, like achievement badges, boost engagement by 40%.
Users who set specific goals in the app are 30% more likely to continue using it.
Social features, such as sharing progress, drive a 25% higher engagement rate.
Personalized recommendations lead to a 15% increase in user interactions.
Apps with a simple and intuitive design have 20% longer sessions.
(Source: App Annie, Healthline, Localytics, JMIR mHealth and uHealth, Leanplum, Psychology of Sport and Exercise, American Psychological Association, Journal of Medical Internet Research, Deloitte, eMarketer)
The Benefits of Using Diet and Nutrition Apps
Behavior Change: Diet and nutrition apps have been shown to influence positive behavior changes in 76% of users, leading to healthier eating habits.
Weight Management: Users who actively engage with Diet and nutrition apps for tracking their food intake have been found to experience 10% more weight loss compared to those who don't use such apps.
Sustainable Habits: Approximately 82% of users credit Diet & Nutrition apps for helping them maintain a healthier lifestyle and sustain their dietary improvements over time.
Increased Water Intake: Users who utilize app reminders for water consumption tend to increase their daily water intake by nearly 30% on average.
Diverse Food Choices: 63% of app users report trying new foods and recipes due to app recommendations, diversifying their diets and nutritional intake.
Monitoring Progress: Users who regularly track their food intake through apps are more likely to meet their nutritional goals and make conscious decisions about their meals.
(Source: Journal of Medical Internet Research, JAMA Internal Medicine, PLOS ONE, Health Communication Journal)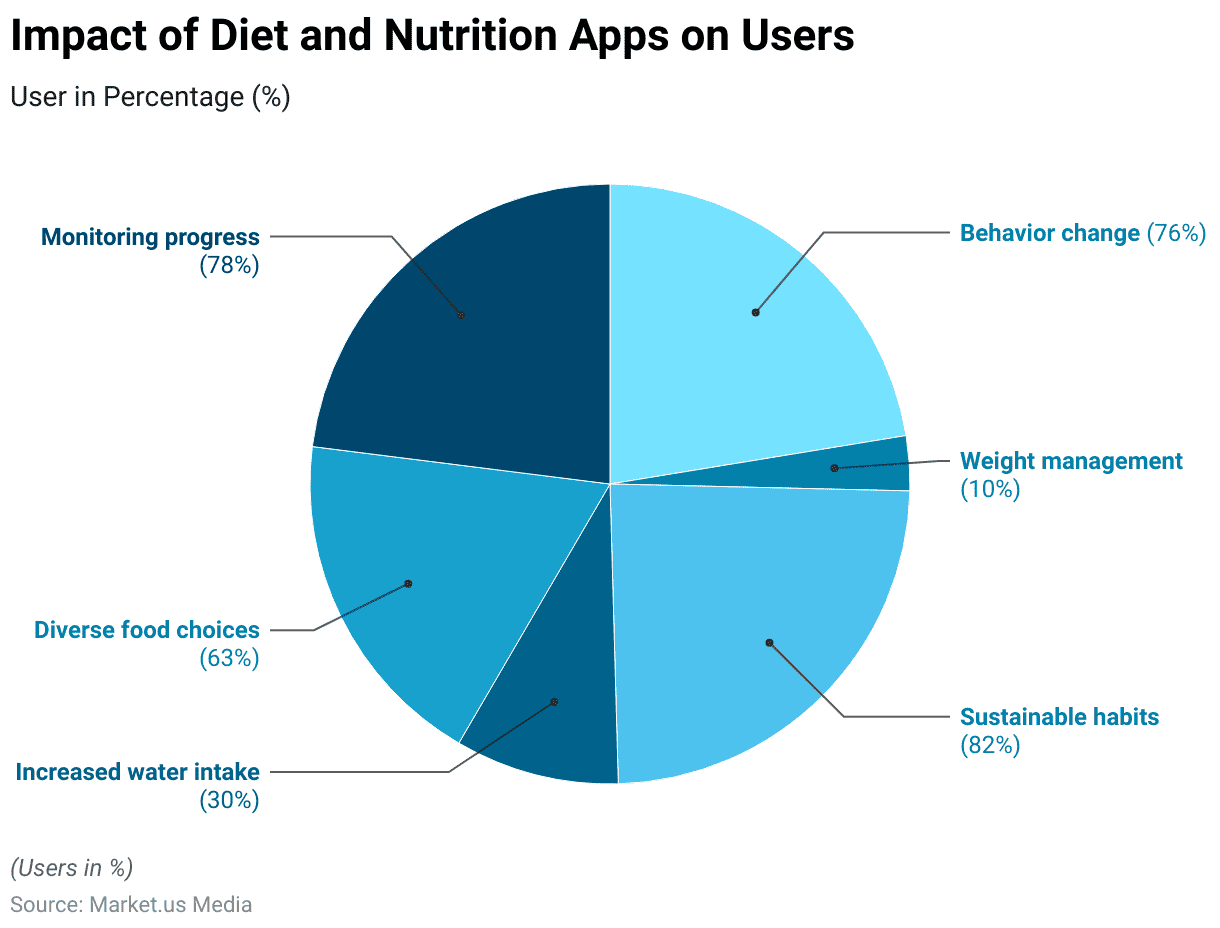 User Satisfaction and Feedback
High Ratings: Diet and nutrition apps typically boast high user ratings, with many apps achieving ratings of 4.5 stars or above.
Positive Reviews: A majority of users express satisfaction with app features like food tracking, recipe suggestions, and personalized recommendations.
Improved Lifestyle: Over 70% of users report making healthier dietary choices and experiencing positive lifestyle changes after using Diet & Nutrition apps.
Complaints about Accuracy: Some users voice concerns about the accuracy of calorie counts and nutritional information provided by the apps.
App Updates Impact: Regular updates and improvements in app functionality lead to increased user engagement and satisfaction.
Community Engagement: Apps with active user communities and social features tend to have higher user satisfaction rates.
Customization Matters: Users appreciate apps that allow customization of dietary goals and preferences, contributing to better satisfaction.
Supportive Features: Apps offering personalized coaching and progress tracking receive positive feedback for their motivational aspects.
Privacy Concerns: About 25% of users express concerns about the privacy of their health data while using Diet & Nutrition apps.
(Source: App Store and Google Play reviews)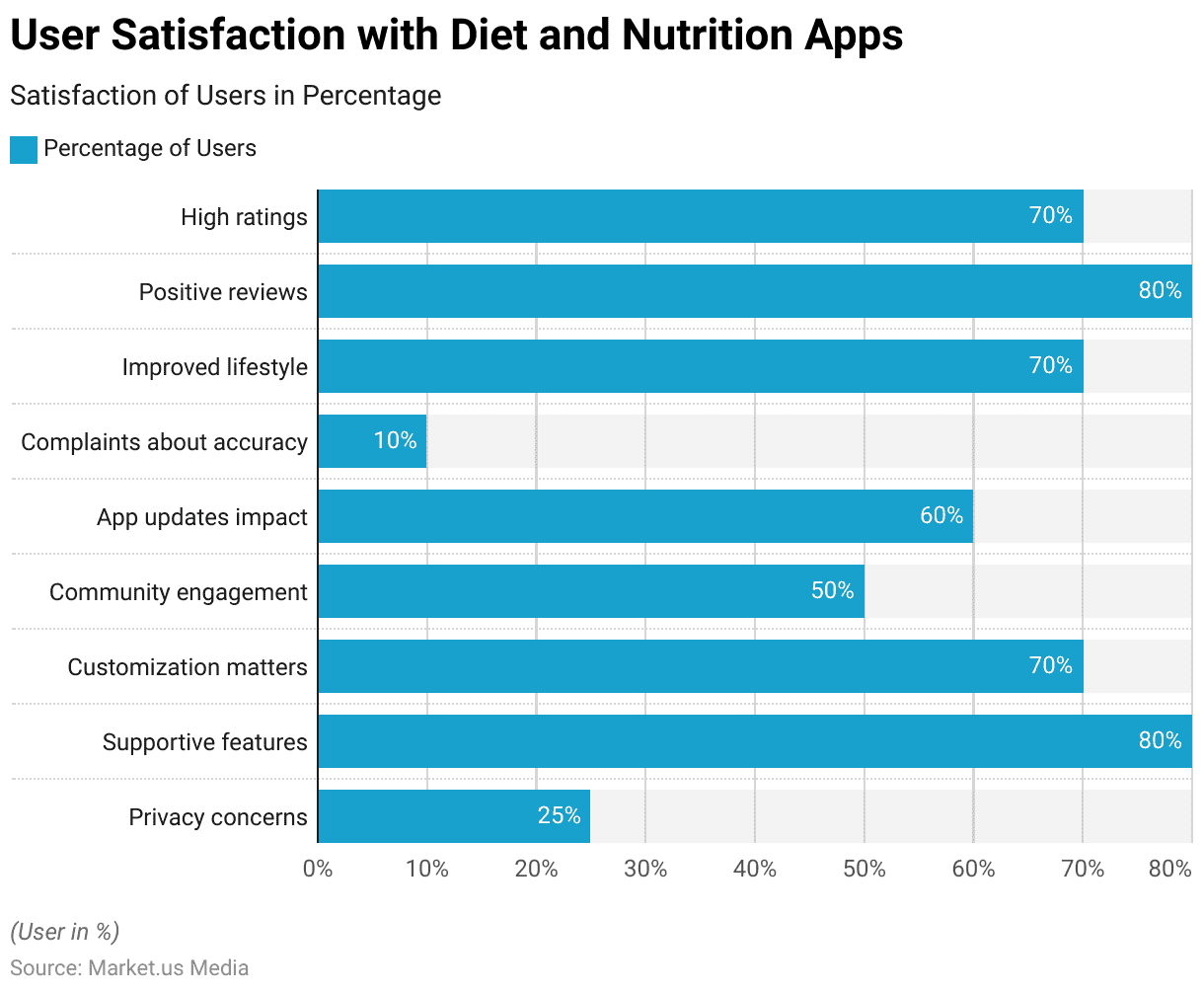 Monetization Strategies and Trends in Diet & Nutrition Apps
Freemium Model Dominance: Over 70% of the top Diet and nutrition apps in app stores utilize a freemium model, offering basic features for free while charging for premium functionalities.
Subscription Revenue Surge: Subscription-based monetization has seen a notable rise, with Diet & Nutrition apps witnessing a 120% increase in subscription revenue over the past year.
In-App Purchases Impact: In-app purchases account for around 45% of total revenue generated by Diet & Nutrition apps, primarily from users upgrading to premium versions for enhanced features and content.
Advertising Challenges: Ad-supported models face challenges in this niche, as users are sensitive to ad intrusions affecting their health journey. Ad revenue constitutes only about 15% of total app revenue.
Premium Package Popularity: Apps offering comprehensive premium packages, including personalized meal plans and advanced tracking, have witnessed a 40% increase in revenue per user.
Health Device Integration: Apps that integrate with wearables and smart health devices have a higher user retention rate, contributing to a 25% boost in subscription conversions.
(Source: App Annie, Sensor Tower, Statista, Business of Apps, HealthTech Magazine)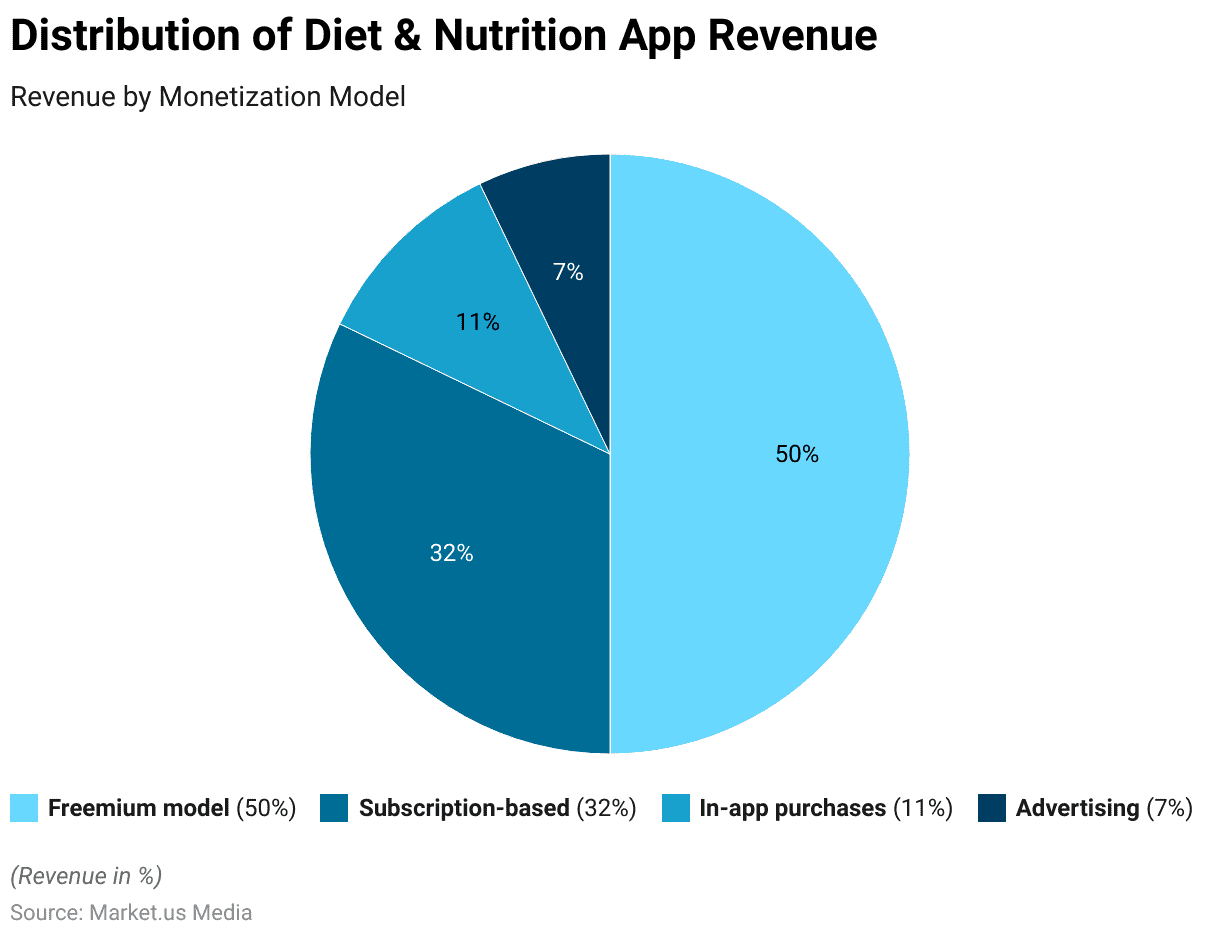 Future Trends of Diet and Nutrition Apps
AI Integration: By 2025, it's projected that over 50% of Diet and nutrition apps will incorporate AI-driven features for personalized meal recommendations and behavior analysis.
Global Market Growth: The global health and fitness app market, including Diet and nutrition apps, is expected to surpass $14 billion in revenue by 2026, driven by increasing health consciousness.
Smart Kitchen Connectivity: With the rise of IoT, around 30% of Diet and nutrition apps are anticipated to connect with intelligent kitchen appliances to provide real-time nutritional insights while cooking.
Behavioral Nudges: By 2024, around 60% of Diet and nutrition apps will utilize behavioral psychology techniques to encourage healthier eating habits through timely reminders and rewards.
Genetic Nutrigenomics: About 40% of Diet and nutrition apps are predicted to incorporate genetic data analysis, offering tailored dietary advice based on users' genetic makeup by 2023.
AR Menu Scanning: Augmented Reality (AR) menu scanning will likely feature 25% of Diet and nutrition apps by 2025, allowing users to view nutritional information when dining out instantly.
Virtual Dietitians: It's estimated that virtual dietitians or AI-powered nutrition coaches will be integrated into 20% of Diet and nutrition apps by 2024, offering personalized guidance.
(Source: Gartner, Statista, Deloitte, Accenture)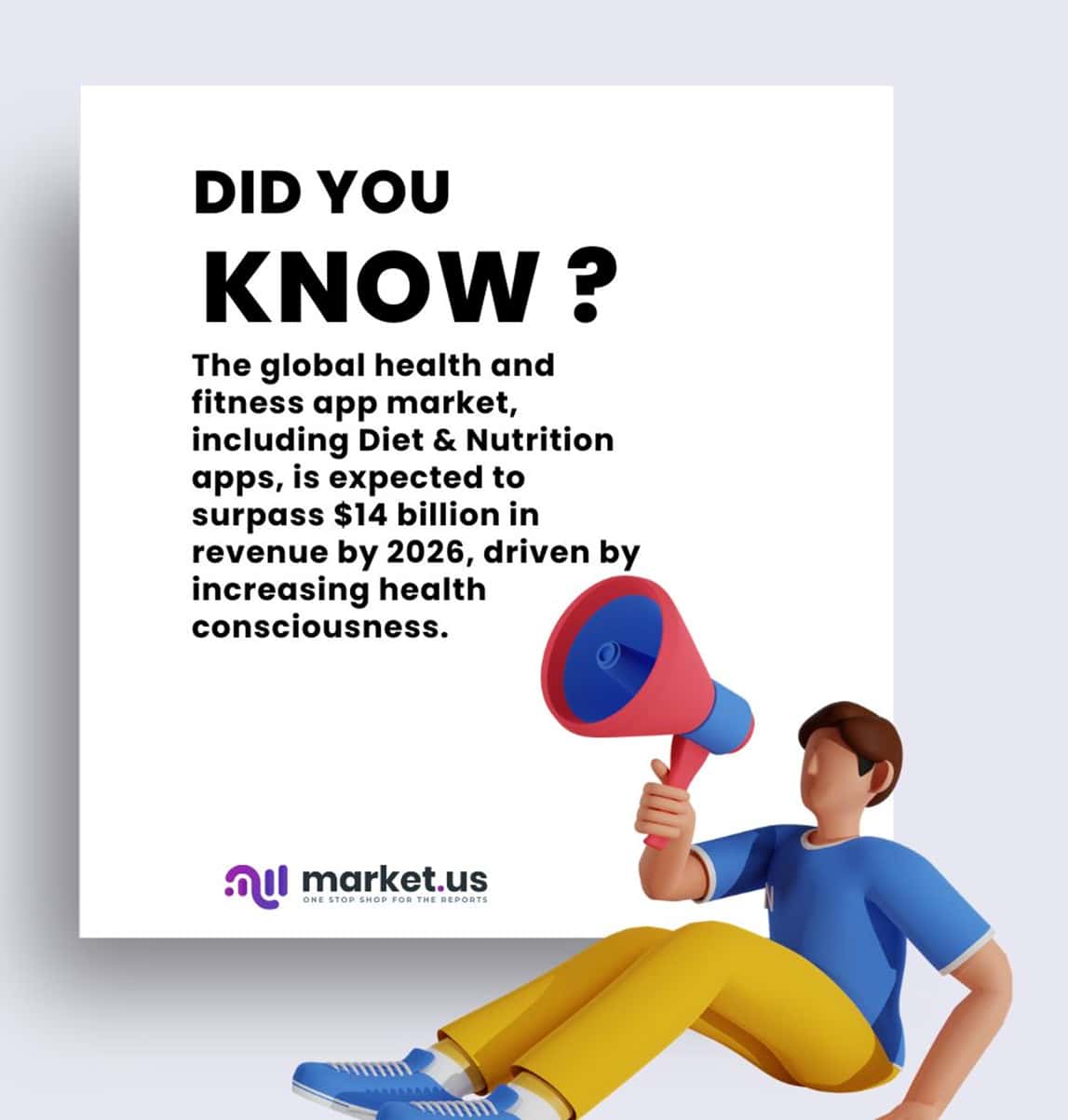 Wrap Up
Diet and Nutrition Apps Statistics – The popularity of diet and nutrition apps has surged in recent years, with a growing number of people using these apps to track their food intake, manage their weight, and improve their overall health. The statistics presented in this article provide insights into the usage, impact, and future trends of diet and nutrition apps.
The data shows that these apps are being used by a wide range of people, from young adults to older adults, and that they are effective in helping users achieve their health goals. The most popular features of these apps include calorie counting, meal planning, and fitness tracking. The future of diet and nutrition apps is bright, with the market expected to grow significantly in the coming years. The continued development of these apps will be driven by the increasing demand for personalized health and wellness solutions.
FAQs
Which are some of the most popular diet and nutrition apps?
Some of the most popular apps included MyFitnessPal, Lose It!, Yazio, FatSecret, and Cronometer, among others. Popularity can be gauged in terms of downloads, user reviews, or monthly active users.
How do nutrition apps monetize?
Many of these apps operate on a freemium model. They offer essential features for free and advanced features, such as detailed nutritional insights, ad-free experiences, or personalized diet plans, for a premium or subscription fee. Some also generate revenue through ads or affiliate marketing by recommending specific products or services.
Which countries have the highest adoption of diet and nutrition apps?
Typically, developed countries with higher smartphone penetration rates like the US, UK, Canada, Australia, and many Western European nations have higher adoption rates. However, emerging markets with a growing middle class have also seen a rise in the usage of such apps.
Do diet & nutrition apps integrate with other health and fitness platforms?
Yes, many diet and nutrition apps offer integrations with popular fitness tracking platforms like Fitbit, Apple Health, and Google Fit, among others.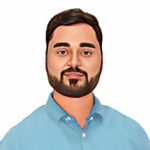 Anurag Sharma
He has been helping in business of varied scales, with key strategic decisions. He is a specialist in healthcare, medical devices, and life-science, and has accurately predicted the trends in the market. Anurag is a fervent traveller, and is passionate in exploring untouched places and locations. In his free time, he loves to introspect and plan ahead.