Clinical Trials Statistics: Potential Benefits of New Medical Interventions
Introduction
Clinical Trials Statistics: Clinical trials are vital research studies aimed at assessing the safety, effectiveness, and potential benefits of new medical interventions, treatments, drugs, or devices. Participants, often patients, voluntarily engage in these trials to help researchers gather essential data. Typically conducted in phases, starting with safety evaluations in smaller groups and progressing to larger populations for efficacy assessments, these trials have a paramount role in shaping medical advancements.
They inform treatment decisions, regulatory approvals, and healthcare practices, guided by strict ethical and regulatory standards that safeguard participants' rights and data integrity. Ultimately, clinical trials underpin evidence-based medicine, driving innovation and improving healthcare outcomes worldwide.
Editors Choice
About 80% of clinical trials experience delays or are prematurely terminated due to challenges in recruiting participants.
Approximately 37% of research sites struggle to enroll an adequate number of volunteers, and in 11% of cases, not a single patient is enrolled.
Clinical trials represent a substantial portion, nearly 40%, of the pharmaceutical research budget in the United States, amounting to approximately $7 billion annually.
Patient recruitment accounts for an estimated 40% of the total clinical trial budget, equating to around $1.89 billion.
Delays in clinical trials can result in significant financial burdens for sponsors, with potential costs ranging from $600,000 to $8 million for each day of delay in a product's development and launch.
Screen failure rates pose substantial costs for sponsors, averaging around $1,200 per failed participant across the industry.
The United States of America held the highest total number of registered trials from 1999 to 2022, with a count of 168,520 trials.
China followed closely with 94,193 registered trials during the same period.
Japan ranked third, with 63,499 registered trials.
Market Size Of Clinical Trials Statistics
The clinical trials market is projected to reach approximately USD 886.5 Billion by 2032, marking significant growth from its 2022 valuation of USD 450.1 Billion.
This expansion is expected to occur at a compound annual growth rate (CAGR) of 7.2% throughout the forecast period spanning from 2023 to 2032.
In 2022, the market size was estimated at USD 450 billion.
The market continued to expand, reaching USD 483 billion in 2023.
Projections indicated further growth in 2024, with a market size of USD 513 billion.
By 2025, the market was expected to reach USD 559 billion, reflecting continued expansion.
In 2026, the market size was forecasted to increase to USD 605 billion.
The trend of growth was expected to persist, with a projected market size of USD 643 billion in 2027.
In 2028, the market was anticipated to further expand to USD 671 billion.
By 2029, the market size was expected to reach USD 720 billion, indicating ongoing growth.
In 2030, the market was projected to grow to USD 765 billion.
Projections for 2031 indicated a market size of USD 820 billion.
By 2032, the market size was forecasted to increase substantially to USD 887 billion.
(Source: Market.us)
Distribution of Clinical Trials by Therapeutic Area Statistics
Oncology accounted for the largest proportion of clinical trials, with 24% of the total.
Infectious Disease research trials made up 12% of the clinical trials conducted during this period.
Neurology trials represented 10% of the total clinical trials.
Hematology studies comprised 8% of the clinical trials conducted from 2017 to 2022.
Endocrinology trials accounted for 6% of the total clinical trials.
Respiratory-related trials and Dermatology studies each constituted 5% of the clinical trials.
Cardiovascular and Psychiatry trials both represented 4% of the total.
Rheumatology and Ophthalmology studies made up 3% of each of the clinical trials.
The remaining clinical trials, falling under the category "Other," constituted 16% of the total trials conducted during this period.
(Source: Statista)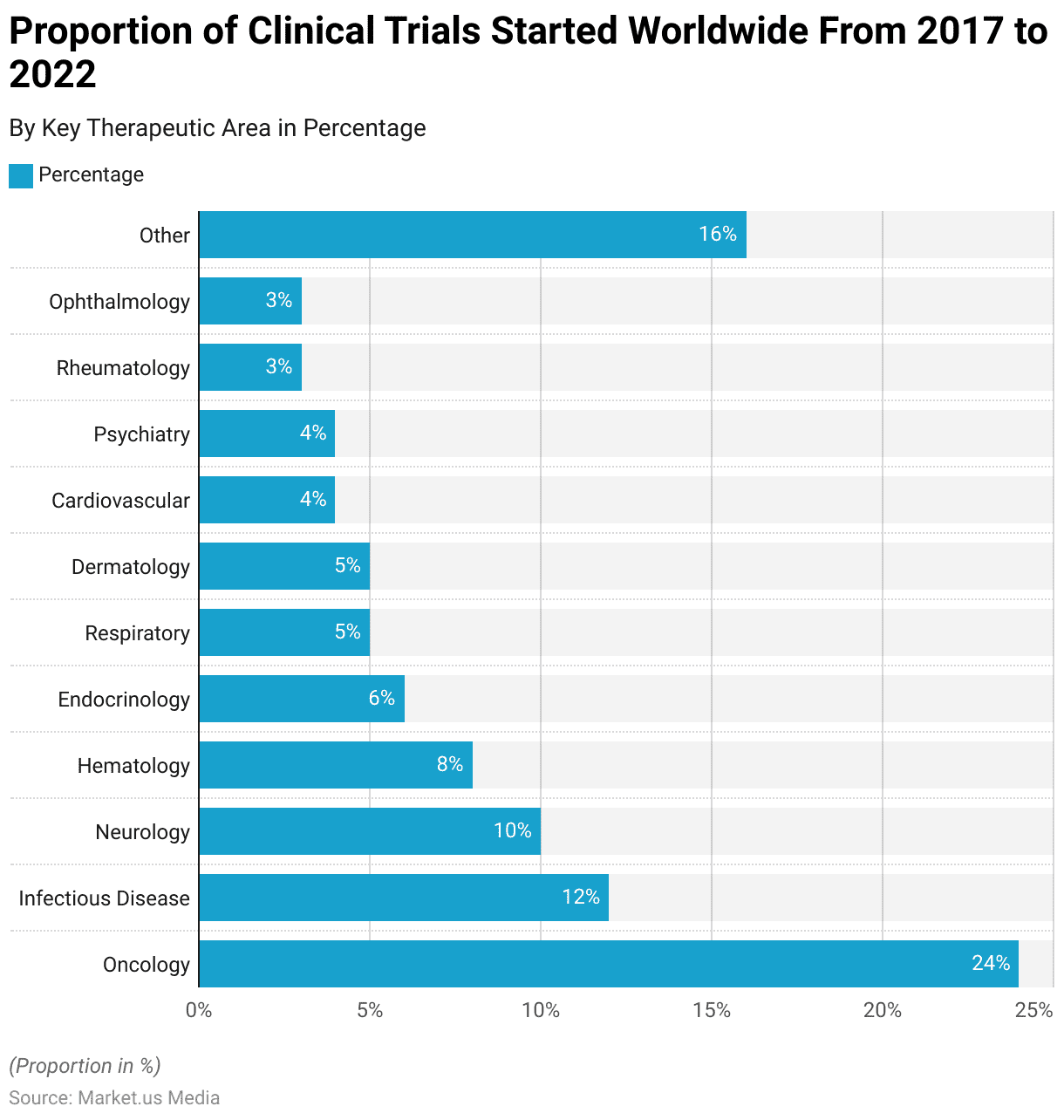 Growth in the Number of Registered Clinical Studies
In the year 2000, there were a total of 2,119 registered clinical studies.
This number increased to 3,892 in 2001, reflecting a notable uptick.
By 2002, the number of registered clinical studies surged to 5,270.
The trend continued with 8,858 studies in 2003 and 12,024 in 2004.
In 2005, there was a substantial jump, with 24,822 clinical studies registered.
This number escalated to 35,739 in 2006 and further to 48,288 in 2007.
In 2008, there were 65,852 registered clinical studies, demonstrating continued growth.
The year 2009 saw 82,860 clinical studies being registered.
In 2010, there was a significant milestone, with 1,00,205 registered clinical studies.
This number continued to increase, reaching 1,18,021 in 2011 and 1,37,484 in 2012.
By 2013, there were 1,57,915 registered clinical studies, further expanding in 2014 to 1,81,225.
In 2015, the number rose to 2,05,331 and continued to grow in subsequent years.
In 2020, there were 3,62,481 registered clinical studies, showcasing substantial growth.
The trend persisted into 2021, with 3,99,499 registered clinical studies.
As of 2022, there were 4,37,533 registered clinical studies, indicating consistent growth.
The data for 2023 showed 4,53,803 registered clinical studies, reflecting ongoing expansion.
(Source: Statista)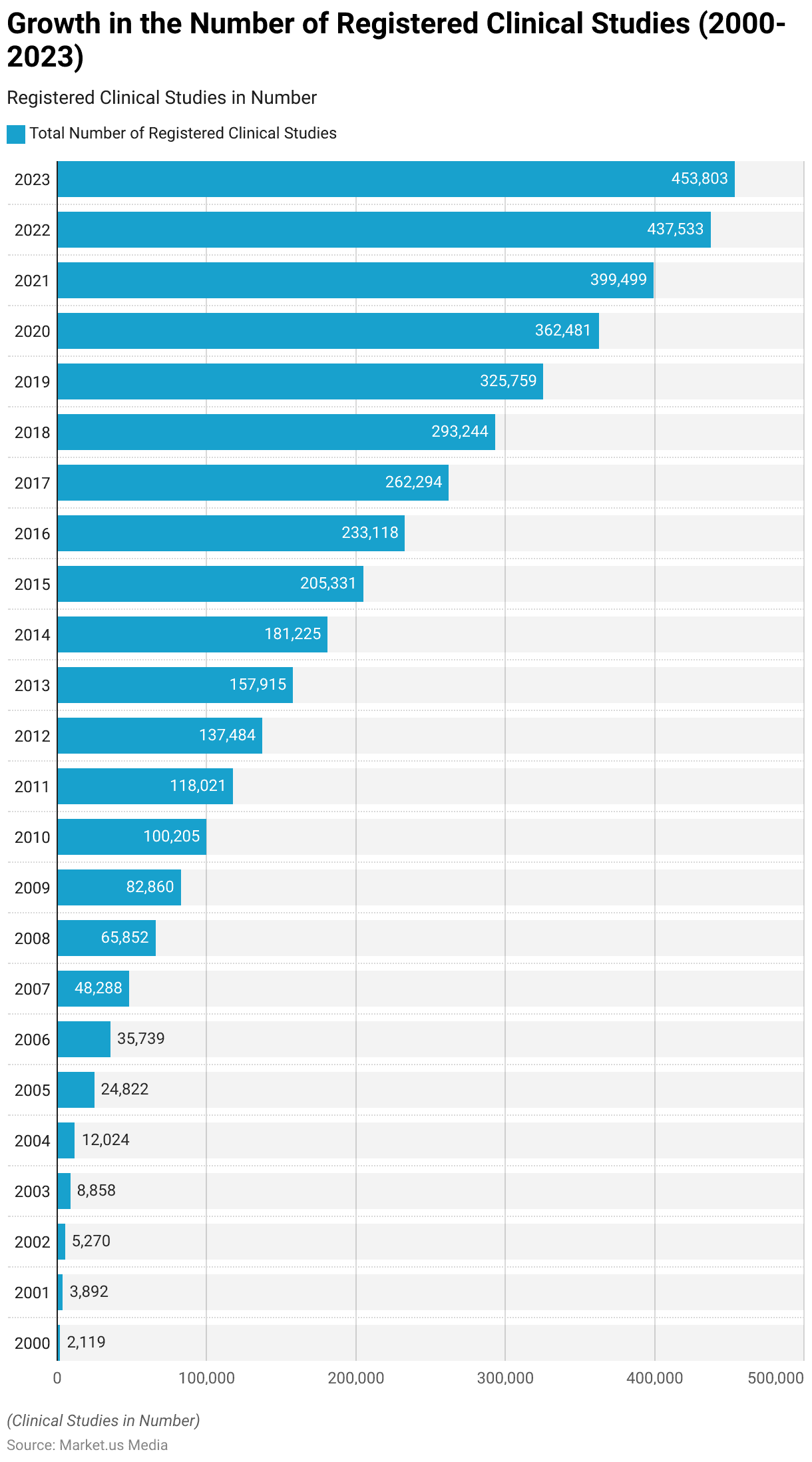 Availability of Posted Results in Clinical Studies
As of May 2023, a substantial 94% of interventional clinical studies have posted their results.
In contrast, only 6% of observational clinical studies have made their results available to the public.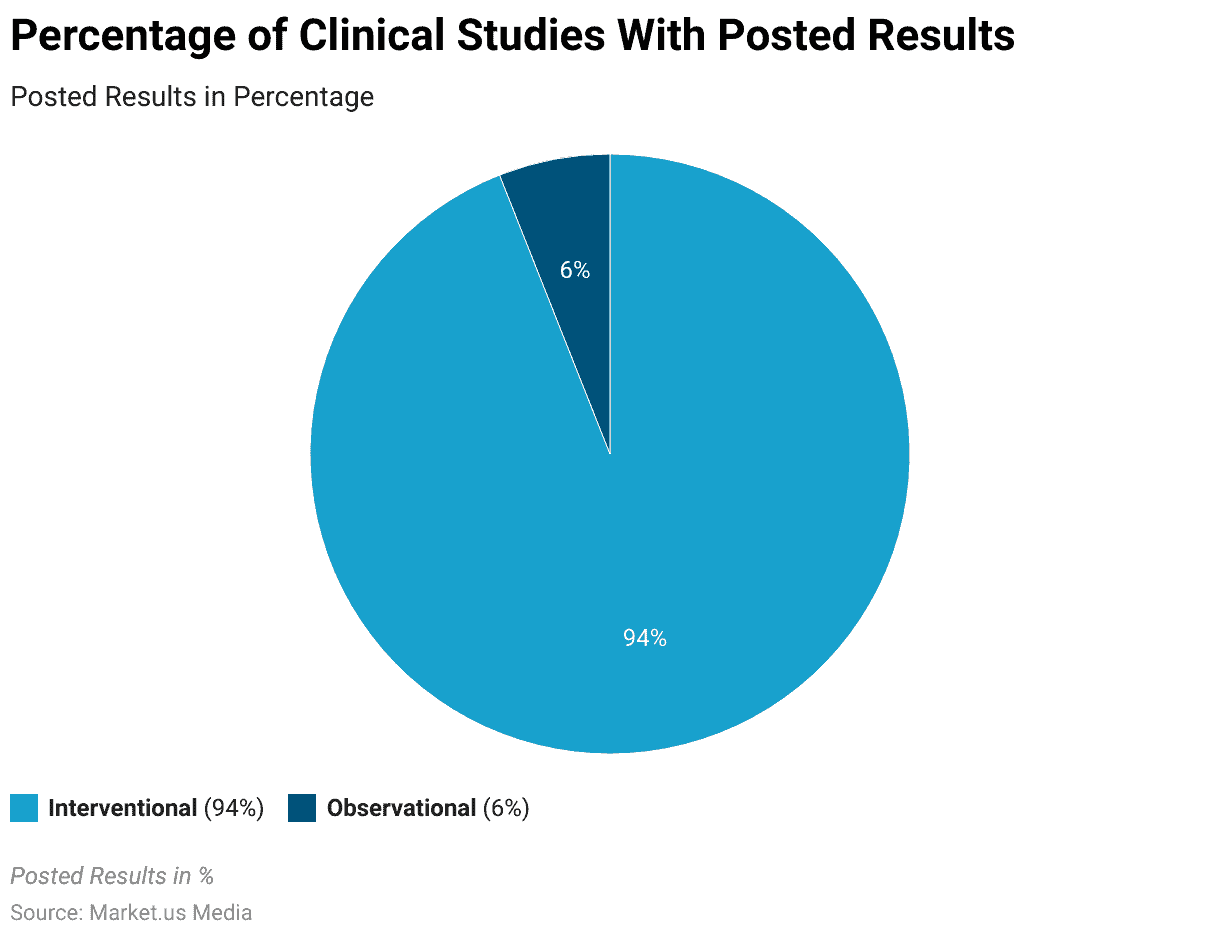 Distribution of Clinical Trials Participants Statistics
The United States led the list with the highest share at 35%, demonstrating its significant role in clinical research.
Poland, Germany, and Russia each accounted for 4% of the clinical trial participants, indicating their substantial contributions to medical studies.
Japan and Canada both represented 3% of trial participants, while Czechia and Ukraine contributed 2% each.
France, India, the United Kingdom, Spain, Hungary, Italy, Brazil, Argentina, Romania, and Bulgaria all shared a 2% portion of participants.
South Korea and China were included with 1% each, showing their growing involvement in clinical trials.
These figures highlight the global distribution of clinical trial participants, with the United States leading the way, followed by several European and Asian countries.
(Source: Statista)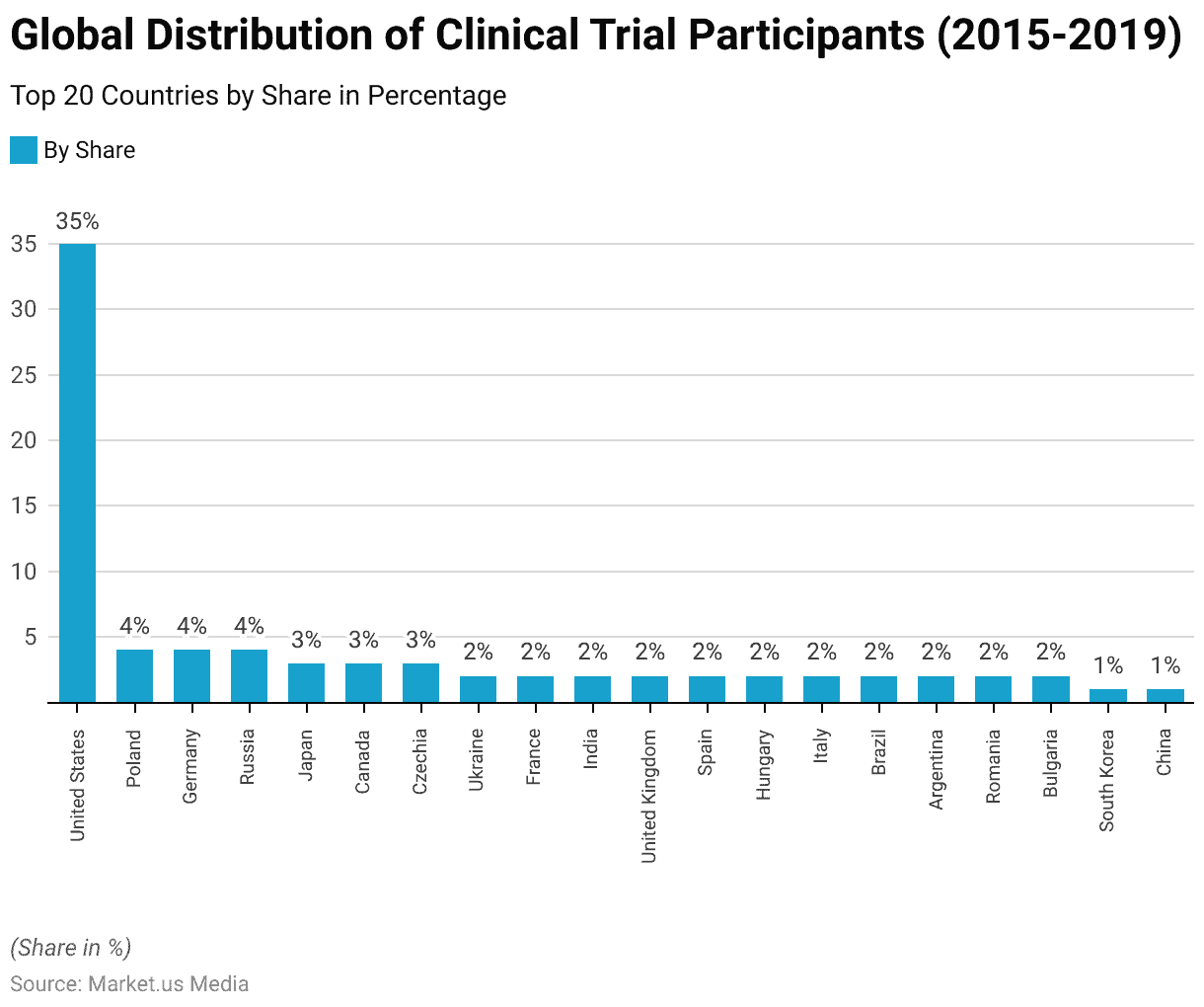 Clinical Trials Statistics by Country
US
During the period from 1999 to 2022, the United States of America led with the highest total number of registered trials, totaling 168,520.
A total of 9% of Americans stated that they had received invitations to take part in clinical trials at some point in their lives.
Among those individuals who received invitations, 47% confirmed their participation in clinical trials.
Clinical trials make up approximately 40% of the pharmaceutical research budget in the United States, amounting to approximately $7 billion annually.
Within this budget, an estimated $1.89 billion is allocated for patient recruitment, accounting for 40% of the total budget.
(Source: WHO, HINTS 5 Cycle 4, Clinical leader)
England
In 2022/23, England recruited over 100 individuals every hour for health and care research.
Nearly one million participants, specifically 952,789 individuals, engaged in clinical research throughout England.
This represents a substantial increase of more than 220,000 participants compared to levels before the pandemic.
In 2022/23, there was a notable rise of nearly 200 on pre-pandemic levels, bringing the total to 1,757.
In 2022/23, 18% of participants in commercial research, totaling 5,961 individuals, originated from primary care.
(Source: NIHR Clinical Research Network (CRN))
India
In 2020, India's contribution to global clinical trials amounted to 8.3%.
This represented an increase compared to the average share of 6.2% over the past decade.
In 2020, industry-sponsored trials constituted 35.1% of all clinical trials conducted in India.
This figure marked a decrease from the ten-year average of 41.1% for industry-sponsored trials.
Non-industry-sponsored trials, on the other hand, represented a 64.9% share in 2020, which was an increase from the average of 58.9% observed over the last decade.
(Source: GlobalData, Clinical Trials Arena)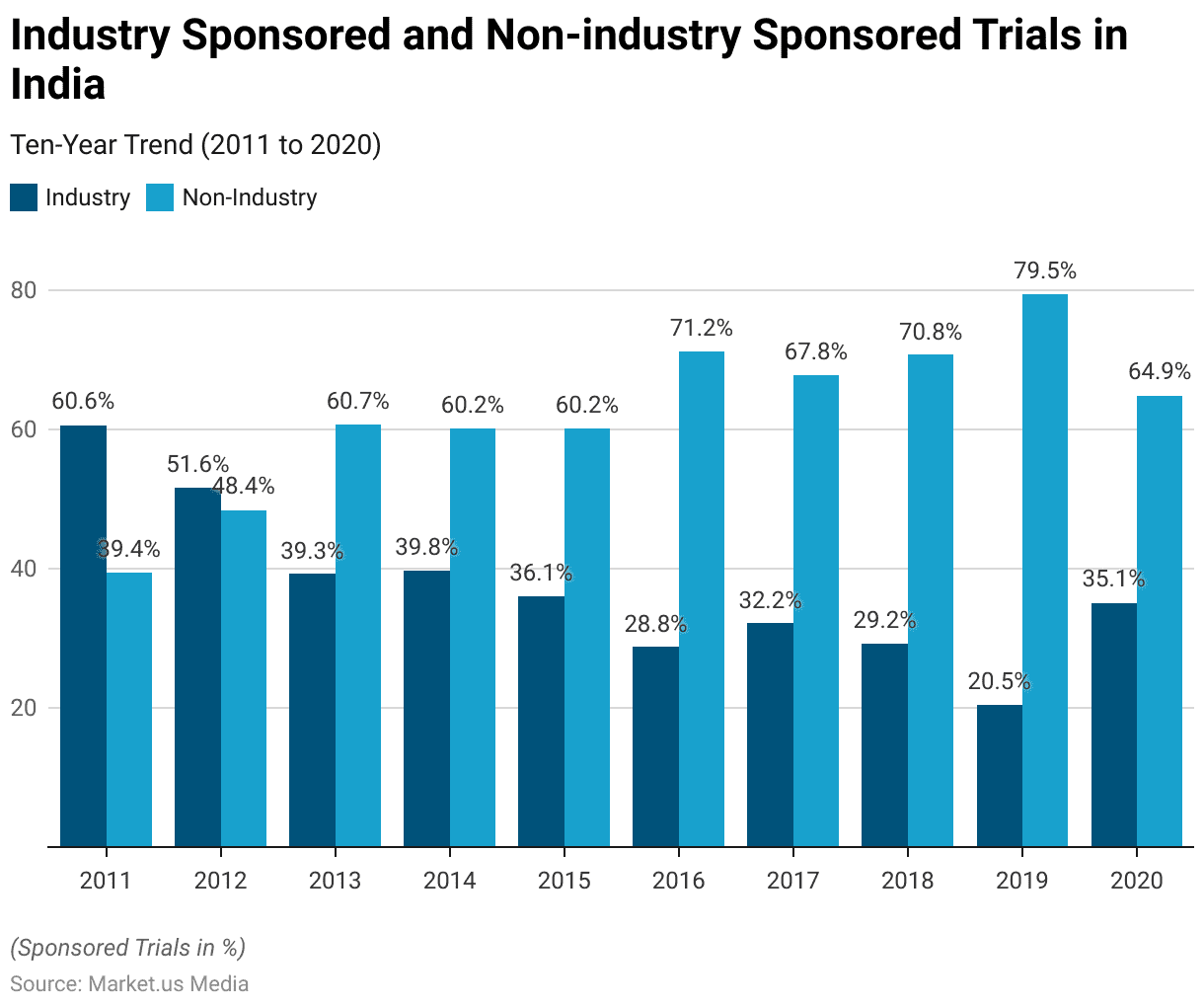 China
In 2022, China's contribution to global clinical trials reached 27.7%.
This marked a significant increase compared to the average share of 16.5% observed over the past decade.
In 2022, industry-sponsored trials constituted 38.1% of all clinical trials conducted in China, which was in line with the ten-year average of 38.1%.
Non-industry sponsored trials made up 61.9% of the clinical trials in 2022, also aligning with the average of 61.9% observed over the last decade.
In 2022, Oncology held the top position among therapy areas for non-industry-sponsored clinical trials in China, representing a substantial share of 35.4%.
(Source: GlobalData, Clinical Trials Arena)
Australia
Between 2006 and 2020, more than 18,000 clinical trials recruiting participants were registered in Australia.
40% of these trials were registered during the period from 2016 to 2020.
These trials encompassed both Australia-only studies (12,775 trials, 69%) and multinational trials (5,678 trials, 31%).
Collectively, these trials had plans to recruit a total of 8.7 million individuals from 2006 to 2020, including participants from within Australia and internationally.
The impact of the COVID-19 pandemic on trial activity is intricate and warrants detailed analysis.
Initial data from the first 11 months of the pandemic indicate a decline in the number of Australian trials, with 17% fewer trials commencing in 2020 compared to 2019.
(Source: The Medical Journal Of Australia)
Conclusion
Clinical Trials Statistics – In summary, clinical trials are the linchpin of medical progress, methodically evaluating novel treatments to guarantee their safety and effectiveness before they reach the broader population. While participation carries potential risks, it represents a noble endeavor wherein individuals contribute to the betterment of medical science and the prospect of enhanced therapies.
As we forge ahead, clinical trials will remain at the forefront of healthcare advancement, addressing pressing challenges and acting as the crucible for groundbreaking discoveries. Their enduring significance lies in their ability to elevate patient care globally, ensuring that the most innovative and reliable treatments find their way to those in need.
Through the dedication of volunteers and the commitment of researchers, clinical trials stand as a beacon of hope for a healthier, more resilient future, where medical knowledge continues to expand, and the quality of care continually improves for individuals worldwide.
FAQs
What is a clinical trial?
A clinical trial is a research study designed to test the safety and effectiveness of new medical treatments, interventions, or drugs in human participants.
Why are clinical trials important?
Clinical trials are crucial for advancing medical knowledge and improving healthcare by determining the safety and efficacy of new treatments before they are widely available.
Who can participate in a clinical trial?
Eligibility criteria vary for each clinical trial, but participants are typically selected based on factors like age, gender, medical history, and the specific condition being studied.
What are the different phases of clinical trials?
Clinical trials typically have four phases: Phase 1 (safety and dosage), Phase 2 (efficacy and side effects), Phase 3 (large-scale testing), and Phase 4 (post-market surveillance).
Is participation in a clinical trial safe?
Clinical trials are conducted with strict ethical and safety standards. Participants are closely monitored, and potential risks are thoroughly assessed.
Are there risks associated with participating in clinical trials?
There can be risks, such as potential side effects of the treatment being tested, but these are thoroughly evaluated, and participant safety is a top priority.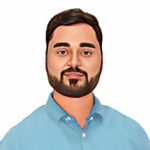 Anurag Sharma
He has been helping in business of varied scales, with key strategic decisions. He is a specialist in healthcare, medical devices, and life-science, and has accurately predicted the trends in the market. Anurag is a fervent traveller, and is passionate in exploring untouched places and locations. In his free time, he loves to introspect and plan ahead.