According to 3D bioprinting Statistics, 3D bioprinting is an advanced manufacturing technique that combines principles from 3D printing technology with the field of tissue engineering. This involves layer-by-layer deposition of living cells, biomaterials, and growth factors to fabricate three-dimensional structures that mimic the architecture and functionality of native tissues and organs.
Editor's Choice
The global 3D bioprinting market size is expected to be worth around USD 6.9 billion by 2032 from USD 1.6 billion in 2022, growing at a CAGR of 16.1% during the forecast period from 2022 to 2032.
Based on technology, the 3D bioprinting market is segmented into magnetic levitation bioprinting, laser-assisted bioprinting, and inkjet-based bioprinting. Inkjet-based bioprinting segment accounts for the largest share of revenue at 39.0% in 2022.
North America dominated the 3D bioprinting market with the largest revenue share of 36.4% in 2022.
In Asia Pacific, this market accounts for 28.0% of the revenue share of the 3D bioprinting industry in 2022 and is anticipated to maintain its dominance over the forecast period.
The bioprinting of human organs and tissues is a rapidly advancing field. As of 2021, several organs and tissues have been successfully printed, including liver tissue, kidney tissue, heart tissue, skin, and blood vessels.
The field of 3D bioprinting has seen increased investments and funding. In 2020, the US National Institute of Health announced a USD 6.5 million investment to establish a 3D printed tissue manufacturing program.
Tissue engineering and regenerative medicine
3D bioprinting has revolutionized tissue engineering and regenerative medicine by providing promising approaches to creating complex, functional, and living tissues. 3D bioprinting enables the fabrication of tissue constructed by depositing cells and biomaterials in a controlled manner.
One of the major challenges in tissue engineering is the formation of functional blood vessels to supply nutrients and oxygen to the newly formed tissues. 3D bioprinting techniques can be utilized to create vascular networks within engineered tissue, enabling the integration of vascularized constructs into the body for enhanced functionality and viability.
The global tissue engineering market size is expected to be worth around USD 35 Bn by 2032 from USD 12 Bn in 2022, growing at a CAGR of 11.45% during the forecast period from 2023 to 2032.
According to the World Health Organization, automobile accidents cause injuries that can be sustained by 20 to 50 million people each year. Tissue engineering is an alternative to surgical reconstruction and mechanical device instruction to restore injured tissues.
In 2022, the tissue engineering market's largest revenue share was held by North America.
The American Cancer Society estimates that chronic lymphocytic leukemia (CLL) will account for 4,410 deaths in the previous year, driving market revenue growth in the United States.
Around 420 people died while waiting for a transplant, according to NHS Blood and Transplant, and 7,000 people in the UK are on the transplant waiting list.
There are about a total of 49 tissue engineering companies operating in the United States, out of them 29 were in commercial phase development and had tissue-engineered products available for sale.
The 21 companies with tissue-engineered products on the market generated USD 9 billion in sales in 2022.
(Source: Market.us, NIH)
Drug Discovery and Development
3D bioprinting is a cutting-edge technology that holds significant potential for revolutionizing the field of drug discovery and development. 3D bioprinting allows the creation of complex tissue models that closely resemble human tissues and organs affected by diseases. Also, 3D bioprinting plays an important role in combining with microfluidics technology to create organ-on-a-chip platforms. This platform stimulates the functions and interactions of multiple organs within a body, providing a realistic and interconnected model for drug testing.
3D bioprinting in drug testing and screening was valued at USD 580 million in 2020 and it is projected to reach a revenue of USD 1.9 billion by 2027.
The organ-on-chip market depends on 3D bioprinting technology, which was valued at USD 18.8 million in 2020 and is driving at a CAGR of 37.6% from 2021-2028.
(Source: Statista)
Organ Transplantation and Transplantation Model
3D bioprinting has emerged as a promising technology with the potential to revolutionize organ transplantation and transplantation models. One of the most significant applications of bioprinting is the fabrication of organs for transplantation. Using patient's patient-specific data, such as medical image scans, 3D bioprinters can create complex three-dimensional structures using bio-inks, which are compatible materials containing living cells.
There are currently 121,678 people waiting for lifesaving organ transplants in the United States, out of them about 100,791 await kidney transplants.
There are about 42,000 organ transplants were performed in 2022.
In 2022, there were about 25,499 kidney transplants performed followed by transplants of liver about 9,528.
(Source: National Kidney Foundation)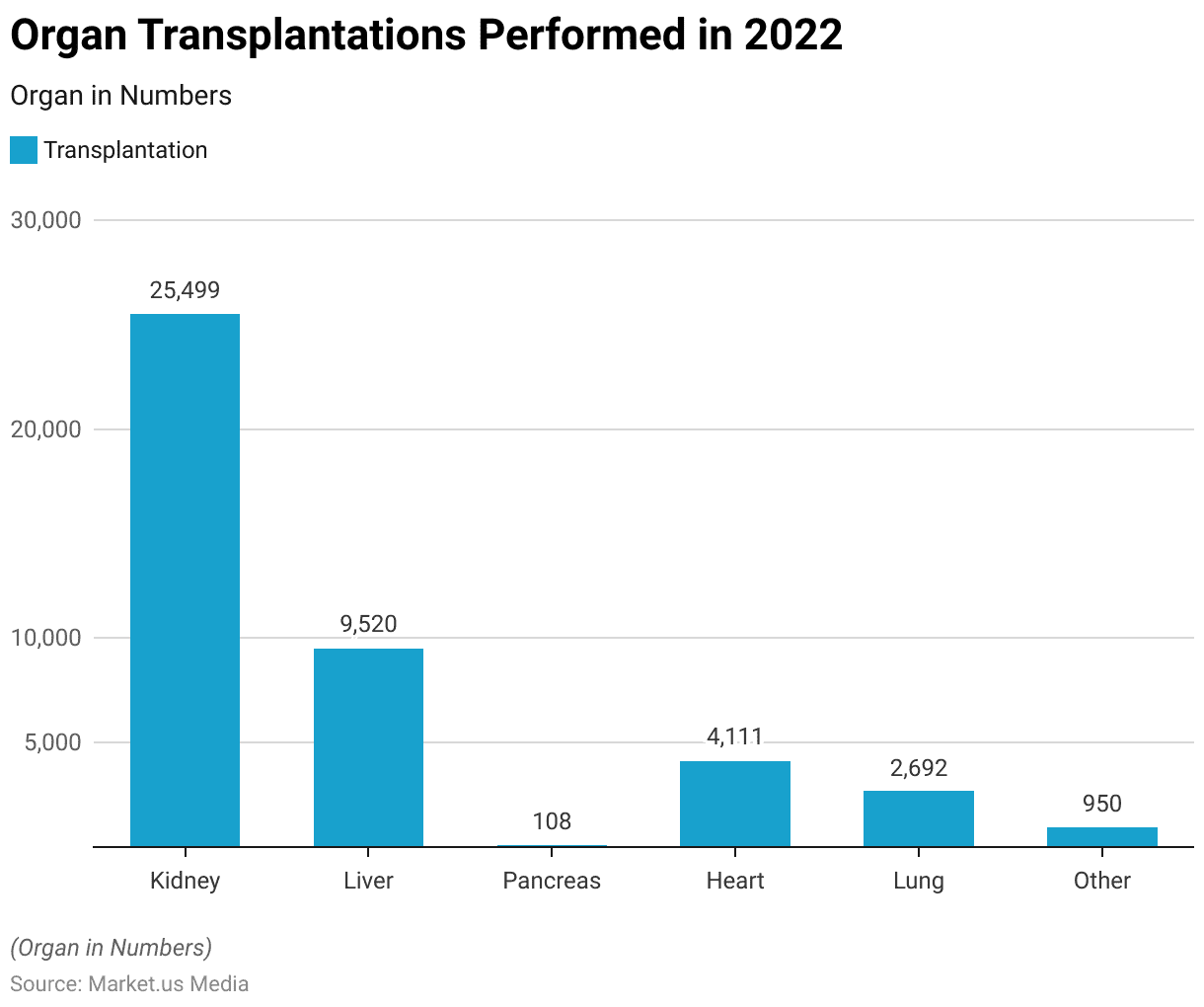 Disease Modeling and Personalized Medicines
3D bioprinting allows researchers to create complex and realistic models of human organs and tissues, providing a powerful tool for studying diseases. Every individual is unique and their drug response can vary significantly. With bioprinting, it is possible to create personalized tissue constructs using patients' cells. It enables the testing of drugs on a patient's specific tissues, providing valuable information about the most effective treatment options and reducing the risks of adverse reactions.
According to market.us, the global precision medicine market accounted for a revenue of USD 83.4 billion in 2022, and the market is expected to reach a revenue of USD 254 billion by 2032.
Globally, biopharmaceutical companies spend USD 179 billion on R&D, according to the Pharmaceutical Industry and Global Health 2021 report, compared to the rest of the high-tech industry.
3D Bioprinting Statistics, by Country
The United States: 3D bioprinting has gained significant attention in the United States. Several companies, research institutes, and universities in the US are actively involved in advancing the field of 3D bioprinting and its applications in regenerative medicine. The United States accounted for a market share of 30% in the 3D bioprinting market.
United Kingdom: 3D bioprinting is an emerging field in the United States that holds a market share of 25%. The UK is focusing on advancing biomedical research and regenerative medicines. The universities in the UK such as Manchester, have a strong focus on bioprinting and tissue engineering.
Canada: Canada is actively involved in research and development in the field of bioprinting, with a market share of about 15%. Several universities in Canada such as Toronto, the University of Ottawa, and Western University have a strong focus on regenerative medicine and tissue engineering.
China: Several Chinese universities, research institutes, and companies are actively involved in bioprinting research and development. For example, the Institute of Biomedical Manufacturing and Life Quality Engineering at Shanghai Jiao Tong University has been conducting research on bioprinting and tissue engineering.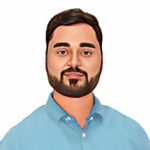 Anurag Sharma
He has been helping in business of varied scales, with key strategic decisions. He is a specialist in healthcare, medical devices, and life-science, and has accurately predicted the trends in the market. Anurag is a fervent traveller, and is passionate in exploring untouched places and locations. In his free time, he loves to introspect and plan ahead.