"Global Water Taxi Market: Types, Applications, Growth Rates and Shares, and Global Forecast from 2020 to 2029" is the title of one of the recently produced reports by research team at Market.US. The global water taxi market is projected to reach a value of approximately US$ 415 Billion in 2029, from a value of around US$ 284 Billion in 2019. The global market is projected to register a substantial growth rate of 3.9%. The market has been segmented on basis of type, fuel type, region/ country.
Drivers: A continuously increasing number of on-road vehicles has led to heavy traffic on road across most of the countries around the globe. This is resulting in wastage of time and fuel and also causes delay in reaching destinations. Water taxis help in reaching destination on time without wasting much of fuel. Also, it helps in reducing number of vehicles on the road. Aforementioned are major factors augmenting demand for and adoption of water taxis and drive market growth.
Growing income levels of customers in numerous countries has propelled growth of the travel and tourism industry, which is directly impacting growth of the water taxi market positively. The passenger ferries as apt mode of transport is gaining popularity and attraction in several countries for travel and tourism, especially where waterway is main mode of transportation. This is expected to support growth of the global water taxi market.
Opportunities: Collaboration between private and public entities to effectively tap into market demand and meet the travel needs for residents, tourists, and workers. This is expected to create new opportunities in the future, particularly in a developed nation. In addition, technological advancements have led to a huge preference for transport via water taxis. Autonomous water taxis are one of the developing technologies that has gained popularity in the marine industry. The innovative practice of taxi tracking data by the US Coast Guard Automatic Identification Systems (AIS) to measure vessel dwell time is among the key industry trends that is expected to result in huge buyer preference for the products. These factors are projected to present revenue opportunities for players functioning in the global water taxi market in the near future.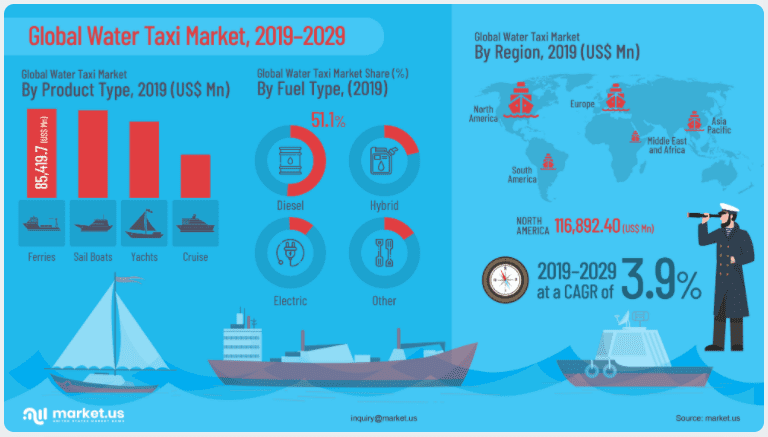 Trends: Like other modes of transport, water taxi service has gone digital in recent times. Water taxi services in big cities such as in New York can be booked digitally through various websites or applications. The water taxi will continue to grow with government support and the emergence of app-based players in the waterways sector.
The global water taxi market is segmented into by type, by fuel type, and by region. Among type, yachts are expected to gain major share, whereas ferries are expected to grow at rapid pace in the future on account of the rising preference of people to travel for work by taking ferries instead of yachts. Based on fuel type, diesel water taxi market is expected to account for the highest share because most of the water taxis work on diesel rather than other fuels, and this is expected to result in strong popularity, further supporting the industry growth. Substantial production of diesel-driven water-based taxis will primarily contribute to the high revenue generation. Hybrid taxis segment is expected to present favorable growth opportunities. The rising initiatives for green movement is expected to further inspire higher adoption of hybrid taxis in the upcoming years. However, electric water taxi is anticipated to be the fastest growing water taxi market. Based on the region, the North America market is expected to account for majority revenue share in the global water taxi market, followed by the Europe market, owing to well-established marine sector, coupled with presence of major players such as Brunswick and American Sail, Inc. in the region. In addition, rapid growth in the passenger traffic in marine industry, especially in countries such as the US and Canada is projected to propel the North America water taxi market growth.
Major players profiled in the final report include United Industries Group Inc., American Tank Company, Inc., Shawcor (ZCL Composites), Tank Connection, L.L.C., Norwesco, Inc., Containment Solutions, Inc., CST Industries, Schumann Tanks, DN Tanks Inc., McDermott International, Inc., Maguire Iron, Inc., The Crom Corporation, Caldwell Tanks, Inc., Tank Holding Corp. (Snyder Industries), and Promax Plastics Limited.
---
---