The provision of services or products to pharmaceutical or other medical device companies on a contractual basis is what a contract manufacturing organization (CMO) specializes in. If any healthcare company wishes to hire products they require, they contact a CMO. This is done so that the respective medical company can channel their focus on more pressing matters with respect to their products such as marketing, branding, and R&D.
The expeditious growth of the healthcare sector and pharma industries have culminated in the need for these industries to outsource products that are required for their business to function seamlessly. Most newly established pharmaceutical companies with expensive manufacturing facilities that ended up failing then went on to become contract manufacturing companies. This has encouraged healthcare companies to make use of the resources of CMOs. The ballooning of the healthcare industry as a whole, the economic nature of CMOs and the surge in the product portfolio of gargantuan healthcare companies are the primary factors that have been responsible for the surge in growth of these CMOs.
Market.us has recently published a market research report titled, "Global Healthcare CMO Market by Type, and by Application – Forecast from 2019 to 2028". This report offers a comprehensive analysis of the healthcare CMO market. It is through fastidious research efforts, both primary and secondary, that the research results have been thoroughly examined over the study period. The global healthcare CMO market is projected to have a valuation of over US$ 305,729 million, from its estimated revenue of US$ 131,046 million generated in 2018.
Healthcare CMO Market: Dynamics
An increase in the number of manufacturers and the introduction of emerging markets in the production of healthcare equipment and products has led to price-wars and an ultra-competitive threat of sorts to healthcare CMO's. Local government bodies imposing all kinds of regulations and taxes have only amplified and intensified this effect on CMOs. Although the healthcare CMO market initially began in the US and Europe, emerging nations such as China and India are now considered frontrunners in this race. Thanks to their low costs of labor and the availability of manufacturing facilities, these countries are now witnessing a spike in their respective CMO markets.
Global Healthcare CMO Market: Segmental snapshot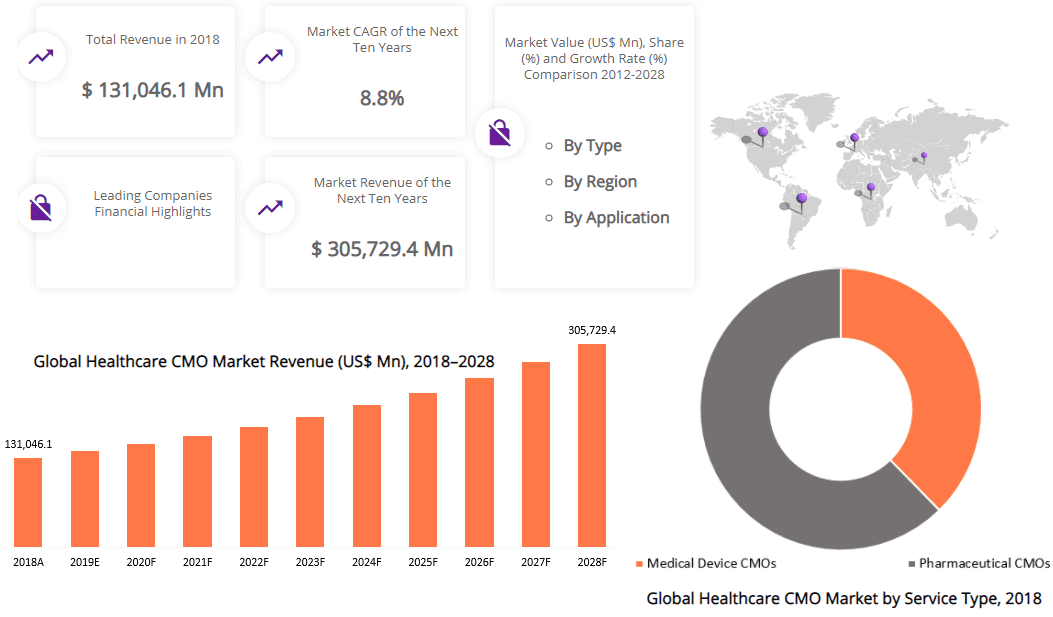 The global healthcare CMO market can be segmented on the basis of product type, application, and region. By Product type: the market is segmented into Pharmaceutical CMOs and Medical CMOs. Wherein, Pharmaceutical CMOs account for a majority of its stake followed by Medical CMOs. By Application: segmentation here is divided into two categories, Healthcare and Medical. Here, the lion's share belongs to Healthcare.
By Region: In terms of region, the market is segmented into North America, Europe, APAC, South America, and the Middle East & Africa. A major share of the global healthcare CMO market is owned by North American accounts. Although, India is indexed to have the highest rate of growth over the forecasted tenure.
Global Electrical Insulation Paper Market: Competitive Analysis
The global healthcare CMO market research report includes company profiles of major players such as Piramal Enterprises Limited., Boehringer Ingelheim GmbH, Fareva, Thermo Fischer Scientific(Patheon), Lonza, Integer, Sanofi, Catalent Inc., etc.
---
---